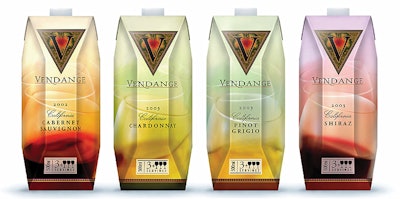 "Tetra Prisma is recognized worldwide as a high-end premium package, and we're proud to expand the presence of this package to American wine consumers," says Gary Glass, vice president of marketing for Canandaigua. The winery is filling 2003 vintages of Pinot Grigio, Chardonnay and Shiraz in the new carton, as well as a 2002 Cabernet Sauvignon. All are expected to retail for $3.99.
Tetra Pak's octagonal shape and its new screw cap technology, called StreamCap, deliver a space-saving, lightweight, tamper-evident, and resealable package that's ideal for the on-the-go lifestyle, says Charla Metcalf, a spokeswoman for Canandaigua Wine's parent company, Constellation Wines. Research by Tetra Pak persuaded the winery that aseptic filling in this seven-layer laminated package was particularly suited for protecting wine's sensitive flavor profiles, she adds. Shelf life for the new package is 12 months.
"The Almaden package was the first use of this container in the United States for wine, and it's been very successful," Metcalf reports. "Vendange is one of our larger brands, and our distribution channel is amazing. We think it's the perfect brand to use this package for varietal wines.
"Since the container holds a half-liter, it's definitely more than one serving, and that's why we wanted the screw cap for resealing," she adds. "We see this as responding to the consumer need for convenience packaging." Consumer research conducted by both Canandaigua and Tetra Pak generated overall appeal for the package and purchase-intent scores that exceeded industry benchmark targets.
Companies in this article