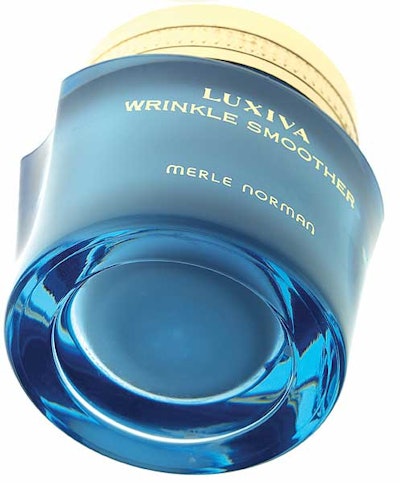 Candiani have released health and beauty products with components made of Eastman Chemical Co.'s Glass Polymer, a thick-walled resin that offers an alternative to glass without sacrificing clarity and chemical resistance.
For Merle Norman's new wrinkle smoother night cream, The Glass Polymer delivers an innovative design for a 2.2-oz jar with high-end aesthetic qualities that give customers a practical product at a more reasonable cost.
"Merle Norman chose The Glass Polymer because of its superb clarity, significant chemical resistance and impact resistance, but more importantly, because it gave us the design freedom we never had before," says Rick DeLao, vp for Los Angeles-based Merle Norman. "We valued Eastman's challenge to go farther and think bigger, inspiring us to create a unique, eye-catching design that further distinguishes our cosmetic products from our competitors. Furthermore, we took comfort in Eastman's technical knowledge and support capabilities to help bring this product to life."
Italian company G. Candiani selected The Glass Polymer to produce the bottle for Just Cavalli, a new fragrance by Roberto Cavalli. The bottle is composed of an Eastar copolyester component, combining sophistication with high-technological content and complexity. The Just Cavalli perfume bottle consists of three different materials: glass, a special resin used for the bottle shoulder, and The Glass Polymer, used for the external, decorative housing, which is snapped onto the other materials. G. Candiani chose The Glass Polymer because of its aesthetic qualities, including transparency, good mechanical resistance and elasticity. The material also had to be chemically compatible with the perfume itself.
Companies in this article