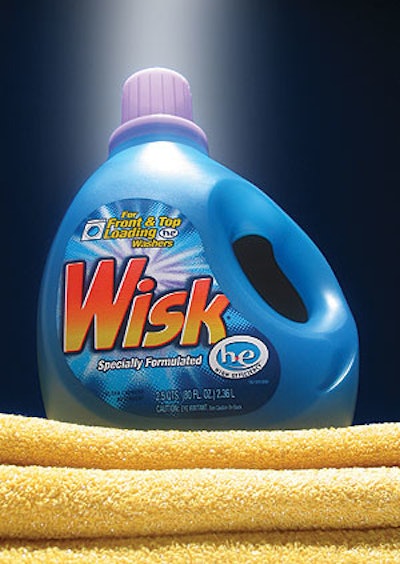 Reds, oranges, and yellows are the dominant colors in the liquid laundry detergent aisle of just about any supermarket in the United States. Until about a year ago, Wisk from Unilever Home and Personal Care North America was no exception with its red bottles.
To improve the shelf appeal of Wisk, the Greenwich, CT-based company wanted to use its bottle color to differentiate its product at point of purchase. To reposition Wisk as a premium brand, Unilever went to the opposite end of the color spectrum, selecting a translucent, pearlescent blue from Ampacet Corp. for its complete line of bottles.
To make each type of laundry detergent stand out further, Wisk adopted cap colors for each type of formula. Injection-molded in polypropylene by Precise Technology, the caps are pink for wrinkle reducer, white for color-safe bleaching, blue for stain-resolving, purple for high-efficiency formula, and green for sport action.
The selection of blue for the bottle color also took into account the nation's emotional state. Although the reds to yellow are colors of stimulation and designed to catch the eye, in times of unrest, consumers gravitate toward calmer, soothing colors like blue, says Linda Carroll, market development manager at Ampacet. And blue colors can also be eye-catching, she says, when they present elements of tactility and texture as the new Wisk bottle does.
"During times of societal and economic volatility, people return to grounded color values that imply strength and safety," she adds. "Not only does blue provide these qualities, but this package in particular gives the added dimension of tactility and interest that consumers desire."
The challenge for Unilever was to deliver all these advantages without raising production costs. After all, the color and special effects used for this container do cost more per pound than other colors. However, by working closely with its suppliers, Unilever actually reduced overall bottle cost by using the costly color only in the outer layer of the three-layer bottle.
Quick process to change
Unilever approached Ampacet, a leader in color and additive masterbatches, to produce the unique packaging color with a focus on keeping costs down. The product's brand manager, assistant brand manager, and creative package design manager all met with experts from Ampacet and with EMD Chemicals, a supplier of special-effect pigments.
At this meeting, the vendors were told that Unilever asked for a selection of blue colors and it sought a translucent bottle similar to that used for its Surf brand (after the shift to a translucent bottle, Surf sales boomed). Wisk brand marketers also liked the idea of a "pearl" color effect suggested by EMD Chemicals at the meeting. "So we went back to the lab," says Mike Vass, senior color chemist at Ampacet, "and put together samples with the specific blues they chose with some pearlescent effect in them." When Unilever saw the samples, they liked them, but wanted to see a tangible, more realistic version—in essence, a finished bottle.
"This would show them how the color and special effects would appear in three dimensions and in a tri-layer construction," Vass said. "Flat, mono-layer chips only reflect light in two dimensions."
Going to the color lab
Since speed-to-market was critical, Unilever's design team visited Ampacet's Color Development Laboratory in Cincinnati for an on-line color adjusting and bottle blow-molding session. Color adjustments on Ampacet's multi-layer blow molder permit customers to see immediate results and to tweak colors and effects as necessary.
Using its in-house Krupp six-layer blow-molding machine from SIG Blowtec with blue and pearlescent masterbatches, Ampacet began molding sample bottles. "Working side by side with Unilever, we produced six different bottles by early afternoon, each with a different appearance," says Doug Brownfield, Ampacet's strategic business manager. "On-line color adjustments can save days or weeks compared to trading color chips or mailing sample bottles. Especially for a translucent bottle, samples were vital. Since the color of liquid Wisk contributes to the final appearance, the Unilever team brought the detergent with them and filled bottles on the spot."
The molded bottles displayed the same wall thickness and construction of production bottles, so Unilever could be confident that, when filled, it saw exactly how the new bottles would look. But not how they would look on the shelf because of the differing light source.
So the Unilever team took filled quart-sized sample bottles to a local supermarket, cleared a spot on the shelf, and positioned the new bottles for the ultimate test: shelf appeal versus the competition.
Three weeks for production
"Within a single day at Ampacet, we settled on a couple of strong color and special effect possibilities for Wisk," says Stacie Bright, public relations manager for Unilever. "On-line color adjustments compressed our time-to-market and eventually contributed to increased sales. It's definitely something we can integrate into future Unilever package projects."
Once Unilever made a selection and more samples were produced, Ampacet created the correct masterbatch color/special effects formulation, which was sent to Unilever's production blow molders, Graham Packaging and Owens-Illinois, for trials to ensure good processability. In total, the Wisk bottle went from concept to reality in a matter of days, with the whole process taking no more than three weeks!
A big plus for Unilever was that the new bottle actually saved money, compared to the red bottle it had used before. By using Ampacet's Total Bottle Cost Reduction (TBCR) program, Unilever constructed a visually superior container while driving down bottle costs. Although Unilever's Bright declined to reveal savings, the new bottle uses the color and pearlescent effects only in the outside layer. The previous bottle had used color in the two outer layers.
"The process combined color innovation with cost reduction to give us exactly what we wanted: a faster time-to-market, and better shelf appeal for the new and improved Wisk," Bright said. "Ampacet's on-line color adjustments and expertise enabled us to select and approve a new color in less than three weeks. This process helped us improve our brand image, while reducing bottle costs."
—AO
Companies in this article