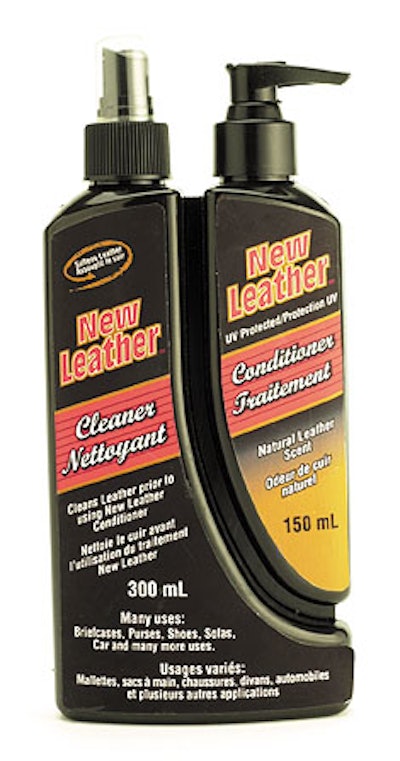 However, Richards' role in this application is more like an inventor; Richards developed the blow-molding technology to produce the two-chamber bottle of polyvinyl chloride.
Diamond Magic is a manufacturer of professional car care products, mostly marketed to and through auto dealers. For some time, it had packaged its New Leather Cleaner in a 750-mL PVC bottle and its New Leather Conditioner in a 250-mL PVC bottle, each topped with a trigger sprayer. The new dual-chamber container holds 300-mL of cleaner in one side, topped by a fingertip sprayer, and 150-mL of conditioner in the other side. It is dispensed with a lotion pump. Both dispensers from Emsar (Stratford, CT) fit each side's 24-410 finish.
The new container is filled by an unidentified contract packager that is also responsible for applying the specially shaped pressure-sensitive labels. The container was introduced late in '00, so market reaction isn't yet known, says Karrie-Lee Karreman, Diamond's sales and marketing manager.
The true challenge to making the container, says Howard Sandys and Bob Down, Richards' account managers, was to develop what it calls a proprietary blow-molding tooling package that permits making two separate, but connected, bottles in a single mold set.
The Bernard M. Seid Best of Show award will be presented May 19 during the NACD annual convention in Anchorage, Alaska.
Companies in this article