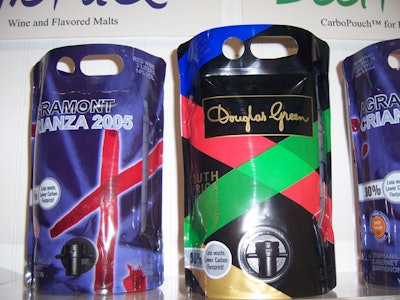 PPi Technologies Global showcased a number of the latest pouch technologies at Pack Expo.  One of the more interesting was a product called VinoPaQ, which is being touted as a bag in box replacement.  The stand-up pouch with a built in tap can be used for any liquid product including wines, condiments, and juices.  PPi Technologies Global is claiming a 90% lower carbon footprint than the equivalent bag in box package.
Another interesting pack is the BeerPaQ, the first carbonated pouch.  The pouch has taken years of development, but is ready for market.
PPi Technologies Global also showcased some of the latest in equipment innovations on a Laudenberg Form Fill Seal machine that integrated a cell phone transmitter, which can be programmed to call up to five different numbers if the machine is down for a present amount of time. 
The equipment also incorporates an on line gas analyzer to test residual oxygen in pouches, which can help reduce / eliminate waste from packages not properly filled.
Companies in this article