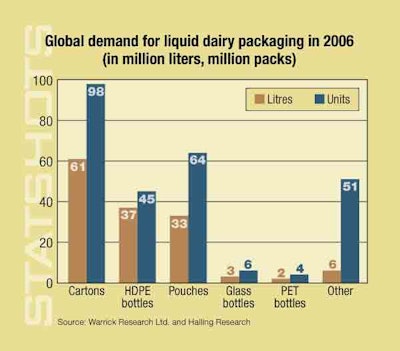 fermented, and flavored milks, yogurt drinks, and evaporated/condensed milk. That's according to the survey, Global Markets for Liquid Dairy Products and Packaging, conducted by Warrick Research Ltd. (www.warrickresearch.com) and Halling Research (www.hallingresearch.com).
Cartons, HDPE bottles, and pouches account for more than 90% of total liquid packaging by volume, although PET bottles, glass containers, thermoformed plastic containers, and metal packaging were also used for these products. Among the other survey highlights are the following:
• Liquid dairy packaging used some 1.7 million tons of board for cartons and more than 1 million tons of polyethylene, with the associated use of foil and other barrier materials. Cartons have a perceived environmental advantage because they're largely made from a renewable resource. However, being made with polyethylene and foil, recycling becomes more difficult.
• The use of pouches will continue to grow rapidly, especially in China and India. Competitive equipment and packaging costs are key factors in this market, but as consumer spending increases, there will be more emphasis on product quality, longer refrigerated shelf life, and developing packaging and filler specifications to meet a range of shelf-life requirements. More basic systems will be in demand in poorer markets.
• HDPE bottle demand will increase to help provide oxygen and light barriers, with pack weights and costs also critical.
• Although PET containers have been successful in some national markets, they have had little impact on liquid dairy markets, especially for long-life products. The main opportunities for PET are in the precise barrier formulations for high-value products in developed markets.
Available for $9,900, the report looks at liquid dairy products by type and size of pack, and for more than 40 countries, with detailed four-year forecasts. It also covers packaging materials and examines technical developments in packaging. For more information, e-mail David Warrick at dwarrick@compuserve.com or Pat Smith at pat.smith@hallingresearch.com.