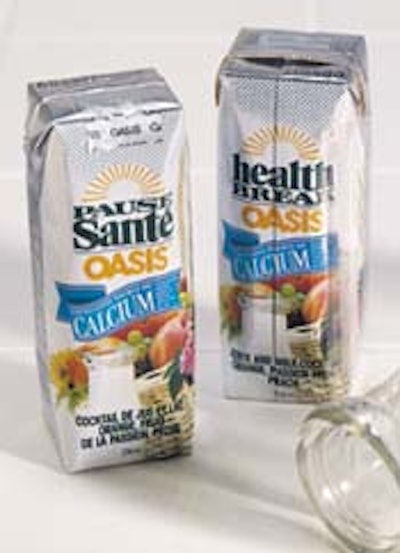 Like the standard brick-pack machines that produce beverage and food packs around the world, the Prisma package is produced from rollstock. But the paperboard/foil/polyethylene structure includes a top layer of metallized oriented polypropylene laminated to the paper substrate and an extrusion of PE over that to protect the gravure-printed graphics.
The Prisma's eight-sided shape also differentiates it from the rectangular, kid-oriented brick pack. And while the use of a straw is the standard method of drinking from a conventional brick pack, the Prisma package has a foil pull-tab over a large orifice that makes it easy to pour into a cup or drink right from the pack. It's clearly aimed at adults.
Lassonde uses the Prisma pack for a line of chilled fruit and vegetable drinks under its Oasis brand. The Oasis line is already available in 64-oz paperboard gabletop packages sold in the refrigerated section of the supermarket. The idea behind the 236-mL Prisma pack, says Pierre L'Heureux, vice president of marketing at Lassonde, is to provide a single-serve option that complements the "family-sized" gabletop.
"There's an opportunity to develop out-of-home consumption with this package," says L'Heureux. Its unique shape "gives it tremendous appeal," he says. "Combined with the metallized quality of its graphics, it results in a great look."
Alhough the Prisma packaging system is designed for aseptic packaging, Lassonde's new single-serve drinks aren't treated as shelf-stable items the way ordinary aseptic brick packs are. That's because, says L'Heureux, these not-from-concentrate products are made from the freshest ingredients and are minimally processed, particularly where heat is concerned. If they weren't refrigerated, or if they were refrigerated but were sold beyond 100 days from date of packaging, such products wouldn't retain peak color and flavor, says L'Heureux.
Shrink-wrapped in threes in clear film, the single-serve Oasis drinks reached Canadian supermarkets the last week of January. Suggested retail price: $1.99 (US$1.35).
Companies in this article