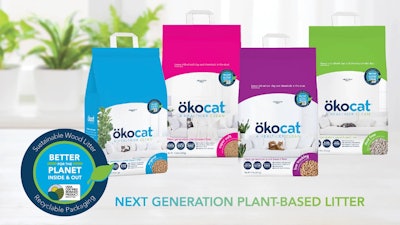 For more than 35 years, Ferndale, Wash.-based Healthy Pet, a division of J. Rettenmaier & Söhne GmbH + Co KG of Rosenberg, Germany, has been producing natural pet products from reclaimed, renewable materials. But, says Healthy Pet Consumer Communications Manager Leslie Ellis, the company recognizes that it can always take sustainability a step further. "We are continually striving to improve our products, including our packaging," she says.
Among Healthy Pet's products that promise "A Healthier Clean" is its ökocat natural cat litter. öko is German for "eco" or ecological—an ideal descriptor for the litter product, which is made from rescued natural wood fiber that is free of harmful chemicals, added fragrances, and toxic dyes and is 99% dust free. Explains Ellis, "Since it's free of toxic chemicals, additives, and synthetic scents, it's not detrimental to the environment, unlike strip-mined clay litter, which accounts for the 2.4 million tons of cat litter that end up in landfills each year."
Several years ago, Healthy Pet conducted an in-depth consumer study to better understand its ökocat customer as well as ways it could improve upon its natural cat litter product. According to Ellis, "A clear insight was revealed: Make the packaging 100% recyclable."
---
---
This consumer directive, she shares, triggered a lengthy development process, slowed by COVID-19 and supply chain issues, that resulted in a switch from a paperboard box to a 100% recyclable paper bag for the full ökocat line.
The previous packaging for ökocat was a corrugated box with a plastic handle that, while recyclable, was difficult to break down because of the glue used on the package. The customer also needed to remove the plastic handle before recycling the box.
In developing a fully recyclable paper-bag alternative, Ellis says Healthy Pet devoted a lot of time to researching and testing different options. "Our design team worked hard to create packaging that was fully recyclable and biodegradable, while still ensuring the paper bags were thick and durable enough to hold our litter," she says. "We also faced the challenge of implementing a paper handle that was strong enough to allow users to easily lift and transport each bag."
The resulting package is a double-wall paper bag with a multi-wrapped paper handle that is glued in-between the layers of the bag for extra strength and durability. Ellis says that although Healthy Pet prefers to source its packaging domestically, it was not able find what it needed in the U.S. As a result, it chose a proprietary European supplier well known to its parent company, LRS, which has for years sourced the paper bag used for its European brand, Cat's Best natural litter, from the supplier.
---
---
According to Ellis, the new packaging delivers similar strength to plastic packaging, "just in a format that's healthier for the planet and reinforces Healthy Pet's dedication to sustainability." This message is conveyed to consumers via on-pack graphics that advise them of the bag's recyclability.
The new bag for ökocat Original Premium, Super Soft, Low-Tracking, and Dust-Free varieties in sizes ranging from eight to 21.5 lb launched in late October 2023. The natural cat litter is available online and in retailers throughout the U.S. and Canada, including PetSmart, Pet Supplies Plus, Petco, Whole Foods Market, and others. PW