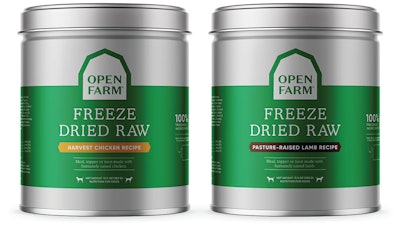 The pet food industry produces an estimated 300 million lb of plastic pet food and treat bags per year within the U.S. alone, and only about 1% of that packaging has an end-of-life solution that doesn't include the landfill. This is according to the Pet Sustainability Coalition (PSC), a nonprofit that seeks to advance environmental practices in the pet industry.
Domestic animal food packaging is particularly prone to generating plastic waste because producers have a hard time finding materials that ensure long shelf life while meeting food-grade standards. Plastic is appealing in the industry because the material is capable of holding the heavy weights in which pet food is sold, explains Peter Hjemdahl, co-founder of rePurpose Global, a plastic action program that allows for the purchase of carbon credits.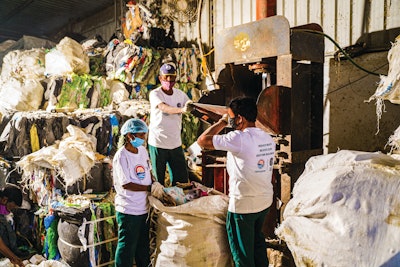 One factor that hinders environmentally friendly packaging is consumer behavior: Pet owners appreciate the convenience of tossing containers in the trash. Other challenges include the lack of recyclers and the big and expensive logistical changes that would be needed to move to a recycling or a reuse model, Hjemdahl adds.
The composition of packaging across brands is also highly variable, another recycling challenge. "It's a real challenge to find packaging options that aren't based on plastic," Hjemdahl says. "There's a lot of paper packaging, but it includes a plastic liner."
In May, rePurpose Global announced partnerships with 20 pet food companies in the U.S., Canada, and New Zealand to reduce plastics in their packaging and supply chains and finance rePurpose Global's waste projects. The brands, which include Earth Animal, Nature's Logic, and Right Right Pets, have already recovered 2,000 tons of plastic waste, the equivalent of 111 million plastic bottles or 1 billion plastic bags in weight, Hjemdahl says.
The rePurpose Global announcement comes on the heels of a survey by packaging and paper group Mondi, which showed that pet owners are increasingly turning an environmentally focused eye on the bags, boxes, and containers filled with Fido's food. Of the 751 pet food buyers polled in 2021, 74% said they'd favor pet food packaged in sustainable bags and containers. In addition, 45% of buyers said 100% recyclable packaging has the most favorable impact, with "made from post-consumer waste" close behind, at 32%. Slightly more than 25% of buyers favor compostable packaging, says Bill Kuecker, vice president of marketing for Mondi Consumer Packaging in North America.
Packagers and the makers of pet food packaging generally agree on the four main ways industry products could be packaged more sustainably. Containers that are either reusable, compostable, mechanically (traditional) recyclable, or chemically (advanced) recyclable constitute the four more ecological paths in pet food packaging. We'll look at them all of them, starting with reusables.
Reuse by refilling empty containers
Consumers will likely adopt an environmentally conscious packaging method that prioritizes convenience, Hjemdahl says. Some containers and bag programs currently in place or being piloted call for buyers to return recyclable packaging to pet stores, where it's picked up and shipped to recyclers.
But Hjemdahl proposes another option: "Changing from single-use to the milk-delivery strategy, where they deliver your milk, take the empty bottles, sterilize and reuse them, and then do the same thing again the next week," he says.
But he goes on to enumerate the two big drawbacks to reuse. It's a big adjustment for consumers. Also, the supply chains for the containers' cleaning and reuse would need to be established from scratch.
However, one pet food brand—Open Farm Pet Food—has recently been making inroads into the reuse model Loop's circular shopping platform.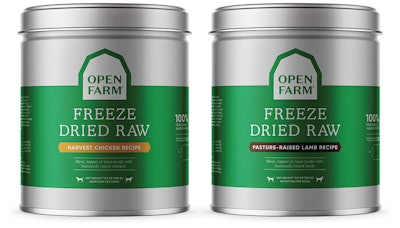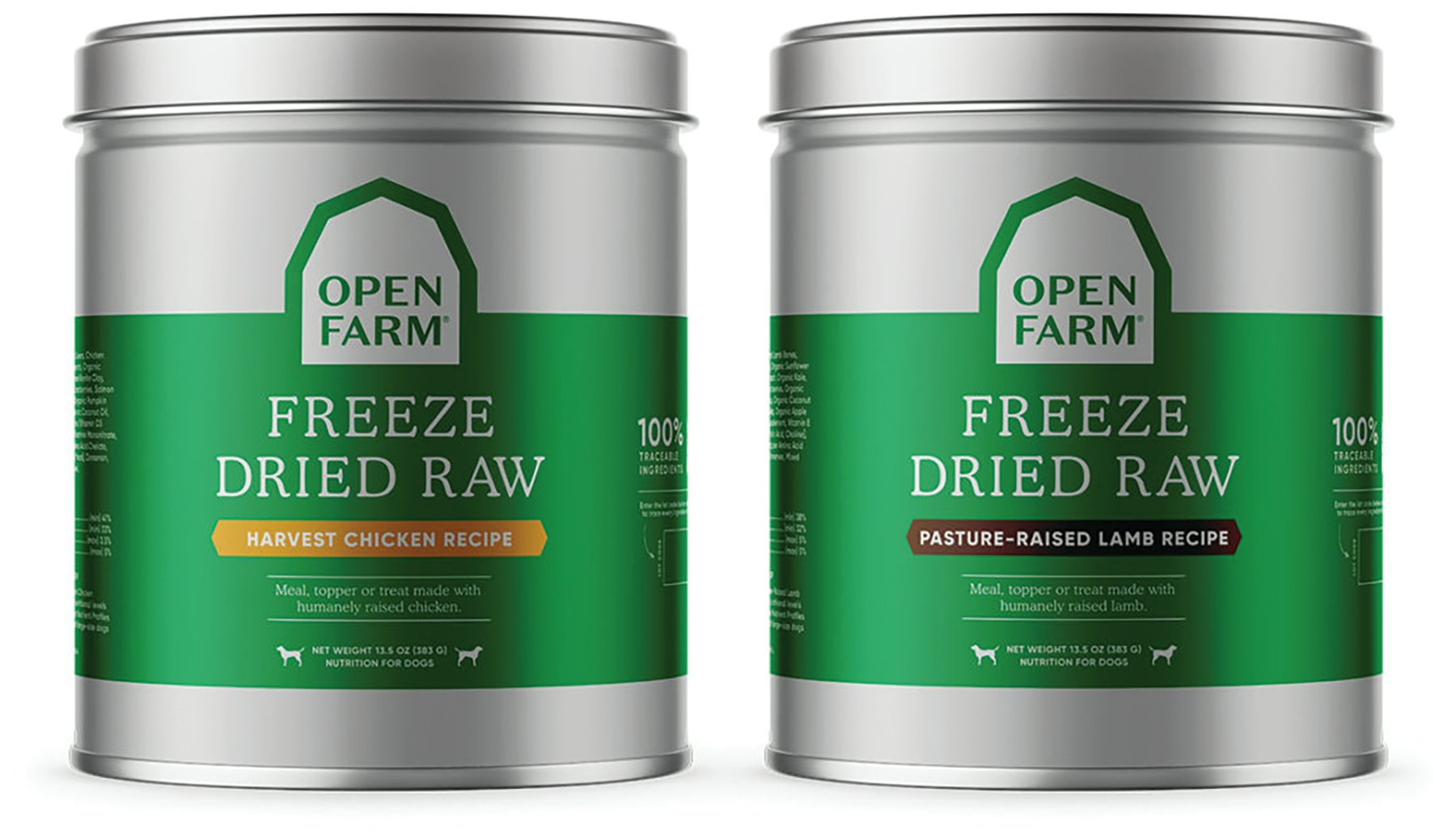 Through the three-year-old Loop platform from TerraCycle, participating brands offer their products in reusable containers. Customers then drop off the empty containers at designated drop-off sites within stores. Loop picks up the empty containers, cleans and refills them, then makes them available for purchase at a participating location.
"Sustainability is at the core of everything we do at Open Farm as we continue our commitment to raise the bar when it comes to feeding our pets and caring for our planet," said Isaac Langleben, Co-Founder and CEO of Open Farm, in a press release upon joining Loop. "Joining Loop is an important next step in reducing our environmental impact and is the perfect way to offer consumers a waste free option."
Open Farm says its reusable containers for the two Freeze-Dried Raw recipes are the only recipes hosted through Loop at this time. However, the company hopes to one day offer its entire product range in re-usable containers.
"This is just the beginning of a larger sustainability effort we hope to be a part of at Open Farm," the company told Packaging World.
Mechanical recycling benefits from mono-materials
Maybe consumers would find it convenient to return their used packaging for recycling while picking up a new supply of pet food? To find out, PSC carried out a five-month pilot from August 2020 to February 2021 called Flex Forward. The study looked at the feasibility of in-store collection of multilayer plastic pet food and treat packaging for mechanical recycling. The study found that pet owners genuinely do want to recycle their pets' food bags, though they have a hard time finding out how to do so, says Caitlyn Dudas, PSC's executive director.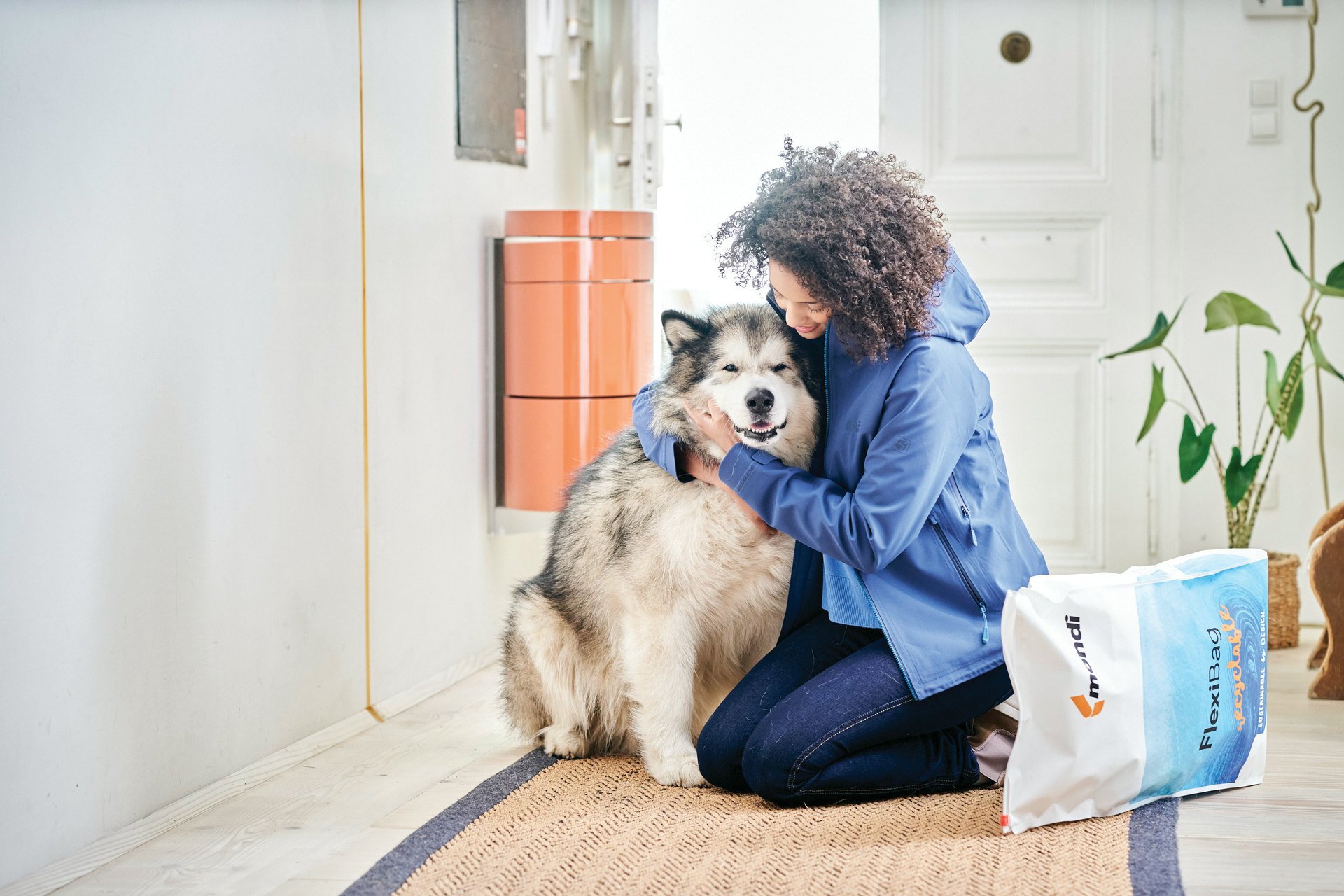 Nearly all pet food bags are made by co-extruding and laminating multiple layers of plastic film into a multilayer, sandwiched structure. Each layer performs a different functional purpose, and "it's nearly impossible to separate layers from each other with the current state of [mechanical] recycling technology," according to the report.
Another factor holding the industry back is that the cost of recycling is usually more than the value of the materials in the package. Also at issue is the difficult hunt for a distribution partner that can take the bags from drop-off locations in pet stores to recycling facilities, according to PSC. Even finding appropriate recycling facilities for the Flex Forward pilot was a challenge, Dudas says.
There are some return-for-recycling pet food packaging programs that already exist, Dudas says. A handful of brands have established recycling options through the aforementioned TerraCycle, a company that develops recycling solutions for those waste streams that are not typically curbside recyclable. The packaging can be sent by mail to TerraCycle or dropped off at a retail establishment within the program, which then mails it back for recycling.
Alternatively, some bag manufacturers have begun to offer single-material "recycle-ready" bags that are recyclable in a polyethylene stream, collected at store drop-off locations. To date, recycle-ready bags make up only a single-digit percentage of the pet food and pet treat packaging market, Dudas shares.
The Flex Forward pilot ran for five months—one month faster than planned due to its success—at 127 U.S. pet stores. The multilayer and single-material bags were mechanically recycled at Earth Plastics. The Pennsylvania company has long experience recycling post-industrial pet food packaging, according to the Flex Forward report.
During the pilot, PSC learned some valuable lessons. The "right out of the gate" lesson: Don't put paper stickers on recyclable packaging. The pilot's leaders asked stores to put these stickers on the returned bags, so they could track where the bags were coming from. But "using paper stickers on each bag increased contamination in the waste stream because paper should not enter the plastics recycling stream," the report noted.
Overall, the participating stores saw around a 5% to 10% weekly return rate on all packages sold. PSC originally expected it to take around six months to collect 5,000 lb of pet food and treat packaging. The average food or treat bag weighs 1.6 oz. But it took just five months to collect 8,356 lb of packaging, far surpassing that estimated timeline, according to the report. And that was during the COVID-19 pandemic, when stores saw far less foot traffic than usual, Dudas says.
One huge drawback to in-store collection is the lack of pet food packaging recyclers. PSC found that shipping packaging from the various retailers to Pennsylvania was expensive and couldn't be sustained long-term.
"It's not in the best interest of the pet industry, or the planet, to continue to collect materials if a more sustainable solution to landfilling cannot be found," the report notes.
Dudas says PSC will now be conducting recycling trials to find the easiest, most effective, and lowest-cost recycling method, whether it be mechanical or chemical recycling,
With mechanical recycling, plastic waste is made into a secondary raw material without significantly changing the chemical structure of the plastics. Mechanical processes include sorting, grinding, and melting.
---
---
Examples include Mondi's recently introduced RetortPouch Recyclable package for wet pet food. The high-barrier pouch can replace complex multilayer and unrecyclable packaging, offering a solution that can withstand high temperatures, protect the product, and provide excellent shelf life while reducing food waste, Kuecker, of Mondi, says.
Moist or semi-moist foods that are heat-treated in steam or hot water retort vessels to achieve commercial sterilization are packaged in retort pouches. Mondi has replaced the aluminum typically used for retort pouches with a recyclable, high-barrier film. The new, single-material packaging is fully recyclable, Kuecker says.
Mondi also introduced its FlexiBag Recyclable for dry pet food, which is a reclosable, high-barrier, recyclable packaging solution that confines smells, protects the product, and is recyclable. Made from a single-plastic material, the bags are already used by several leading pet food brands, Kuecker adds.
One such brand using this pack format is Wolf of Wilderness, an own brand by German online pet supply retailer zooplus AG. Mondi is supplying the brand with a pre-made FlexiBag Recyclable and BarrierPack Recyclable form-fill-seal (F/F/S) reel material, both certified recyclable by the Institute cyclos HTP, which specializes in the classification, assessment, and certification of packaging recyclability.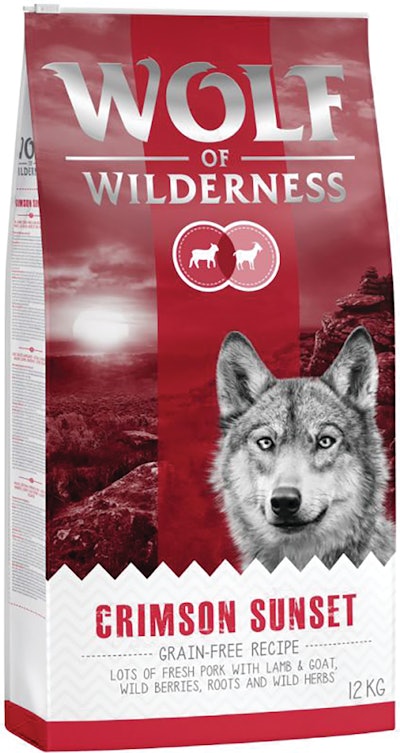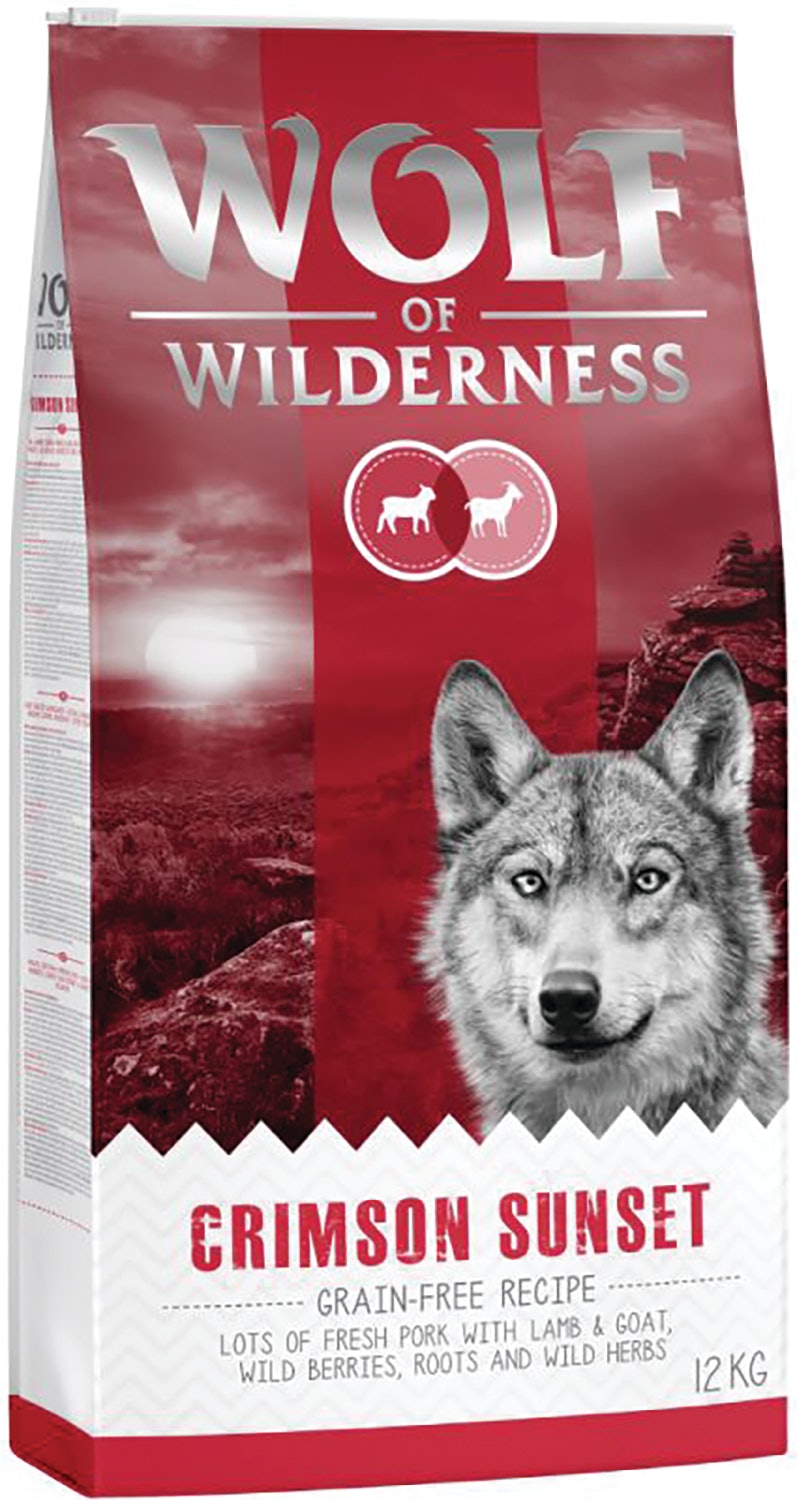 "The success of 'Wolf of Wilderness' shows that we have our finger on the pulse for species-appropriate, convenient, and high-quality food that dogs love. That is why Mera Tiernahrung, who has been contributing to our success for years, manufactures the dog food. As a consequence, we only considered a sustainable and high-quality solution to package the new flavors," said Dominik Mayer, Senior Product Manager for Wolf of Wilderness at zooplus when asked about the project in late 2020.
Finally, several brands are choosing augment sustainability programs, like those aimed at using more recycle-ready materials, by redesign their packaging to reduce the volume of raw materials used in packaging in terms of size, weight, and thickness. Smaller packaging designs, for example, reduce the space needed for transport and can lower CO2 emissions through a 20% to 30% reduction in overall transportation weight, PCS's Dudas says.
Those emission numbers would be affected by specific packaging designs and how much material redesign eliminated, she adds.
Chemical recycling holds promise
Chemical recycling—sometimes called advanced recycling—is a broad term that incorporates many different technologies, though each of them converts plastic waste into chemicals by converting the chemicals within the plastics to raw materials that can be used for other chemical processes, including creating new products.
"These technologies are new and emerging. They tend to be expensive, and there are not currently many at a large enough scale to handle waste on the scale of the entire pet industry," the Flex Forward report notes.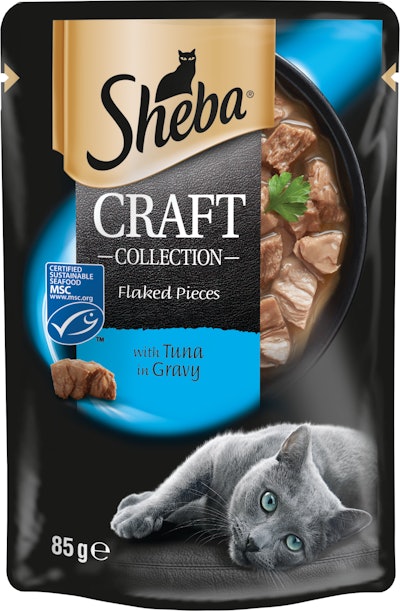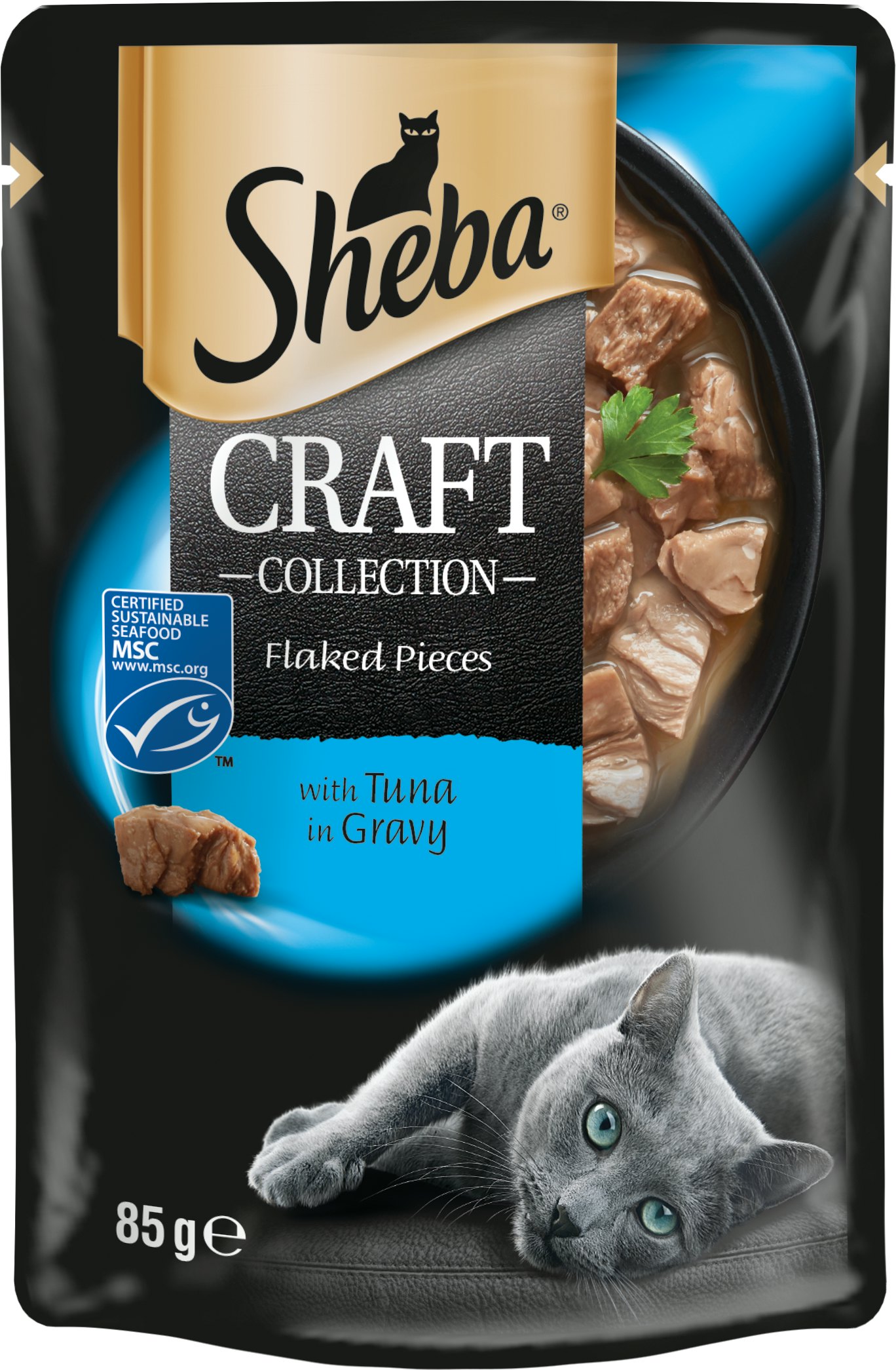 One example of a chemical recycling effort in the pet food industry is a Mars' partnership with SABIC and Huhtamaki to investigate where best to develop a flexible packaging solution incorporating advanced recycled materials. Through trials and a brand partnership with cat food manufacturer Sheba, the company was able to launch a wet pet food pouch to the European market containing food-safe polypropylene made from post-consumer recycled waste, processed by SABIC's Trucircle solution and made into a film by Huhtamaki.
"This not only helps us on our journey to achieve 30% average recycled content in our plastic packaging and to reduce our use of virgin plastic by 25% but it also proves that the inclusion of advanced recycled materials is possible, even with the most difficult of packaging processes involving high temperatures and pressures," Allison Lin, Mars global vice president of packaging sustainability, told Packaging World in May.
Compostable bags break down naturally over time
Other pet food makers are considering how to avoid plastic packaging in the first place. Take the example of The Everlasting Pet Company, founded in 2022, which makes organic dog treats packaged in compostable bags that look a little like the brown paper lunch bags humans use to carry their own treats. The labeling is also printed on compostable paper.
"Like a lot of startups, Everlasting was founded out of personal frustration," says Peter Andruszkiewic, company co-founder.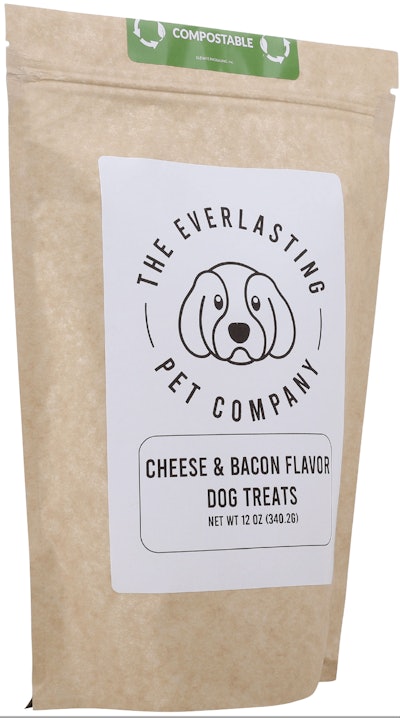 When he became a dog owner two years ago, Andruszkiewic had trouble finding organic, sustainably packaged treats for his dog, Millie. "The available options were low-quality, single-use packaging," he says.
In response, he investigated making and packaging his own product. From the start, he planned to use renewable or recyclable packaging.
As he shopped for packaging for the company's dog treats, Andruszkiewic says he soon discovered some of the reasons why sustainable containers are underused in the market. "A big piece of it is that consumer packaging is more expensive than alternatives. In pet treats, specifically, we see a dramatic rise in pouches. They're convenient," he says. "For us, as startup, finding a provider who provided durable but fully compostable packaging at a price we could afford was a challenge."
The bags Everlasting Pet Company landed on are made with paper, and the liner is a compostable laminated film. Andruszkiewic estimates the cost for the company's compostable bags is about 30% higher per unit than the more traditionally used pouches. To help with those costs, Everlasting sells larger packages of its dog treats as compared to similar brands. "You can then charge a higher fee, and that cost is absorbed across a larger base of ounces," he says.
The pet food industry still must clear a number of hurdles before sustainable packaging becomes the everyday norm.
But it's clear that pet owners can look forward to an easier time finding sustainable packaging options for their animals' food than in the past. Sustainability will come not through a single method, but via an optimized combinations of the options outlined here, summarizes Hjemdahl of rePurpose Global.
"We haven't found a panacea of one single thing that can replace plastic. So plastic will be in our lives for many decades to come," he says. "What's important now is how we deal with it through recycling, refilling, and other methods while we try to find other products that can take its place." PW
Editor's note: at press time, major pet food brand owner Freshpet relaunched its Nature's Fresh brand to be 100% plastic neutral through its partnership with rePurpose Global.
For every package of Nature's Fresh sold, rePurpose will remove the equivalent amount of ocean-bound plastic waste from regions with poor waste collection infrastructure.
"Our team understands that aligning with the right partners helps make us a smarter and more accountable brand," says Scott Morris, President and Co-founder, Freshpet. "We're making decisions that are driving change, and I'm proud that Nature's Fresh can take a leading role in helping transform our business as well as the industry."
Freshpet partners include Global Animal Partnership, The Pet Sustainability Coalition, Conservative International, and rePurpose Global.
Companies in this article