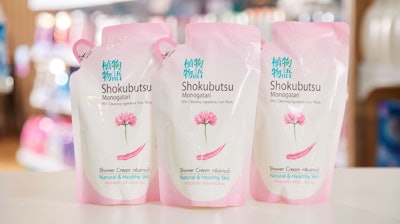 Japanese beauty care brand Shokubutsu Monogatari is hitting all of the three R's—Reduce. Reuse. Recycle.—with a new 100% recyclable pouch construction for its shower cream refills in Thailand. Shokubutsu Monogatari is a brand of Lion Corp., a Japanese multinational manufacturer of detergent, soap, medications, oral hygiene products, and other toiletries, whose corporate commitment includes, "Supporting cleanliness, health, and comfort, while protecting our global environment."
"Lion has always been committed to developing sustainable projects and packaging," says Lion (Thailand) SPC Business Executive Manager Somsak Srisaardrak. "This is in line with the shifting needs of consumers, as they become increasingly interested in environmentally friendly products."
In 2019/2020, Lion approached Dow Thailand Group "to not only address consumer needs but also reduce greenhouse gas emissions and advance a circular economy in Thailand" by developing a recyclable pouch for its shower cream refills, says Kodak Xiao, Asia Pacific marketing director for Packaging Health & Hygiene, global market segment director for Food & Specialty Packaging and Specialty Plastics at Dow.
Shokubutsu Monogatari had already entered the refillable/reusable packaging space with flexible refill pouches—a popular format in Thailand—but the packaging could not be recycled. According to Xiao, requirements for such a pouch include durability and high toughness to protect and ensure the quality of the product across its useful life as well as optics for shelf appeal. "Traditionally, such refill bags are made from multi-material packaging that typically involves different types of materials, such as PET, nylon, and polyethylene," he explains. "PET and nylon are used for printing purposes, while nylon can further strengthen the toughness of the packaging, and PE provides the function of heat seal."
---
---
Dow was able to create for the brand a recyclable refill pouch with the required properties by using its Innate TF Polyethylene Resins for Tenter Frame Biaxial Orientation (TF-BOPE) to replace the PET and nylon, resulting in an all-PE structure. According to Xiao, Dow is first to launch the TF-BOPE solution globally, a material typically challenging to produce.
"Tenter frame biaxial orientation is a mature film fabrication technology widely used in producing BOPP [biaxially oriented polypropylene], BOPET, and BOPA [biaxially oriented polyamide] films," says Xiao. "Traditionally, utilizing this technology to make BOPE is very difficult, as it is challenging to acquire a decent operation window on the industrial production lines due to the inherent property limitations of PE."
To develop Innate TF PE resins, Dow employed its proprietary catalyst and polymerization technologies as well as its experience in the orientation film market. Notes Xiao, due to its unique molecular architecture, BOPE films can be smoothly fabricated on existing BOPP lines with high quality consistency and gauge evenness.
"Meanwhile," he adds, "the high orientation applied in MD [Machine Direction] and TD [Transverse Direction] during the tenter frame process endows films with excellent mechanical properties, high stiffness, and outstanding optical appearance, which represents a giant leap from the performance of traditional PE films and enables the substitution of traditional non-recyclable materials with all-PE designs for various packaging applications.
---
---
"The film also offers distinctive physical properties that can enable material substitution, film layer elimination, and downgauging to reduce overall packaging materials."
Joining Lion Corp. and Dow Thailand Group in the development of the Shokubutsu Monogatari refill pouch were Dow's Pack Studios Singapore and the distribution network of Asian petrochemical company SCG Chemicals (SCGC). "The recyclable refill bag for Shokubutsu Monogatari shower creams is an example of how more sustainable packaging can help to close the loop, through collaboration from business alliances, Dow's recyclable packaging solution, and support from SCGC," says Lion Corp.'s Srisaardrak. "These made the development of Lion Thailand's first recyclable refill bags possible while ensuring the quality of the product inside the packaging. This packaging also helps to reduce greenhouse gas emissions and advance a circular economy in the country."
The Shokubutsu Monogatari shower cream refill pouch was introduced in September 2022 in two sizes, 200 and 500 mL, across Thailand in department stores and supermarkets and, says the company, "will eventually replace the older bags."
Companies in this article