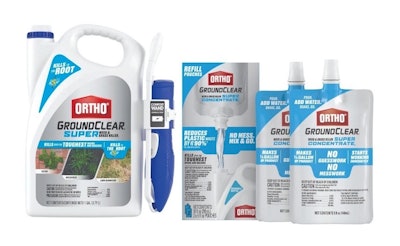 As happens many times in the packaging universe, trends in one category can inspire packaging innovation in another, completely different category. Such was the case with ScottsMiracle-Gro, which says it was influenced by the developments in refillable/reusable packaging in other markets in the design of its new weed and grass killer concentrate pouch.
"There was no individual product on the market that inspired the development of our Ortho GroundClear Super Concentrate flexible refill pouches, but rather a culmination of macro level trends," explains Keith Miller, senior packaging engineer for The Scotts Miracle-Gro Company. "Our teams stay on top of consumer trends and are continuously exploring sustainability opportunities. There has been increased interest and adoption of reusable and refillable products in other consumer product categories, and we have developed a form that makes concentrate use less intimidating to new consumers in the weed control category while also being a great sustainability benefit for the market."
Scotts first introduced its Ortho GroundClear Super Weed & Grass Killer in 2020 in a 1-gal container with trigger spray attachment, known as a "comfort wand," along with a 32-oz concentrate refill in a plastic bottle. In August 2022, it debuted a new concentrate option consisting of a 5-oz flexible pouch. "Concentrates in rigid plastic bottles have been an offering in the weed and insect control categories, but Ortho is leading the category with this flexible form innovation," says Miller.
Each 5-oz pouch of concentrate makes up to 0.5-gal of finished product when mixed with water. The pouch is a construction of PET/nylon/polyethylene film and is topped with a 20-mm child-resistant cap. According to Scotts, the new packaging reduces waste by up to 90% when compared to a 1-gal refill bottle and provides a smaller on-shelf footprint for retailers. It also requires less storage space in the consumer's home versus a standard-size bottle.
When asked about the use of a non-recyclable packaging material for the refill package, Miller says that while there are opportunities to build on recyclability and sustainability in the lawn care market, there are limitations given that it's a regulated category. "We think this is a great first step to begin to change consumer habits and lead the way when it comes to reducing plastic use in a category that has been so reliant on single-use plastics historically," he says.
One of the obstacles to the adoption of refillable/reusable systems that Miller says Scotts worked hard to address was consumer ease of use. "Not feeling comfortable or not knowing how to mix or use refillable products is a barrier that the team put a lot of effort into eliminating for consumers," he says. "This new product form minimizes the guesswork and mess that consumers deal with when mixing concentrate products. It's really simple—one five-fluid-ounce pouch makes one half-gallon of finished product. We do the measuring for the consumer."
---
---
Scotts' hope for the refill product is that consumers will use their existing Ortho bottles and tank sprayers with the concentrate. The containers and comfort wands designed for the Scotts Ortho brand are said to be extremely durable and built to last over multiple uses. For those consumers who don't already have a tank sprayer, Scotts offers an online option for the product that includes an empty 0.5-gal reusable bottle.
For the Ortho GroundClear product sold online, Scotts has further minimized packaging waste by designing a SIOC (ships in own container) configuration, which eliminates the need for a box within a box.
When considering options for filling the new pouch format, Miller says Scotts explored the use of a contract packager, but concerns over product contamination limited its search, with most partners requiring a capital investment from Scotts in order to isolate its products. After a "make-versus-buy" analysis, the company chose to invest in a fully automated rotary pouch-filling machine, which Miller says allows Scotts to have more control over launch timing and expand offerings as needed.
The Ortho GroundClear Super Concentrate flexible pouch refill is available in more than 850 stores around the country, as well as online on sites that include Amazon and ScottsMiracle-Gro. A two-pack of the concentrate is priced at $18.49.
---
---