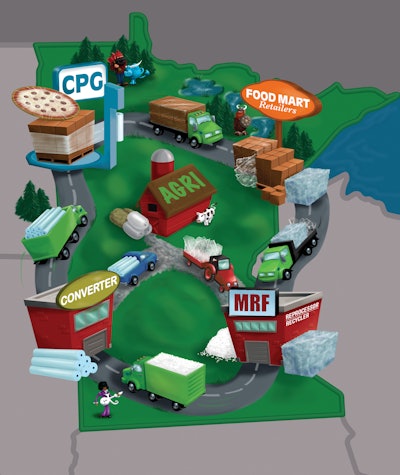 Illustration by E.J. Luden for Packaging World
Considering that you're now browsing Packaging World magazine's website, chances are good that you're with a brand owner or CPG company in a capacity related to packaging operations. And if you tick that box, then it's almost certain that you're at least adjacent to projects aimed at improving your products' overall sustainability profile. Brands have imposed upon themselves target dates to meet these commitments, usually a round number like 2025 or 2030 that some worry are impractical. But to be fair, with such lofty goals, what's practical might be the enemy of what's possible. Not to mention, people like nice, round numbers for target dates.
Meanwhile, upstream from you, converters and other packaging suppliers are working to develop more sustainable materials that they can sell to your operation. In the case of PCR, they're first searching for a dependable supply. Once having secured that (which is no guarantee), they're then asking recyclers for higher quality materials.
And downstream from you, retailers are laboring under sustainability goals of their own, perhaps making your products' sustainability profiles a factor in how much space you'll get on their retail shelves, if any. All these stakeholders' distinct and disparate efforts are due to consumers who say they are actively seeking out products with more sustainable packaging.
Log in to view the full article