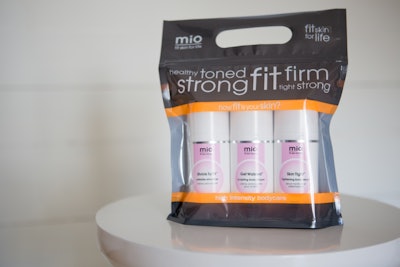 MIO Skincare's new kit, carrying three separate bottles of skincare products, produces a sensory experience for consumers by evoking a contemporary twist with its appearance and style, providing the convenience of portability, and delivering sustainable packaging benefits.
Launched earlier this year, the carry handle-equipped stand-up pouch is manufactured by Specialty Packaging Technologies, Inc. (SPT), a subsidiary of Precision Color Graphics Ltd. The pouch structure is a 48-ga polyester film laminated to a 4-mil linear low-density polyethylene film.
Jill Dunk, Founding Partner of Costa Mesa, CA-based MIO Skincare, explains that SPT customized the package exclusively for Life Time Fitness, a chain of high-end health centers with 112 U.S. locations.
"We wanted to offer a 'pick up and go' product," she explains. "It was launched in conjunction with Life Time's 90-day fitness challenge and first shipped in July. This is a kit that is recommended by Life Time's personal trainers and group fitness instructors, sold in the area within their facilities where they sell their protein supplements. So it is a totally unique package."
Each kit holds three individually packaged bottles of skincare lotions in 100-mL injection-molded polypropylene bottles from Toly. The three-piece containers include the bottle, cap, and an airless pump actuator. The three different products are Skin Tight, Get Waisted, and Shrink To Fit. One product is a serum: two are creams. MIO employees manually load bottles into the pouches, along with a paper insert that provides exercise tips.
The new kit is value-priced at $135; buying each product separately would cost $168.
Before the pouch, MIO sold the three different bottles individually, employing a folding carton to contain each single bottle. The move to a lighter-weight flexible pouch helps reduce packaging material demands.
Developing the idea
So how did MIO and SPT connect? Dunk notes that SPT also makes sachets that MIO uses for other products. "We were seeking packaging for this, and the pouch idea came through in a meeting we had with them. We were looking to create a unique package in which you could see the product. It was very important to us that we could actually have information on the back of the pouch that was readable. When you use a bag or some type of other box, you can't see what's inside. So it was important for us to have a package that would allow the customer to see what they were purchasing. The pouch allows us to show who we are as a brand and also create a kit that allows the customer to experience it in that way. The pouch allows us to share our message as a kit without having to have our traditional outer folding carton."
Jane Dirr, SPT's Vice President of Business Development, points out, "The application for this package is a key differentiator in and of itself. In the skincare market most 'kits' are provided in a folding carton, vinyl case, or similar package. To take this kit concept into a stand-up, reclosable pouch with a carry handle is very appealing to the consumer. This pouch is lighter weight, reducing the amount of materials used in its production, resulting in a more sustainable package. Because of its design features, the consumer will be very likely to reuse the pouch, which is another sustainable advantage."
Dunk says beyond visibility, "The pouch is sturdy, has a nice gusset on the bottom, and holds the product well, and the resealable zipper is substantial. You pick it up and you go," she says.
SPT's Dirr says that the PET/LLDPE laminated film structure for the pouch is not unusual. However, a lighter-weight gauge of film was used and still provided the strength and durability required. "In many cases," she says, "there is a misconception that pouches need to be a heavier gauge to support the application or function. This pouch illustrates that this is not always the case. The bottom gusset design is unique in that it is not your typical doyen-style or K-seal gusset. By employing a straight-seal bottom gusset, the pouch is able to accommodate more product in a dimensionally smaller pouch and allows the products to stand securely in an upright fashion."
MIO also sings SPT's praises when it comes to pouch decoration. Says Dunk, "We have a unique orange color that's often very hard to print. They did a good job of it." Copy on the pouch refers to the pack as a skin challenge kit, that it's a high-intensity body care product, and describe that fit skin refers to healthy, toned, strong, fit, firm, and tight skin. "There is a combination of grey with this orange," she says.
SPT's Dirr notes, "From a creative design perspective, MIO has very tight requirements, and we were able to achieve the fluorescent color and overall graphic appeal that is consistent with the MIO product line, using flexographic printing and a plating system provided by our parent company, Precision Color Graphics. This high-quality printing is further enhanced during the pouch converting process by utilizing a double-cut feature that allows the print to extend edge to edge—an advantage that is typically achieved with costly, engraved cylinders on press."
In the future, MIO's Dunk says her company will offer customized versions of the kits for different partnerships, and for products it sells online at mioskincare.com, and for additional products for Lifetime.
"Overall, the pouch has been received very well," says Dunk. "The feedback I have received is that the consumer likes to see what they are buying."
To see a spin + zoom 360° photo, click here.
Companies in this article