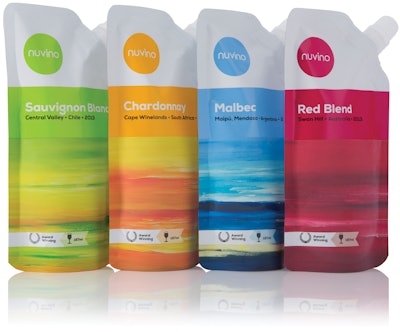 The NuVino™ line from Miravante Brands LLC and Kretek Intl. has been developed specifically for the 21- to 36-year-old crowd, which Miravante President Jason Carignan says "is making it fashionable to take wine with them, whether it's for an adventurous hike or relaxing on a beach."
Carignan, whose company led the development of NuVino, says the idea sprung from one of his previous commercial design innovations: the Vapur foldable, reusable water bottle. "I noticed our customers were using the pouch to transport wine to outdoor events," he explains. "So I began the process of creating a convenient, premium wine product in a single-serve, unbreakable pouch for the adventurous wine drinker."
The pouch—comprising just 2% of the product's weight versus a glass bottle, which makes up 30%—was also developed to address consumers' rising awareness of waste. "This appeals to someone who may want a single glass of wine, but doesn't want to waste an entire bottle to get it," says Carignan. A cap on the spouted pouch also makes the package resealable, allowing consumers to keep unused product fresh.
The flexible stand-up pouch is said to use Miravante's four-layer PreservPak film technology, developed by the company and its proprietary overseas film supplier. The pouch construction includes two layers of nylon, one of aluminum, and one of polypropylene, and provides "a minimum of 12 months of shelf life," says Carignan.
Graphics for the pouch were produced in-house by the Miravante creative team, with striations of bright colors—painted by Carignan's mom, Iris—making up the background. The film is printed in five colors, plus a matte and gloss finish to create a high-end feel.
The wine itself is sourced globally, with the initial offering including premium varietals from Chile, South Africa, Argentina, and Australia. As of presstime, the wine is scheduled for retail launch at the start of summer 2014 and will be distributed by partner Kretek, a manufacturer and distributor of products to more than 100,000 c-stores and top national retailers in the U.S. and Canada. NuVino wines have a suggested retail price of $3.99/pouch.
To see a spin + zoom 360° photo, click here.