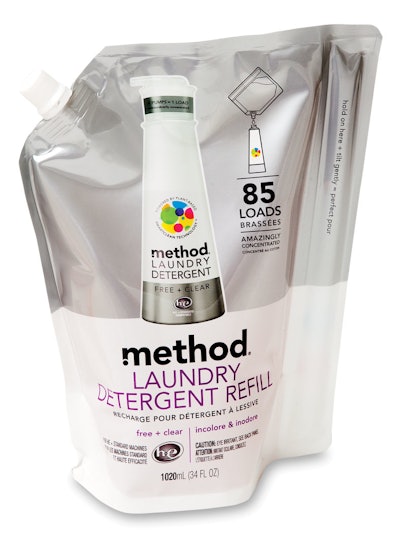 Making the product refill experience more palatable for consumers, the new Method Laundry & Dish Refill Pouch (with Spine), supplied by Innovative Packaging Solutions, Inc., has been awarded Gold by FPA for Technical Innovation. The Refill Spine Pouch was designed by Method's director of packaging, Rudi Becker—who is also referred to in Method-speak as "The Resinator"—to be easier to handle and more attractive on-shelf than traditional gusseted refill pouches.

"One of the things that we recognized early on," says Becker, "is that most refill pouches can be messy and inconvenient. This is one more evolution of the pouch that will allow refills to become more popular in the U.S."

The stand-up, spouted pouch is designed with a rigid spine constructed of high-density polyethylene inserted into a pocket along the right side of the pack. The spine provides an improved experience for the consumer, allowing for one-handed product dispensing and a more convenient and controlled pour. Along with die-cut angles on the bottom corners of the pouch, the spine also helps the package retain its posture, resulting in improved retail presentation.

While Method designed the structure, IPS facilitated the manufacture of the new package by its partner, Bemis Mayor Packaging in China. According to Becker, Method went with IPS because it was "the only company that felt they could do this." The pouch is a 6.8-mil construction of PET/nylon/linear low-density polyethylene, converted using an automated pouch-making machine equipped with multiple seal channels and cutting stations. The cap is supplied by Menshen Packaging Shanghai.

Environmentally conscious Method is a big proponent of refill packs because of their sustainability benefits. The Refill Spine Pouch offers an 80% savings in plastic, water, and energy when compared to primary packaging for Method's laundry detergent. Further enhancing the pouch's environmental footprint, Method has partnered with upcycler TerraCycle (www.terracycle.com) for collection and reuse of the pouch material after product use. "We believe in reusing resources when possible," says Becker.

Method introduced the Refill Spine Pouch for its laundry and dish detergent refills in spring 2011, in 34-oz and 36-oz sizes, respectively. The pack is now also available in the U.K.
Companies in this article