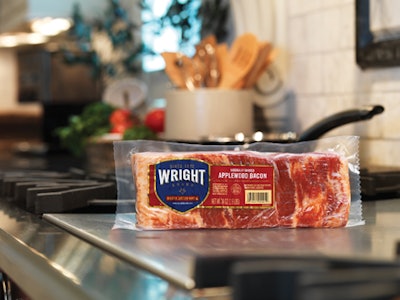 For Tyson Foods, the label is the main "touch point" for its Wright Brand bacon. Tyson has repositioned the bacon with the tagline "more of what you love about bacon," focusing on the thick individual bacon strips. However, Tyson determined that the brand needed a better label to reflect the premium positioning.
Tyson approached York Label, which created a label featuring a gold-outlined shield and crest area containing red, white, and gold elements on a blue background. The label leaves ample room for viewing the meat through the clear, flexible pack.
Prior to relaunching the bacon in packages bearing the new label, Tyson opted to validate the label's visual impact and findability through eye-tracking tests. Eye tracking showed that consumers foremost noticed the brand name—91% of the time. In quantitative research, the design was noted within 4 seconds by 26% of consumers—a significant improvement from the previous design.
"Wright Brand's new brand identity and packaging design significantly increase our findability on shelf," says Harold Heinze, Wright Brand senior director of marketing. "It also had the highest ratings for purchase intent."
Companies in this article