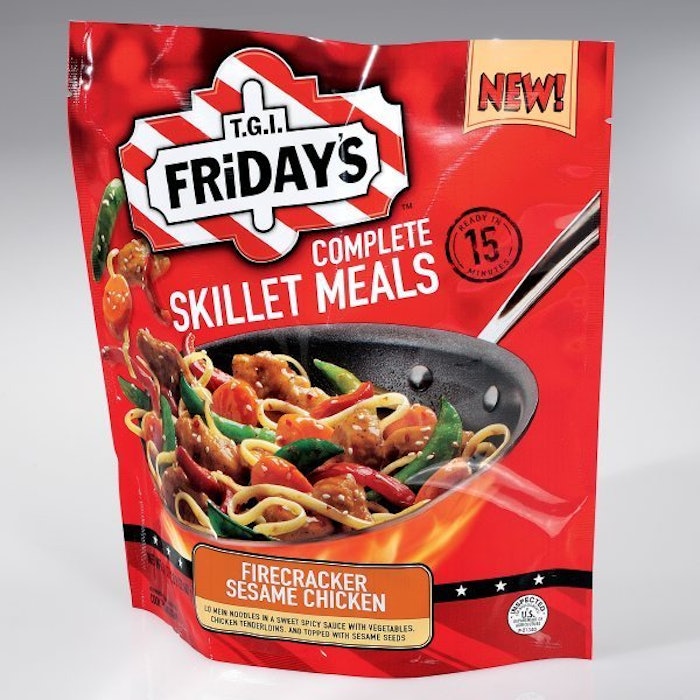 More consumers are eating meals at home more often. As a result, frozen foods are thriving. How does a newcomer brand fit in to this crowded category?
In the skillet-meal segment, T.G.I. Friday's opted for a Doyen-style stand-up pouch that creates plenty of billboard to show off the T.G.I. Friday's signature rich red color scheme. By selecting a stand-up pouch, T.G.I. Friday's not only exposes consumers to a much larger package front than often found among the freezer case's typically flat-laying bags, but also calls attention to a brand name that people know and trust.
The pouch is from Alcan Packaging (www.alcanpackaging.com), and it features reverse-printed rotogravure graphics. The pouch also presents quality on the inside. To streamline meal preparation at home, internal bags separate individual, precut and premeasured ingredients, and also allow for staging of the meal components. The individual packets also promote improved flavor and texture.
"We have a package that is appealing to consumers and promises bold, exciting, restaurant-inspired flavors inside," says Rick Parysek, packaging engineer for Heinz North America, which owns the T.G.I. Friday's brand. The skillet meals carry a suggested retail price of $6.99 to $7.99