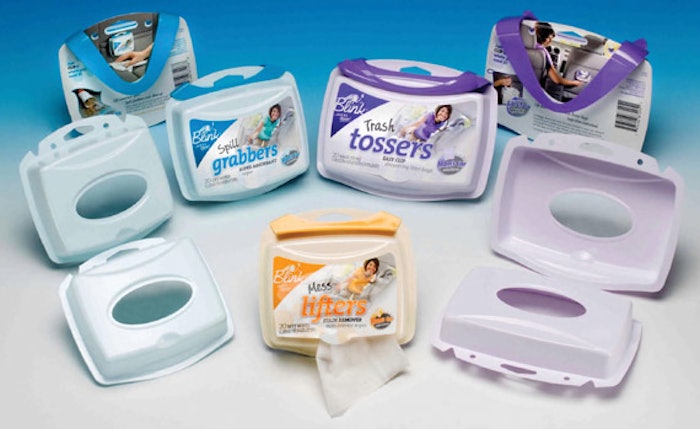 Traditional "guy" products around the store are gravitating toward package-design tactics that also get women's attention. In most cases, women purchase the product and men consume it. But a few product and category managers with especially keen eyes are discovering even subtler opportunities within male-oriented departments. They're creating packaging systems that attract women as both shopper and consumer—in the process introducing them to aisles they might not otherwise visit.
Honeywell's Consumer Products Group, Morris Township, N.J., is filling one of these gaps, in the automotive aftermarket aisle. The company has launched a line of innovative products that create a new subcategory—car accessories that help moms maintain order in their vehicles without a big investment in time and money.
Both products and packages in the line, marketed under the Blink brand, are designed in soft colors and gentle curves. These are feminine cues—in stark contrast to the male-oriented rigid shapes, darker colors, and packaging graphics that celebrate speed and grime. Such packages are commonplace in the auto-care aisle.
The recent launch of the Blink line follows 18 months of research and planning, and it results from two significant decisions. First, Honeywell shifted its original focus for the brand from male-oriented to women's more functional car-organization needs, habits, wants, and purchase behavior, creating products in the right packages to appeal to women. Second, Honeywell, working directly with a few principal partners, assembled the right network of vendors to solve the manufacturing complexities in working with many different product and package components in multiple material types.
Assembling the team
Honeywell selected 4sight (www.4sightinc.com), a product and package innovation firm, as an integral part of its creative team. 4sight, in turn, chose Rand Direct (www.rand-direct.com), a contract packager, to fill, label, cover, and seal the packages—and bring the efforts of all the sub-vendors together. Jim Brown, Honeywell's CPG director, new marketing, describes the work of these vendors as a "virtual factory" that Rand Direct integrated as "a seamless manufacturing operation."
The result, Brown, says, is a line of innovative products that help the 24/7 "soccer mom" organize her hectic life in the car while transporting kids to athletic fields and other activities.
Identifying the true target
When Honeywell first approached 4sight to develop the Blink line, the product manufacturer had already developed a packaging brief that communicated to males and cars through "TLC" activities such as waxing and polishing.
"Honeywell told us, 'We want to sell more products to women. We're not sure how, but we have this line of auto-care products,'" recalls Stuart Leslie, president of 4sight.
The first significant step that 4sight took in evolving the brand was to conduct group and one-on-one interviews, as well as observational research. Those steps identified the needs of consumers who would be purchasing and using Blink products. This new research uncovered an entirely different type of target consumer than Honeywell had envisioned—time-pressed moms who want to regain organizational control of their cars. Her world in the car is survival, and she focuses on clutter management and spill cleanup. Whereas a car is a true expression of self for men, busy women view their vehicle as a functional tool.
"We discovered that these moms are not interested in traditional car-care cleaning products," Brown says. "There just isn't enough time in the day for busy moms to spend it aggressively cleaning the family car. Plus, it's often cost- and time-prohibitive to have it cleaned professionally."
"So when it came to the packaging," Leslie adds, "we realized we had to spend for convenience, on things mom could control in the car."
The research identified five need states that each translated into its own wipes product and packaging platform. The products carry the "Mom's Car Solutions" brand mark. The lineup includes Mess Lifters stain remover auto interior wipes, Spill Grabbers superabsorbent wipes, Trash Tossers easy clip drawstring litterbags, Smudge Cleaners fingerprint removers, and Tidy Totes carry bags.
A portion of the line is packaged in polyvinyl chloride thermoform trays from Tegrant Alloyd Brands (www.scapackaging.alloyd.com). "We were able to take a packaging concept and execute it in color thermoforming, whereas the traditional approach would have been injection molding," says Ken Sullivan, director of marketing at Tegrant Alloyd. "In the process, it saved Honeywell some money."
The trays contain injection-molded ABS clips and paperboard graphics cards. The range of packaging also includes PVC pouches.
Each package fastens onto a door pocket or seat back, and can be stored in the glove compartment, center console, or in seat organizers.
Consumer research uncovered one additional important finding. For women, form follows emotion rather than function. In packaging parlance, that means they want style and a touch of whimsy rather than utilitarian designs that often satisfy men. That discovery is reflected in Blink's curvaceous packaging, as well as feminine colors that don't necessarily match the car interior. The clip on the back of the Trash Tossers thermoform package, for example, is lavender and shaped like a bow.
Integrated supplier network
The product line and packaging evolved from what Honeywell's Brown describes as a virtual-factory approach to manufacturing. Honeywell lacked a procurement team large enough to source all 20 components and services used in the product family, so 4sight managed the entire preproduction phase.
"We also worked with the Honeywell logistics team to understand the scope of implementing these new concepts from their standpoint," Leslie explains.
The Blink line required the sourcing of suppliers in injection molding, thermoforming, non-woven materials, non-woven converting, film, flexible bags, sewn bags, vinyl pouches, and product formulation. Multiple suppliers for each area were located and qualified.
As part of the qualification process, 4sight visited plants of the manufacturing partners to understand how to develop compelling packaging that maximizes Honeywell's resources. Rand Direct was selected from among 50 prospects as the contract packager. Rand packed out the entire line after receiving components from each sub-vendor.
Besides many materials suppliers, the project called upon HMS Design (www.hmsdesign.com) for graphics, branding, label design, photography, and color scheme. Lindsay, Stone & Briggs (www.lsb.com) defined the brand name and led the early graphic design.
In early 2007, Honeywell rolled out the results of this massive coordination of suppliers and materials. The Blink line exhibits a sense of style and feminine forms that integrates well into both the capabilities of an extensive supplier network and the lifestyles of busy moms.
For more, see packworld.com/design and packworld.com/automotive

Companies in this article