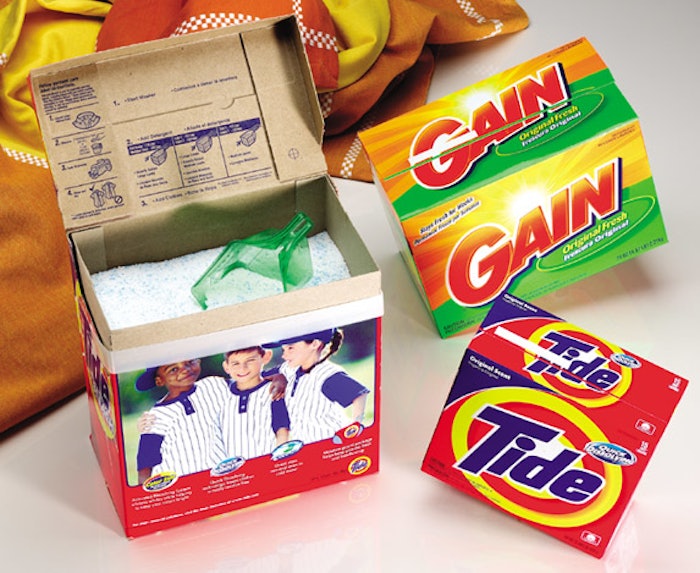 Paperboard packaging—the largest segment of the packaging industry—has significant opportunities to improve its position in consumer goods packaging. Capitalizing on those opportunities will require an understanding of a fundamental marketing shift in which consumers have become king, relying more on their own judgment and far less on the pull of traditional advertising messages.
These key conclusions were drawn from a series of consumer focus groups and store manager surveys and interviews. Consultancies Packaging & Technology Integrated Solutions (PTIS) and NewProductWorks (NPW) led the research for the Paperboard Packaging Alliance (PPA), a joint initiative between the Paperboard Packaging Council and the American Forest & Paper Association.
Focus-group participants expressed that they like and understand paperboard as a "comfort" packaging material. It provides ample space for a sexy billboard on packaging and its physical dimensions often solve home storage issues. But both consumers and retailers share the view that paperboard packaging needs to go further in leveraging color, shape, and special effects—even the choice of paper—to awaken their senses and explain the price-value relationship of the product inside the package.
Here are five other important takeaways from the two years of research:
• In consumers' minds, the product and package are one and the same.
• The package helps create an overall product perception and promise.
• The package is the product until the time when the product is consumed and the package is disposed of, reused, or recycled.
• Older consumers view products in paperboard packaging as familiar and trusted. When executed well, paperboard packaging strikes consumers—younger and older—as contemporary.
• The objective in package development should be to use paperboard to create winning marketplace product solutions rather than merely creating a great package.
In part, says PTIS President and Chief Executive Mike Richmond, the research dispels the perception by some in the paperboard industry that paperboard packaging has gained a staid reputation. "The opportunity for paperboard packages to play a stronger role is clearly there," Richmond says.
Charlotte Addison, a PPA steering committee member and market development manager at MeadWestvaco, says the findings sound a clear call to action: "What this research is telling us is that we have a strong value proposition. Historically, paperboard manufacturers have been insulated in the process. We need to get more integrated in the total approach, and part of it is by providing education."
A new forecast from The Freedonia Group Inc. supports the view of paperboard as a desirable packaging material. The Cleveland-based market research firm said U.S. demand for paper packaging (excluding boxes) will increase 2.3% per year to $8.4 billion in 2008. Freedonia forecast that many segments will register growth based on the presence of niche or entrenched markets where paper holds strong competitive positions. Paper's use in combination with film and foil to improve package performance and aesthetics will provide additional opportunities.
Probing consumers
Consumer focus groups provided the first layer of the PTIS/NPW research. The consumers interviewed offered rich insight into what they view as the pluses of paperboard packaging while signaling areas that need improvement. Here is a summary of focus group participants' observations of paperboard packaging, in terms of both shelf impact and functionality in the store and after the package arrives in their home:
• They view paperboard as an effective packaging material for connoting positive product attributes such as modern, relevant, fun, and premium quality. Interestingly, consumers younger than 20—who are very highly visual—emphasized this point. Marilyn Raymond, managing director at NewProductWorks, led the focus groups. She cautioned that consumer perceptions depend on the product category.
• Consumers will willingly pay for packaging features that offer convenience. The focus groups cited resealable closures and portion control as the most desirable options.
• Very young consumers, more than adults, see the package as an integral part of the product. The ability to see into or through the product through the package is especially important to girls. "You can see through the window to show two formulas. That's a plus," one girl commented in a focus group.
• Effective use of color, imagery, and special effects makes paperboard packaging a good option in helping consumers intuitively understand differences in product attributes.
Consider toothpaste. Two different approaches on a rectangular paperboard carton each convey a different product benefits message about GlaxoSmith-Kline Consumer Healthcare's Aquafresh brand. In the photo on this page, Package A, Original Aquafresh lacks the graphic pizzazz of the second carton, but the consumer focus groups said it wins at conveying the message "few chemicals."
Package B, Aquafresh Whitening, sparkles with a hologram and says "whiter teeth." It also wins on efficacy and product taste.
• Consumers described paperboard as a versatile packaging material and a strong vehicle for powerful graphics and other visual communication.
• Consumers view functionality as a major plus. They say that paperboard packages stack neatly in a shopping cart, making product damage less likely. Often, they are also space-savers in the pantry or freezer. Consumers noted another significant convenience benefit: Paperboard packages act as their own storage unit, eliminating a potential step of transferring product to another storage container after the package has been opened. This capability also makes paperboard packages portable.
The focus groups also suggested areas of improvement for paperboard packaging.
• While a paperboard package stacks nicely, it needs to be more mindful of limited storage space, especially in the freezer. Focus group participants cited pizza cartons among other paperboard packaging that leaves them space-stressed.
"Storage is so important to consumers that it can override other considerations," Raymond says.
• Consumers want more "windows" on cartons. These can raise their comfort level with the product inside the package and intensify their experience with a brand. One tactic is combining paperboard with other materials.
"The paperboard packaging industry needs to focus more on elements like rigid windows and printing on plastic and incorporating it into a carton," says Nick George, general manager of Rock-Tenn's Folding Carton Division.
George points to club stores as one area where this approach can enhance product value. The in-store, warehouse-like environment is sterile, and pallets are the preferred merchandising approach. Windowed packaging and high-quality printing can help draw attention to both the products and packaging on pallet displays, making them sellable from all four sides, he says.
• The focus groups expressed confusion about the price-value proposition between paperboard cartons and flexible-film bags when discussing frozen-food packaging. This perspective merits a closer look in other categories, too. In examining cereals, for example, the focus group members suspected that flexible-film bags offer more product than paperboard packaging for the money. However, they preferred the cartons for their familiarity, storage, pourability, and resealability benefits.
In a related issue, some consumers base their product selections, in part, on whether they can recycle the packaging. They have been trained in recycling by the numbered symbols on plastic packaging. But they say paperboard package recycling—particularly waxed and foil-lined cartons—confuses them. Many consumers will not recycle if it's inconvenient or confusing.
Retail channel opportunities
PTIS conducted another part of the research, interviewing store managers. Here is a synopsis of potential opportunities these managers see for paperboard packaging inside the store:
• Cartons with lacquered finishes can provide shelf "pop" that rivals the gloss of film. Store managers would welcome these cartons in cookies, frozen meal kits, crackers, and dry foods.
• Retailers like cartons in the freezer case because they are easy to display and they keep the case neat. However, store managers mentioned the recurring problem of cartons popping open in the freezer due to insufficient and below-temperature glue application.
• Store managers prefer white, colored, or printed display trays for shelf packs of cans and pouches. They believe that brown, corrugated trays downgrade the look of the packaging.
• Cartons should provide more security options while still showcasing the product. Retailers reported that pilferage on small items is as high as 3%. Clamshell packaging has helped them reduce shrink to as low as 0.15% for some products, but consumers find clamshells more difficult to open after they have made their purchase.
• Paperboard cartons often inadequately convey the product message that needs to be communicated in the electronic products category. Product descriptions are incomplete and the cartons are unattractive for costly components such as premium speakers. Carton designs for electronics should consider the in-store environment for both individual retailers and distribution channels.
• Significant potential exists for more paperboard sleeves in the dairy case. One store manager's comment summed up the consensus opinion: "What can you do to put more trays and multipacks in the dairy case? It helps us keep the case maintained, and it improves margins."
• Most retailers continue to believe that private-label packaging in general lacks stimulating graphics. Store managers commented that many private-label brands are underutilizing paperboard packaging's billboard potential, and they want more compelling designs and more gloss.
"Retailers are always interested in what they can do better, so showing them packaging efficiencies, how they can improve speed to market, ways to cut costs, make products more appealing, and assist in leveraging their private-label brands as a differentiation strategy are all opportunities we can support," said Eddie Smith, Sonoco Product Co.'s vice president-customer and business development.
See sidebar to this article: How the research was conducted
See sidebar to this article: Closing the communications gap
Companies in this article