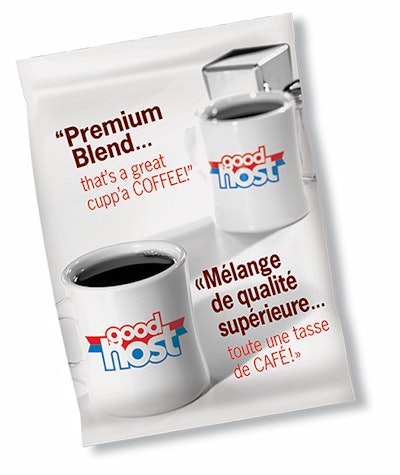 It began by taking its foodservice coffees out from under its Good Cup brand umbrella. Good Cup had been competing in a category that includes micro-roasters, distributors' private-label brands, and national brands, as well as resellers---from neighborhood cafes to international air carriers to upscale restaurants.
Next, Nestlé Canada, working with package design agency Anthem Worldwide, restaged its foodservice product offerings in the Canadian market by creating a new identity under two brands, each with its own distinctive packaging.
Heather Brenzel, Nestlé Canada's category marketing leader for beverages, says this strategy was necessary in order to help Nestlé compete more effectively for consumers with very different needs.
"The business challenge we faced was quite complex," Brenzel says. "And at the same time, we wanted to be able to deliver long-term incremental growth for the brands."
The new identity program introduces Club Coffee as a premium brand and Good Host as a value offering. Packaging for both brands uses a 2-mil adhesive lamination of polyester and polyethylene from Sonoco Products. Sonoco flexo-prints the film in six or seven colors. Southern Graphics Systems provides prepress services
Club Coffee is marketed primarily to fine-dining restaurants and premium food and coffee shops. Its packaging uses warm black and original paintings as imagery and texture to signal passion, craftsmanship, and indulgence. Packaging for Good Host, marketed to institutional resellers and cafeterias, features black-and-white photography with spot colors on a white background.
Companies in this article