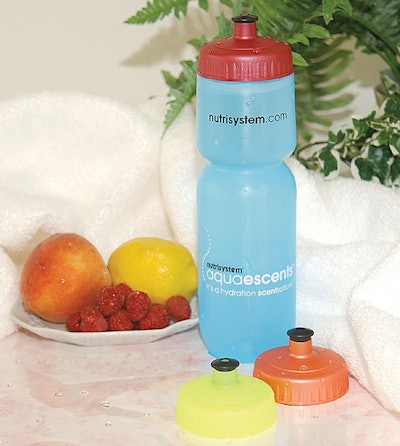 Last summer, NutriSystem Inc. introduced its Aquaescents refillable empty plastic water bottles with closures that release desirable aromas that give consumers the perception that they're experiencing flavors such as lemon, peach, or grape—but without calories, sweeteners, or additives. That's important for the Horsham, PA-based weight management products and services firm that sells via its www.nutrisystem.com Web site.
Aquaescents use ScentSational Technologies' CompelAroma, an Encapsulated Aroma Release technology that ScentSational describes as the inclusion of "generally recognized as safe" (and preapproved by the U.S. Food and Drug Administration) flavor additives during cap manufacture. The technology can also be used in plastic films, bottles, liners, sheet for thermoforming, or other plastic packaging.
"The natural scents are right in the cap," says Dr. Jay Satz, vice president of product development at NutriSystem. "We urge all our customers to drink at least 10 glasses of water a day, which can get boring. We thought this would be an easy way for them to consume water and enjoy different flavors. It's water with a kick that livens up a diet with a fun way to stay properly hydrated every day." Satz acknowledges that consumers refill the bottle with water that's not flavored. "But understand that much of flavor [is perceived] through aroma." The aroma in each cap is designed to last about three months.
NutriSystem sources bottles and caps from ScentSational, though they are manufactured by firms whose names ScentSational did not want to disclose. The blow-molded low-density polyethylene bottles are tinted in a translucent blue and are screen printed in two colors. The 53-mm screw-on, push-pull sports caps are injection-molded of polypropylene and resemble bottles bicycle riders often use.
Satz reports that customers pay $15 for the refillable 32-oz bottle that comes with four caps, three containing flavors, one unflavored. When shipped to a customer, each cap is individually wrapped in a heat-sealed plastic pouch. Once opened, the pouch is discarded.
"It's a good technology, and there exists a good possibility that we will use this to impart aromas into plastic meal trays," he divulges. "For example, we could add the smell of garlic or tomato basil that could make the dining experience more enjoyable for our customers." Satz adds that microwaving or freezing the tray would have no effect on the technology.
See sidebar to this article: More applications expected this year
Companies in this article