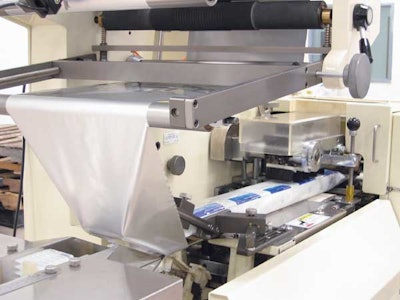 Conducted in-house and by outside labs that can identify any impurities, the pouch materials are tested for barrier and residual solvents along with real-world stability tests.
Supplied in roll form, Nephron's pouch materials use foil laminations to provide a barrier to light and the exterior atmosphere. A typical laminated structure is polyester/ink/solvent/aluminum foil, according to former company president Steve Simmons.
Simmons points out that packaging and packaging processes such as heat sealing can generate volatiles from the solvents used. Without the proper barrier and under certain conditions, these solvents could migrate through the low-density polyethylene vials into the product solutions in trace amounts.
Nephron has conducted stringent testing of 12 different substrates from eight vendors to test the materials and suppliers. Engineering manager Eric Heussi also points out that the materials must also pass a production test run to guarantee machinability. The results have been finalized to the following three approved vendors, the first two of which Nephron currently uses and the third of which is also qualified, according to Heussi: Phenix Label, Flexicon, and Winpak.
See the story that goes with this sidebar: Payback brings Nephron fast relief
Companies in this article