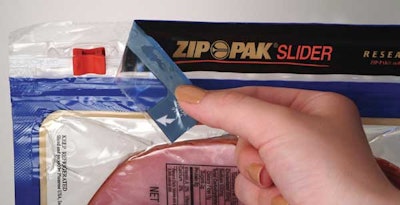 The pouch films are from Curwood. The forming web is 1.5-mil PETG/10# polyethylene/2-mil ethylene vinyl alcohol/linear-low-density PE; the nonforming (top) web is 48-ga oriented PET/coating/10-lb PE/2-mil EVOH EZ Peel® ethylene vinyl acetate. The OPET is flexo-printed in eight colors.
The pouch's mechanically produced Curwood Integra® Opening Feature tears cleanly for access to the Zip-Pak Slider. This is one of the first horizontal form/fill/seal packs to use a slider reclosure, which is applied in-line during packaging.
The sliced meats are packaged on CFS PowerPak 560 hf/f/s machinery at Plumrose's Booneville, MS, plant. One machine, started up in summer 2003, has just been joined by a second system in July. The machine can operate at a rate of about 12 cycles/min, so the 6-up machine yields 72 pouches per minute. The slider is applied in two stations; in the first, it's sealed to the forming web, and in the second—after evacuation of the pouch—the two webs are heat-sealed together. A "segmented" heat-seal station accommodates the three-dimensional slider piece as compared to a flatter zipper reclosure. The package is coded with a shelf life date 63 days from the production date.
Selling for around $3.89 each, the products debuted in fall 2003 in Los Angeles and are doing well, says Plumrose USA marketing director KerryAnn Sanner.
In July, the company expanded the format to the Plumrose Supreme branding that will also include 20 varieties; these products were being introduced across the eastern coast, according to Sanner. —RL
See the story that goes with this sidebar: 2004 DuPont Award Winners
Companies in this article