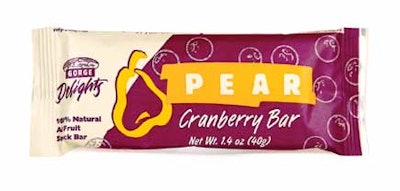 The patented manufacturing process was recently licensed to Gorge Delights, a manufacturer of value-added fruit products that sells its Pear Bars in the Pacific Northwest. The process creates a bar that doesn't crumble and stays fresh without the need for artificial preservatives. To give its product the shelf-stability it needed, Gorge Delights turned to ExxonMobil Chemical to provide BICOR® and OPPalyte® oriented polypropylene films.
"The USDA is conducting shelf-life studies on the product," says Julie Stevens with Gorge Delights. "So far we're getting two-plus years with this wrapper."
Gorge Delights partnered with converter Pak-Sel to evaluate substrates before choosing the adhesive-laminated film structure. It includes Bicor® MLT, with a matte finish on one side, a treated OPP film on the other. It's married to OPPalyte® MWHB, a cavitated, white, ultra-high barrier, metallized OPP film.
Flexo-printed in four colors, Bicor's matte finish gives the wrapper a distinctive look, while the OPPalyte provides moisture barrier, as well as protection against flavor and aroma loss. To wrap the fruit bars, the company purchased a retrofitted machine that Stevens declines to identify.
"We're seeing great results in retail outlets and we're entertaining interest from NASA and the U.S. military, which would be a great boon to the Gorge Delights line of Pear Bars," Stevens says.
Gorge Delights Pear Bars are marketed in 40-g and 18-g sizes for the Washington School District child nutrition program.
Companies in this article