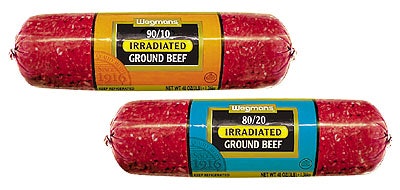 Innovative supermarket chain Wegman's has introduced irradiated fresh ground beef in chub packs at all of its 62 stores in New York, New Jersey, and Pennsylvania.
The program is a joint venture with Excel Beef, Dodge City, KS, and irradiator SureBeam Corp. (San Diego, CA). It's the first store-branded ground beef that's irradiated by electron beam to destroy bacteria.
The stores sell 1- and 3-lb "rolls" of both 80%-lean and 90%-lean ground beef, each dated 20 days from date of packaging, compared to two days for store-packed ground beef. The irradiated products are priced from 10¢ to 30¢ more per pound than conventional ground beef.
"The product itself has a longer shelf life than non-irradiated ground beef," says Jeanne Colleluori, a communications specialist for the Rochester, NY-based chain. "But that's mostly due to the packaging rather than the treatment." The chub pack is a fully printed film that's tightly sealed with a metal clip on each end. The combination of the tight seal and light barrier are major contributors to the shelf life, Colleluori says.
"Our sales thus far have exceeded our original goals," she adds. "However, we have had some questions about the package and some shoppers have told us they'd feel more comfortable if they could actually see the product." Wegman's didn't do any specific consumer testing on irradiated ground beef, though it did ask questions about irradiation in other consumer testing.
"People seem to realize that this is a value-added product, and many are actually glad to have another choice in purchasing ground beef," Colleluori says. —AO
Companies in this article