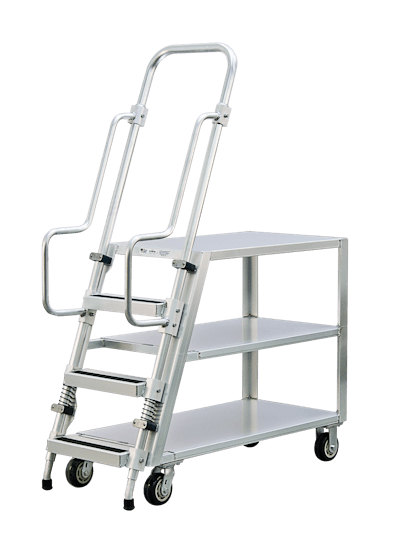 This content was written and submitted by the supplier. It has only been modified to comply with this publication's space and style.
These carts offer a convenient way to pick products and transport goods to and from hard-to-reach areas. Below are some of the most important features included on our ladder carts.
• Solid welded, heavy-duty construction: The use of primary grade aluminum, along with skilled welds, ensures that our ladder carts will not break under the weight of users or products when following weight capacity guidelines. Because aluminum is heavy duty, yet lightweight, they are easy to push and maneuver in a manual picking environment. Aluminum will not rust or corrode, so it holds up in almost any type of environment!
• Locking mechanism/brake: For added safety, the ladder carts feature an automatic brake that engages once a user's weight is placed on the ladder when stepping on it, instead of relying on a manual brake that leaves room for error. This keeps the cart in place while the associate is on the ladder. The spring loaded, full contact ladder stops are welded and sealed with a rubber cap that is removable for easy replacement. These rubber stops engage with the ground at a 90 degree angle to prevent breakage and add stability.
• Wide, non-slip steps: Repetitively climbing up and down a ladder poses a serious risk when not done correctly, especially if the steps or shoes are slick or slippery. The extra wide, welded steps are bolted into place and fitted with non-slip friction tape for added safety to provide secure footing even in wet or oily conditions. The number of steps varies depending on the exact model selected.
• Continuous grip & extended push handles: Continuous grip handles give the operators a place to hold onto when climbing high up on the ladder and prevents associates from walking onto the deck of the cart. Some of New Age Industrial's handle types also curve toward the operator at lower levels so the operator can walk naturally without hitting their shins, and others have extended push handles. This makes them a real shin saver.
• Shelves lips up or down: New Age Industrial's ladder carts are available with different numbers of shelves - 2, 3, or more. Choose from shelves with lips up on all sides to contain product or select the easy-load flat top shelves with lips down to easily slide product on and off the cart.
New Age Industrial ladder carts are proudly made in the USA.
Companies in this article