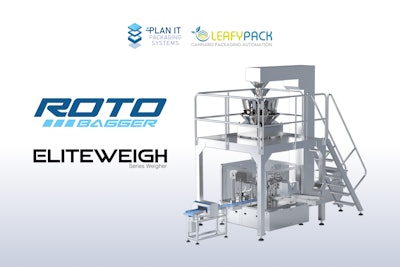 LeafyPack by Plan It Packaging's bagger is ideal for high-volume advanced customers that want to operate as a one-person show. Excellent for cannabis and food product applications, it is easy to operate and comes with a horizontal bag magazine for quick pouch loading, an automatic servo change-over for various bag widths, an optional automatic zipper opening device, nitrogen gas flushing, and a bag shaker for product leveling at the fill station. Partnering with a VideoJet maximizes efficiency and uniformity by printing the lot codes and best before dates, directly onto the package.
These machines are cam driven as standard, unlike most linear bagging systems and are designed to withstand the austerity of today's production demands. Being modular enables it to communicate with many types of weighers and fillers to feed it.
The RotoBagger's ability to allow the operator observe the whole bag opening, filling, and sealing procedures without the aid of others makes it simpler to operate, maintain, and clean.
Designed for a variety of products, including cannabis, cereals, snacks, confectionery, popcorn, dried fruit, nuts, powders, baking mixes, beef jerky, and more. Additionally, by pressing a button, you may instantly switch bag sizes.
Features include:
• Heat sealable prefabricated flat pouch dosage and sealing
• PLC and HMI control allow simple parameter setup and troubleshooting
• Different pouch size adaptation with simple PLC adjustments
• Intelligent temperature control arrangement ensures artistic and tidy sealing
• The device will skip the filling and sealing phases if the holder malfunctions or the bag won't open
• Compatible with solid, powder, granule, and liquid dosing programs
• Plug & play quick product switching
• Interlocking door opening
• Optional: Zipper Closer, Hang Hole Puncher, Desiccant Pack drop, and Gas Flushing
Companies in this article