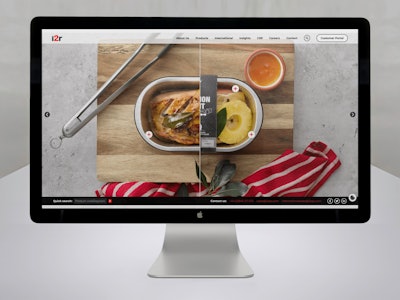 In providing an interactive and immersive experience, the layout uses fabulous lifestyle photography together with a "before and after" slider of various containers, incorporating hotspots to highlight key product design features. The site uses quick and intuitive navigation, with mega-menus and a product selector tool. A Customize Your Tray function enables visitors to interact with a 3D visual of selected products and add colors to the inside and out, reflecting i2r's lacquering options; a button also allows for a screenshot of the design to be saved. A unique password-protected customer portal gives access to relevant account information and order documents, and includes access to a novel "inspire me" area, providing customers with a collection of industry-related design ideas and creative inspiration.
i2r places a high premium on careers and the well-being of its staff. Details of an i2r Academy, which focuses on training and development for new and existing staff, and an apprenticeship scheme, both provide an insight into the importance of recruitment and retention within the organization.
Remaining key areas include information on i2r's global reach, a corporate social responsibility section addressing its commitment to sustainability, and information on its volunteering and charitable work.
"Developing the new website was something we were committed to do this year so that we could present our innovative products and expertise in an even more user-friendly and engaging way," said i2r's joint founder, Jon West. "The result is a bold and impactful portal that fully embraces the diversity of our product offering, and provides the visitor with a powerful brand story of our journey to-date."
Companies in this article