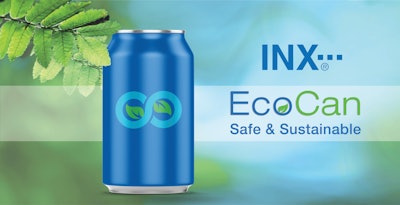 Intended for use on beverage cans, the AP EcoCan 2-piece metal ink system achieved this status after INX standard AP series inks had already earned bronze level certification.
This achievement is significant since C2CPII is the certifying body designing, implementing, and managing systems and processes serving as a Certification program for products and materials that meet certain quality assurance criteria. The organization helps brand owners with their sustainability efforts by determining and validating which sustainable materials, products, and systems are safe for the environment and human health. Safe and sustainable packaging elements such as printing inks are important to attain certification of the complete packaging.
According to Alex Folloso, Director of Metal Decorating Technology for INX International, manufacturing plans of the AP EcoCan have been finalized.
"AP EcoCan will be manufactured using only materials that have been optimized and does not contain any X or Grey assessed materials/chemicals," explained Folloso, who indicated the certification is valid for two years. "It was a lengthy process and we had to first provide EPEA with formulations and CAS level disclosure of the raw materials for their review. But we are elated with the results and what this means to be the first in the metal decorating category to earn this designation."
When available, the AP EcoCan 2-piece inks will offer high-speed metal decorators and their customers many benefits, in addition to environmentally friendly printing. Formulated low VOC and BPA-NI for aluminum and coated steel cans, these inks provide excellent transfer, superb abrasion resistance and lower misting.
Companies in this article