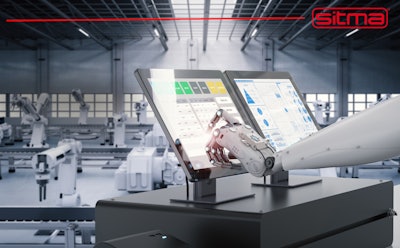 This content was written and submitted by the supplier. It has only been modified to comply with this publication's space and style.
This allows the company to operate from a global perspective and cover diverse, constant needs. Though based on an advanced technological platform, the service focuses on the competence and experience of its operators.
Since its founding, Sitma has shown that it has a mindset devoted to innovation and change. Its customer support system, part of the We Care program, is the result of this philosophy. It's supported by a CRM strategy that was implemented first in sales and, more recently, in after-sales management to track and plan requests, needs and customer interventions in a smart way.
"This tool will lead to an increasingly global, integrated and proactive approach in managing the post-sales phase," explained Fabio Moro, After Sales Manager at Sitma. "It operates according to the logic of predictive maintenance and servicing to improve line performance and operations." The CRM operation is based on cutting-edge software, but "Human skills remain the core of our approach with the customer," Moro added.
The pride of Sitma's customer service is, and always has been, its operators' incredibly high specialization and unique knowledge of the machines. Over time, Sitma's technical staff has expanded its know-how, integrating mechanical knowledge with new skills in electronics, programming and planning. Today, Sitma's assistance specialists are mechatronics experts with multidisciplinary skill sets.
Technology remains a fundamental aspect of the equation and effectively supports all assistance activity. Every Sitma machine is now equipped with an IoT system for remote connection and diagnostics. Thanks to the integration of virtual channels, these solutions – which were implemented several years ago and are supported by an articulated network of sensors collecting various types of data -- facilitate remote assistance by reducing any downtime. Sitma has also developed specific algorithms that, through data collection, predict maintenance and performance optimization. Every single critical component of the machine is monitored to avoid downtime during production.
Three macro areas make up the We Care program: After Sales, Consulting and the Sitma Academy. Here as well, a team of specialists with key technical skills has been assembled to support the effort.
"For us, consultancy plays a fundamental role within the concept of assistance," Moro said. "At Sitma, we're constantly studying new customer needs as they arise. We make ourselves available to evaluate solutions that improve production performance, and we propose customized programs that fully embrace the customer's needs while minimizing fixed maintenance costs."
The Sitma Academy draws on more than 50 years of know-how to train customer staff that operate and maintain the lines. The company organizes customized training courses designed according to the needs of each individual customer.
Finally, the web provides additional support. A dedicated page on the corporate website allows customers to request information, assistance and advice. An e-commerce portal also lets customers order and purchase consumable components with ease. Soon, the platform will be extended to cover spare parts and machine components that are subject to wear.

Companies in this article