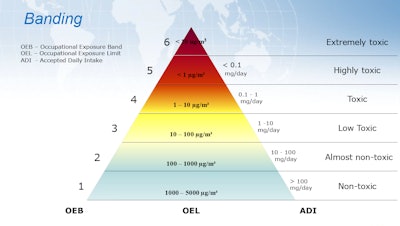 Stringent regulations in API processing are a given when it comes to ensuring product quality, but personnel safety during Oral Solid Dose (OSD) drug packaging is largely overlooked across the industry. Regardless of the drug being packaged—whether it's a cancer drug, contraceptive, supplement, etc.—there are hazards specific to each formulation and a proper evaluation must be performed.
Integrated Project Services' Kevin Swartz, Senior Packaging Engineer, and Len Pauzer, Senior Process Engineer, emphasize the need for performing an evaluation on each individual packaging site to ensure that workers are protected day in and day out.
Increasing importance
While operator safety has always been important, the pharmaceutical climate is changing in ways that are making it more hazardous for packaging operators, who may spend upwards of eight hours a day handling products.
• Drugs are becoming more potent, meaning that daily exposure limits are decreasing.
• Mergers and acquisitions happen quickly, which creates two issues. There may not be time for the global procedures of the buying company to be implemented at the local sites (which may be in other countries), so there is inconsistency among procedures and safety precautions from site to site. Additionally, people want to get the most utilization out of their equipment.
Pauzer notes, "One company may acquire another and say, 'This site has a blister machine—we'll package tablets there,' but they don't take into account that the machine is not built for potent compounds." Often, the proper assessment is not performed and controls may not be in place for worker safety.
Risk analysis for personnel
"We're talking about people's lives and health. A risk analysis must be done to determine the level of personnel protection," says Pauzer. "You have to validate and document that process." Most of the equipment is already built to certain GMP standards, but the purpose of this evaluation is to consider containment from a worker's perspective.
According to most regulatory bodies, "safe" means that the benefits of a drug outweigh the risks, so "safe" means different things for patients than it does for packaging personnel.
• For a patient, the risk of taking a certain drug is typically outweighed by the benefit (health. or even life).
• The drug's benefit to the packaging worker is that they receive a job/paycheck, so the risks of exposure must be significantly lower to be considered safe.
ISPE's RiskMapp guideline references this based on which perspective you are looking from, whether it's industrial hygiene (worker perspective) or quality (patient perspective).
Swartz says, "The risk of unintentional exposure as an operator working in a primary packaging suite is not the same risk as a patient who has all of the side effects and possible interactions listed right on the bottle or insert or explained by the doctor. You're still asking 'Does the benefit outweigh the risk?' But from a worker perspective, the safety needs to come much closer to zero because their benefit—a job—is not particularly high."
The assessment and controls depend on what your drug is—so there is not a catchall solution. Pauzer elaborates, "Some drugs can be absorbed, some can be inhaled, some can be ingested, and some therapeutics can be all three. So you have to build in safety systems for all three methods of transportation into the worker's body." Rather than develop these safety systems for every drug individually, the guidelines suggest building a banding system that is used for all drugs.
The point of building a banding system is to categorize the risk levels of drug properties. Through a team represented by toxicology, health and safety, engineering, quality, validation, and operations, those categories are delineated into bands based on the control processes (including process, operational, engineering, and procedural controls) that the packager can implement. Examples of controls include containment systems, housekeeping, room ventilation, material transfers, and airflow controls. Then during the individual drug assessment, a drug is assigned to a band based on the comparison of the drug properties vs the band properties.
After developing your banding system, Swartz and Pauzer suggest a three-part plan:
1. Evaluate: A minimal team from toxicology, health and safety, and validation determine the proper control band for a drug.
2. Implement: Build the system and controls.
3. Monitor: Perform testing to ensure control is maintained in the packaging environment.
Note: This is still something you can do for existing operations!
Putting more time and effort into the evaluation stage will increase the effectiveness of your implementation and monitoring stages. Here are 11 questions to ask during your evaluation of operator risk:
1. Which type of exposure formula will we use?
There are different types of formulas, including Acceptable Daily Exposure (ADE) and Threshold Limit Value (TLV), while the most common is the Operator Exposure Limit (OEL).
"You're determining the risk of exposure given to the individual in their process work environment. The keyword here is 'process,'" Pauzer explains. A lot of the equipment is built for the product, "but when the operator is involved, you have to look at the assessment from the machine and the process itself."
2. How will we band and assign containment?
Swartz and Pauzer note that they typically see people create four to six different bands. There's no right or wrong—banding depends on your product mix and your containment levels. But you only need as many bands as you'll have containment levels. "If you only have three containment levels, you don't need six bands. Your containment will be the same between levels four and five," says Swartz.
Banding also depends on how diverse your portfolio is and your equipment. You may band something more aggressively, and use an isolated line whether you need it or not because it may make more sense from a business perspective. An example would be a low volume, low risk product that requires packaging on a blister machine that has strict containment systems installed on it. Economically, it makes sense to run the product on that line rather than invest in new equipment that is only occasionally utilized.
3. Should the validation team be involved?
People have differing opinions, but the experts recommend it. You're validating the safety of your process, so it makes sense to leverage validation people because they're used to validating systems and processes.
4. Have we included adverse events in our assessment?
Beyond the machine and the day-to-day activities, you have to build adverse events into your assessment. If the robotics in a unit go down, and you can't move the product, you then need an adverse event procedure to go in and fix it. As Pauzer notes, "That's a whole other process that needs to be designed that increases the risk to your maintenance staff and personnel on the floor. We all know it happens. Electronics fail, equipment fails. Once you put your product into an isolated unit, you then have to respond to it in a safe manner."
5. Have we analyzed our cleaning procedures?
Some cleaning activities may have the potential for exposure or elevating risk. For example, cleaning around a sharp metal corner may compromise PPE (Personal Protective Equipment—such as gloves, goggles, etc.) by tearing an operator's glove.
6. Have we looked at material flow?
Consider the flow of materials into and out of the area. Seemingly innocuous items such as batch records, samples and pens can be exposed to product and brought out of the packaging environment. You have to ask questions.
• If we can't bring paperwork in to the area, how do we document our process?
• How will we get labels, pens into the contained environment? People want to label a sample as soon as it's pulled, but it may not be in a safe environment. It's a small part of your process, but without samples, you can't release the lot.
7. Are we limiting forms of product contact between products themselves and equipment?
Product-product contact is a leading cause of particulates in the air, so it's important to minimize tablet-tablet contact to keep dust to a minimum. Product contact with stainless steel can also lead to particulates in some cases. While not always necessary, use of plastics like Delrin® or coating processes may be considered for certain product contact equipment.
8. For existing lines, will it be more cost-effective to retrofit or purchase new equipment?
It is possible to retrofit older equipment to meet safety standards, particularly in levels one through three. However, for levels four though six it may actually be more cost effective to purchase new equipment. At higher levels, Pauzer says, "It's such a major impact to your facility and infrastructure because of air handlers and isolators, that in many cases the capital expense is just better to create an entirely new line."
9. Have we thought about potential administrative controls?
Administrative controls may be more subjective than engineering controls. Swartz explains, "A lot of this has to do with how you interact with your workers. What training you're doing, what preventive maintenance is occurring, and ensuring you're communicating the hazards associated with a particular product."
Additionally, the pair notes that a medical surveillance program should be a part of the control strategy. Even when experiencing symptoms, operators may not want to complain. Alternatively, operators may experience an exposure symptom such as cough, but chalk it up to a common cold. It's critical that companies communicate symptoms to look for, and interact with workers. Depending on the risk severity, post-packaging communication may be as simple as verbal interviews with supervisory staff or as thorough as physical examinations by a medical professional. These communications should be spelled out as part of the banding system.
10. Have we considered secondary packaging?
A lot of the evaluations are performed on primary packaging, but you may want to be more aggressive and do what Swartz and Pauzer call an "overkill" evaluation on the secondary packaging process. What's the risk of exposure due to primary package failure? It may be high enough that secondary packaging has additional controls.
11. What type of monitoring will we use?
Monitoring allows for informed changes to controls, and can include air monitoring and swab tests while running or prior to cleaning, to measure exposure (not the effectiveness of cleaning). The experts advise that you should look carefully at high-risk open points, like where materials or products enter the process.
While it's important to monitor whether your containment is robust enough, it can also show when your strategy is too rigorous. Unnecessarily restrictive PPE or overly frequent air changes can affect the packaging process and operating costs. Monitoring will allow you to adjust your controls based on data.
Closing thoughts
During their presentation at Pharma EXPO in Las Vegas on September 30th, 2015, With so many things consider, the pair encouraged you manufacturers to involve equipment vendors in the evaluation and machine design to create containment solutions that combine their equipment knowledge with your manufacturers' process knowledge.
The experts frequently see discrepancies between global procedures and actual packaging practices, so a site-level, equipment-specific evaluation is critical to ensuring personnel safety. Pauzer concludes, "A lot of risk assessments in used in pharma allow some failures. Because we're dealing directly with operator health, we can only have zero tolerance. We can't have a system or rationale that allows any operator impact."
Companies in this article