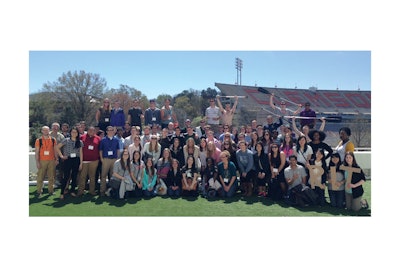 The 30th Anniversary of Packaging Jamboree was held at Clemson University this past March. This is an annual meeting that rotates among different universities that have packaging degree programs or a major emphasis in packaging. Each year it's completely organized and facilitated by students, for students. It's a great way for students in different programs to network with their peers and make lifelong connections as well as interact with industry representatives who address topics of specific interest to the students. Approximately 140 students in total were registered for the Packaging Jamboree, which was open to both graduate and undergraduate students from all schools with packaging programs. There were about 45 students from MSU, 12 from RIT, 15 from Virginia Tech, 4 from UW-Stout, and 60+ from Clemson.
This year the keynote speakers were Senior Scientist Shane Mays and Emma Konkel, Air Care Packaging Development Researcher. Both from Procter and Gamble, they kicked things off with a presentation titled "Behind the Brand." They discussed how brand loyalty is created through use of iconic logos and colors that people can recognize even as the packaging structures change. The Swiffer product line was an example of creation of a market where none existed previously. For a discussion of the future, they talked about a new product line called Swash and the steps involved in developing the idea and bringing it to production and sale.
After the keynote address there were three concurrent breakout sessions. Director of Package Engineering Kevin Twohy and Package Engineering Manager Tim Liu from 3M covered a case study on "The Evolution of Packaging for 3M Brands." One example discussed was the Scotch brand line where images of original graphics were shown and even a video of a TV ad from the early 1960s was shown as an example of how the product was marketed. The evolution of the tape itself along with the dispenser and display packaging was covered along with some other 3M brand products. In other concurrent sessions, Jim Bickley and Tom Priest from Pratt Industries covered the "The Future of Corrugated" and Dr. Chip Tonkin, Director of the Sonoco Institute of Packaging Design & Graphics at Clemson, discussed "Printing Technologies and the Impact on Packaging."
The lunch break offered students an opportunity to network while the faculty and staff members who attended from the five schools had a separate lunch where the speakers from industry shared what they look for in young professionals entering the field. The feedback received was that today's students are technically strong coming out of their college programs, but internship experiences are essential. Areas in need of improvement include soft skills, ability to be inquisitive, and ability to manage projects.
Concurrent sessions
In the afternoon there were three additional concurrent sessions. Vice President Marketing & Innovation Marcy Thompson from Sonoco covered a presentation titled "Bringing Innovation to Flexible Packaging." Sonoco uses the i6 innovation process, which includes: insights, ideation, invention, integration, interaction and iteration. Current drivers for innovation in the market include the fact that people are always connected, want to have fun, and need to feel happy and healthy. Safety and security, improved protection to reduce spoilage and food waste, smart packaging, self-heating packaging, accessible design, and life cycle design are challenges for the future that need innovative solutions. Ron Cotterman, Vice President Sustainability at Sealed Air, talked about the "Future of Sustainability." Some of the trends discussed included: increasing population, increasing food consumption, and maintaining sustainability in all areas of life. Another problem facing us is food waste, but we help solve this problem with packaging. Specific solutions were shared regarding how packaging can reduce waste by improving shelf life, preventing damage, and making the supply chain more efficient. Overall, we need to make more efforts to educate consumers, continue to provide innovative packaging solutions, and build further partnerships across the supply chain to help reduce food waste.
"Eye-Tracking and Packaging Design" was the topic discussed by Dr. Andrew Hurley, Assistant Professor at Clemson. There was a short demonstration where a student from the audience wore the eye tracking glasses and was surprised by a man in agorillacostume, which was highly entertaining. During his talk, Hurley gave an overview of the technology, why it is important, went over case studies, and gave interesting quantitative data to support qualitative changes made in packaging design.
After the breakout sessions, there was a Networking Event where companies set up booths and students could talk with the companies represented. Students shared resumes, got tips on how to succeed in their future jobs, and learned how to be comfortable in a "meet and greet" atmosphere.
The pre-dinner Keynote speaker was Ivan Brewington, Regional systems Manager at Pregis, and the topic was "Packaging for the E-commerce World." His presentation began by introducing the DNA of Packaging. D stands for distribution method, N stands for numbers (relating to weight, size, items, value, labor cost, damage rate), and A stands for application (void fill, cushioning, containment, block and brace, surface protection). Products are being handled in a variety of methods. Today the industry is moving toward omni-channel retailing, which requires a different approach to protective packaging. For example, the packaging for the same product will vary if shipped from a high-volume distribution center versus a retail store. The type of protection and case packing materials must be adaptable to the situation.
Tour of Clemson
The next day was a tour of facilities and labs at Clemson University with lunch and then the highlight of the day, which was the Corrugated Regatta. Students worked in teams from their respective schools to build a corrugated structure/boat that could be paddled from one end of the pool at the Fike Recreation Facility and back without sinking. The team from Virginia Tech won. More important, there were lots of laughs and friendly competition.
Packaging Jamboree 2015, like the 29 Packaging Jamborees that preceded it, would not have been possible without the generous support of the packaging community at large. Each of the schools that participate in the meeting relied on funding for travel and accommodations, funding provided by a mix of companies involved in packaging, both suppliers and end users. The participating schools greatly appreciate these contributions, not to mention the time spent preparing and delivering the presentations made at the conference. It is so important to all of us in academics to have our students exposed to events such as these. We are indeed grateful. A complete list of sponsors from the Packaging Jamboree 2015 can be found at pwgo.to/1717. In 2016, the Jamboree will be hosted by University of Wisconsin-Stout. We hope you will consider supporting them as they plan for next year.
Kay Cooksey (kcookse@exchange.clemson.edu), PhD, is a Professor and the Cryovac Chair at Clemson University's School of Packaging.