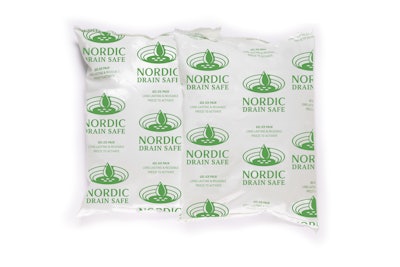 The empty pouch can be recycled anywhere number 4 plastics are accepted.
Gel packs are a key component in shipping thermally-sensitive products such as home meal kits, pharmaceuticals, veterinary medicines, beverages, specialty foods, and many other mail delivery products. Developed to fill an unmet need, Nordic Ice Drain Safe gel packs are either reusable or disposable at the discretion of the recipient. For years consumers have complained that, though convenient, gel packs are difficult to dispose of properly leaving the burden on the recipient.
"People don't mind a few gel packs to freeze and reuse, because they are practical," says Keith Baechle, Vice President of Sales and Marketing for Nordic Cold Chain Solutions. "Meal kits, medicines, and many other products requiring routine deliveries containing several gel packs a piece and they add up."
Previously, unwanted gel packs would end up in landfills even though the packaging is, in fact, recyclable. Until Drain Safe, there wasn't a refrigerant compound that could be disposed of down conventional plumbing without creating clogs.
"Drain Safe is a safe, non-toxic, high-performance refrigerant that demonstrates the same thermal efficiency as its industry predecessor," says Baechle. "This is the only gel pack refrigerant that allows recipients the choice of environmental responsibility. The importance of that is hard to ignore."
Companies in this article