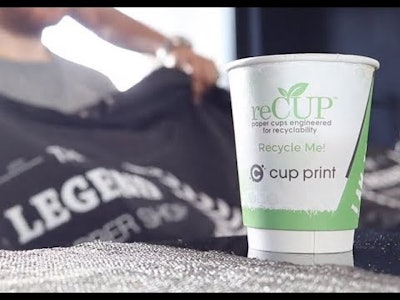 The U.K.'s reCUP recyclable paper cup with EarthCoating® has been awarded the highest-possible Category AAA Recyclable certification per The Green Dot (Der Grune Punkt) recycling standards. In addition, the paper cups are classified for recycling compatibility and collection streams alongside premium uncoated paper grades such as office paper. The Green Dot recognizes standards for recyclability claims in 31 countries, including the U.K. and Ireland.
According to reCUP supplier Smart Planet Technologies, given the U.K.'s coffee cup recycling debate and interest in reducing plastic content in packaging, it is a remarkable achievement for a paper cup technology to not only achieve the highest rating available for recyclability qualifying for a collection category (Path 13) alongside office paper, but also reducing plastic content in paper cups by 40%.
The reCUP utilizes EarthCoating, a paperboard packaging coating producing paper cups that look and work the same as any conventional paper cups. The difference is that EarthCoating is designed to be universally compatible with conventional paper cup recycling systems, avoiding the challenges that have been found in recycling of paper cups and other plastic-coated foodservice paperboard packaging.
With less plastic and easier repulping, paper cups made with EarthCoating can also improve paper cup processing and efficiency in the U.K.'s efforts in specialist paper cup recycling schemes of conventional paper cups, currently at a 4% recycling rate.
The double-wall reCUP receiving certification contains these highlights:
95% fiber recovery
Highest classification for recyclability alongside premium uncoated paper such as office paper
40% less plastic content than conventional paper cups
This certification for paper cups with EarthCoating is compliant with the Packaging Recovery Organization Europe "PRO" program per EU Directive 94/62. The Triple-A Green Dot Certificate is available in the EarthCoating Repulping Report.
Paper cups with EarthCoating are widely available for sale in the UK and Ireland. For a list of manufacturers and distributors of paper cups with EarthCoating, visit SmartPlanetTech.com or reCUP.earth.
Watch a video on reCUP.
Companies in this article