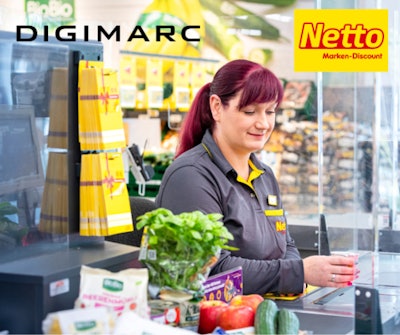 Private labeled and store brand food and beverage products from German retailer Netto are now digitized using Digimarc's product digitization technology, including incorporating covert Digimarc digital watermarks into the packaging. In this system, vision hardware at various locations of a package's journey—from packaging operations, to supply chain, to checkout, and finally at collection and recovery at a material recovery facility—can read this digital watermark and access information specific about the package, such as its material content for sorting and recycling.
A Netto spokeperson says the move is reflective of the retailers' extensive sustainability program, wherein responsibility for business outcomes is part of its corporate culture.
---
---
"We initially cooperated with Digimarc to optimize our checkout by digitizing our private label food and beverage products with Digimarc's technology," says Christina Stylianou, Netto corporate spokesperson. "Netto is now also well positioned to adopt Digimarc Recycle by leveraging the same Digimarc digital watermarking technology that makes the checkout easier and more efficient. We are ready and excited for Digimarc Recycle to come to Germany in the near future."
Retailers like Netto—as well as brands, CPGs, or CM/CPs—can implement Digimarc's digital watermarking, imperceptible to the human eye, across a package's or label artwork's surface area. The invisible nature of digital watermarks works well with packaging designs and branding. Netto has already enhanced thousands of food and beverage packages with digital watermarks that are now readable by certain sortation equipment.
"The fact that Digimarc digital watermarks didn't obscure our branding and therefore enhanced packaging was another important factor in selecting Digimarc as a long-term partner," adds Stylianou.
According Digimarc and proponents of the so-called "HolyGrail 2.0" project in Europe, Digimarc Recycle may revolutionize in the sortation of plastic waste and recycling. By linking covert digital watermarks, used to deterministically identify plastic packaging to any desired level of granularity, with an extensible cloud-based repository of product attributes, such as brand, SKU, product variant, packaging composition, food/non-food use, etc., Digimarc Recycle overcomes optical sorting technology limitations to drive a step-change improvement in the quality and quantity of recyclate. Moreover, the same information used to drive this advanced sortation in facilities can provide product-specific and location-based disposal instructions via a brand-owned direct-to-consumer digital communication channel accessed via on-pack watermarks or QR codes.
In addition to providing the information necessary to power advanced sortation at recycling facilities, Digimarc Recycle captures and provides a holistic view of the post-purchase product journey, unlocking never-before-seen data benefitting stakeholders across the value chain, the company says.
Digimarc Recycle is expected to launch soon in France and Canada, with conversations ongoing in other countries around the globe.
"At Netto, we are committed to less plastic packaging, more recycling, and more responsibility," concludes Stylianou. "Digimarc is a valued partner in supporting us in achieving our sustainability goals as we look to the future." PW
Companies in this article