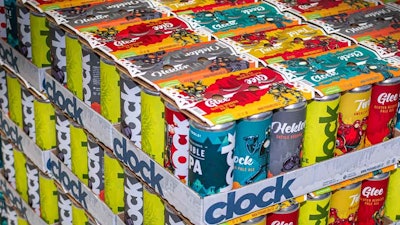 Czech beer brewer Pivovar Clock became the first adopter of a new paperboard can handle system designed to help smaller brewers and beverage producers appeal to consumers' sustainability sensibilities. This commercialized project, specified for the brewery's 500-mL (17-oz) can format, is part of Smurfit Kappa's TopClip product range. TopClip is a paper-based replacement for plastic shrink films used to bundle beverage multi-packs. This packaging system, which is designed specifically for smaller businesses and brands, comes after last year's launch of Smurfit Kappa's high-speed machine designed for larger, higher volume brewers and beverage producers. This now completes the portfolio of Smurfit Kappa's end-to-end solutions for TopClip, ensuring it is suitable for beverage companies of all sizes.
"As a company, we pride ourselves on only using the highest quality ingredients when making our beers," says Jiří Andrš, CEO at Pivovar Clock. "We want to provide this standard across our business and Smurfit Kappa's TopClip solution offers us a new sustainable alternative while providing an excellent consumer and branding experience. At Pivovar Clock, we are committed to significantly decreasing our carbon footprint, so by choosing TopClip we are also meeting our environmental obligations by reducing single-use plastics."
---
Read More about the Growing Paperboard Can Handle Trend
TopClip technology from Smurfit Kappa is one of a host of paperboard can handle options that have come onto the market recently. Many are described in Packaging World's PACK EXPO Connects Innovation Report on Materials. Click here to read about several of the technologies revealed at PACK EXPO Connects, you will have to scroll down.
Coca-Cola Co. is the largest entry among paperboard can handle applications that PW is aware of, though this usage was a regional market test, not a global rollout.
---
Smurfit Kappa has now launched complete solutions, including automation, for every shape and size of beverage company, which will be a key characteristic in facilitating the roll out of TopClip with many different brands. Now, with this implementation, Smurfit Kappa has proven their commitment to supplying TopClip, both to the large global brands requiring high-speed machines, and to smaller craft breweries.
With a 30% lower carbon footprint than a shrink-wrap consumer pack, TopClip is plastic-free and 100% renewable, recyclable and biodegradable. As it is made from less material and does not require glue, TopClip is significantly more sustainable than other recently launched same-purpose packaging solutions on the market and offers a premium consumer experience with good branding opportunities.
"We are delighted to partner with Pivovar Clock by providing their consumers with the latest in innovative and sustainable packaging solutions," adds Arco Berkenbosch, VP Innovation and Development, at Smurfit Kappa Europe. "Whether you're a small or large beverage company, there is a version of TopClip to suit your business."
The announcement means that TopClip, which has already been available in the U.K. and the Netherlands with other brands, will be now additionally be available to consumers in the Czech, Polish, and Slovakian markets.
TopClip is part of Smurfit Kappa's Better Planet Packaging, a portfolio of innovative packaging solutions designed to be more sustainable and always made from a renewable and recyclable raw material.
Companies in this article