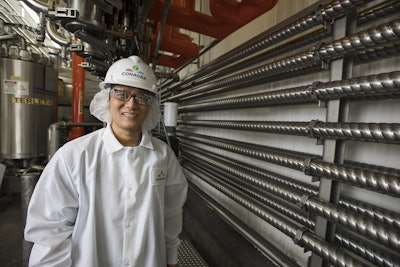 Conagra Brands recognized employees' commitment to sustainability in late April at its annual Sustainable Development Awards ceremony. Started in 1992, the internal awards program calls on employees to submit projects with imaginative approaches to sustainability while producing bottom-line business results. Together, this year's 58 entries:
Diverted more than 8,700 tons of waste from landfills
Optimized and improved packaging while using 3,800 tons less material
Conserved more than 245 million gallons of water
Reduced greenhouse gas emissions by more than 2,100 metric tons
Delivering more than $5 million in savings, these projects reinforce how employees at every level of the organization can make a difference. From introducing more energy-efficient light bulbs to completely reconfiguring packaging and processes, the Sustainable Development Award projects have delivered $232 million in cost savings since 2009. Each year, employees enter projects that showcase improvements in four key areas:
Climate Change & Energy Efficiency
Water Conservation & Wastewater Management
Waste Reduction & Recycling
Sustainable Business Innovation
Awards are given to the most breakthrough projects in each area along with an overall Award of Excellence. There is also a People's Choice Award in which all Conagra employees vote for their favorite project. Winning facilities receive a $5,000 grant from the Conagra Brands Foundation for sustainability-focused public service projects in their community.
"Conagra's Sustainable Development Awards are one of our premier programs and one that showcases what can be done at an employee level to make a difference," says Gail Tavill, Vice President, Sustainable Development, Conagra Brands. "Each year, I continue to be impressed with our employees' ingenuity and passion for finding solutions that make an impact not only on our company but also on the environment."
Hosted at the company's Omaha campus, this year's Sustainable Development Awards brought together representatives from more than 30 Conagra facilities so employees could share best practices and celebrate the work they are doing to collectively make a difference.
Companies in this article