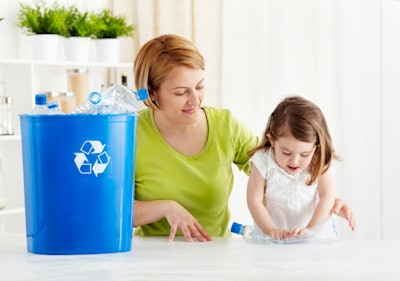 At the Walmart Expo in late April 2014, the Curbside Value Partnership (CVP) unveiled the Recycling Partnership, a major public-private partnership initiative that will combine outreach and infrastructure improvements to boost recycling rates with a first-year focus on the southeastern part of the U.S. The effort is currently in the partner-building phase. Activities are expected to begin as early as July.
"We are excited with the initial verbal and fiscal support of this fast-paced, action-focused public-private partnership," says Keefe Harrison, CVP Executive Director. "CVP has a long track record of increasing the recovery of recyclables, and we're confident this project will contribute even more results."
The concept originated in December 2013 through the Southeast Recycling Development Council and later became known as SERDC 120. CVP is proud to take ownership and manage the initiative now known as the Recycling Partnership.
"We believe the Recycling Partnership is one of the most innovative and solution-based programs happening in the country," says Beth Schmitt, CVP board chair and Global Manager, Sustainability and Recycling, for Alcoa. (Alcoa Foundation announced a $300,000 grant for the Recycling Partnership at the expo.) "This has the potential to change the game in the Southeast and potentially the U.S."

The Recycling Partnership will develop programs that create the four key elements of successful recycling:
• Access
• Public and government support
• Regional coordination
• Strong outreach and education

Multi-stakeholder engagement across the initiative will be a key component to success. CVP is continuing to look for additional interested funders to expand the scale more quickly. "We're hopeful that many other companies are going to not only voice support, but also generously commit to the Recycling Partnership over the next month and beyond," says Harrison.

Adds Walmart Director of Product Sustainability Rob Kaplan, "As Walmart formally announced at the expo, we are committed to increasing recycling rates across the country. We support the thoughtful and action-driven approach of the Recycling Partnership and believe it will be successful. There is a lot of work to be done, and we feel like this grant-based technical assistance program will be an important parallel path to the Closed Loop Fund."
Companies interested in getting involved in the Recycling Partnership and CVP to impact recycling rates in a meaningful way should contact Keefe Harrison.