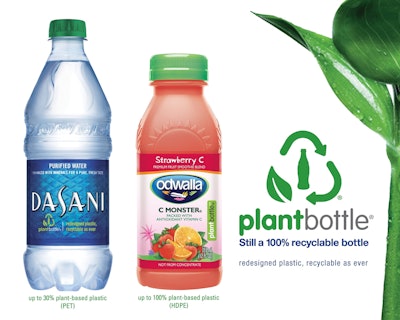 From January through June 2012, Greener Package readers exhibited a strong interest in learning about the newest packaging innovations introduced by category leaders such as The Coca-Cola Co., AT&T, Procter & Gamble, and Unilever—especially in the area of drop-in bioplastics. Also of interest were emerging topics such as Extended Producer Responsibility and the connection between food waste and sustainable packaging, as these top-10 most-read articles from the first half of 2012 show.
10. Dasani and Odwalla launch nationally in PlantBottle: This article from spring 2011 reads, "Just in time for Earth Month, The Coca-Cola Co. has announced that all of its Dasani brand water bottles nationwide and Odwalla single-serving juice bottles will be available exclusively in PlantBottle® packaging. The single-serve Odwalla packages are made from up to 100% plant-based materials with high-density polyethylene plastic, while PET bottles for Dasani are made with up to 30% plant-based materials."
9. AT&T is sweet on sugarcane-based thermoform: Late in 2011, a new material came into use for the clear clamshells thermoformed for all of AT&T branded wireless accessories. Called TerraPET®, the new material is composed of 30% renewable-resource content and is sourced from ethanol harvested from natural sugarcane. It makes it possible to replace fossil fuel-based material with an alternative without sacrificing any of the high-performance qualities—including clarity—of APET.
8. Cost of recycling: EPR gains ground in U.S.: "A perfect storm" is brewing in the area of Extended Producer Responsibility legislation for packaging in the U.S., according to Victor Bell, founder and president of Environmental Packaging Intl. (EPI). Bell, who led a Webinar titled "EPR and its impact on brand owners of paper, board packaging," noted that a movement toward EPR for packaging in the U.S. is being driven by the lack of money in U.S. city and state coffers, and the increasing desire of packaged goods brand owners to have their packaging materials recycled. "But there's a cost to it [EPR]," he warned, "and we have to be very careful on how best to implement it, if it is implemented."

7. Coca-Cola unveils plant-based bottle: This article, originally posted in spring 2009, announces, "The Coca-Cola Company has unveiled a new plastic bottle made partially from plants. According to information from the company, the new PlantBottle™ is fully recyclable, has a lower reliance on a nonrenewable resource, and reduces carbon emissions, compared with petroleum-based PET plastic bottles."
6. Sugarcane-based Pantene bottle to launch in Western Europe: Greener Package reported in spring 2011, "Procter & Gamble has begun producing its new Pantene shampoo and conditioner bottles made primarily from plant-based plastic. This high-density polyethylene material, a first for the haircare industry, is made from sugarcane and will be featured on the Pantene Pro-V Nature Fusion collection. The new bottles will be initially launching in Western Europe with expansion plans to the rest of the world over the next two years."
5. Plastic bottles and closures: market trends in Europe: A January 2011 news item reported that "Growth opportunities for blow molders, especially those in PET, are in no short supply. Research suggests that the latent potential for PET barrier bottles in beer, wine, and milk is equivalent to the current size of the carbonated soft drinks (CSD) market for PET bottles in Europe, which was just under 1 million tonnes in 2009."
4. The food waste/sustainable packaging connection: Sustainable packaging is emerging as a tool to mitigate food waste in the U.S. In this Q&A, Meghan Stasz discusses the issues behind this product-package relationship. Stasz is the director of Sustainability for the Grocery Manufacturers Association (GMA), a U.S. association that promotes and represents the world's food, beverage, and consumer products companies.
3. Boisset's big idea is a 1-L PET wine bottle: In mid-2009, Greener Package reported that Boisset Family Estates, a Burgundy, France-based wine and spirits maker, had recently begun U.S. distribution of Fog Mountain Merlot in a 1-L PET bottle, the first California wine in the larger-sized, lightweight bottle featuring MonOxbar® oxygen-scavenging technology.
2. Unilever adopts paper-sourcing policy to meet sustainability goals: In July 2010, Unilever published a sustainable paper and board packaging sourcing policy as part of its commitment to double the size of the business while reducing its environmental impact. The policy outlined the company's goal to work with its suppliers to source 75% of its paper and board packaging from sustainably managed forests or from recycled material by 2015, increasing to 100% by 2020.
1. 10 tips for sustainable package design: This article, which became a much-downloaded white paper on the packworld.com site and the basis of a standing room-only conference presentation at Walmart's spring sustainable packaging conference, provides 10 areas to consider when implementing changes to packaging for improved environmental impact.