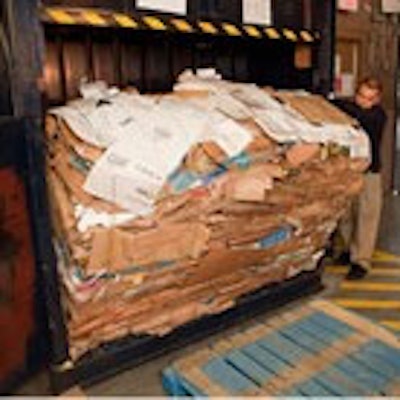 Walmart reports that it has eliminated more than 80% of the waste that would go to landfills from its operations in California. The company's comprehensive waste reduction program that produced these results is now being implemented across Walmart's 4,400 stores, Sam's Club locations, and distribution centers in the U.S., moving it closer to its global goal of creating zero waste.
According to Walmart, achieving a similar 80% reduction in its landfill waste across the country would help the retailer prevent more than 11.8 million metric tons of carbon dioxide emissions annually. This is equal to taking more than 2 million cars off the road for a year.
"We are proud of the progress we are making toward our zero waste goal, but realize we still have more work to do," says Bill Simon, president and CEO of Walmart U.S. "We are committed to actively finding and developing solutions that are both good for the environment and good for business.
"We do everything with the customer in mind. We are committed to buying, operating, and selling for less, and our waste program is a great example of developing new ideas that help us save our customers money. Through this program, we are able to provide the raw materials needed to make new products, recycle millions of pounds of commodities, and reduce the environmental impact of landfills."
Beginning in 2009, Walmart created a nationwide infrastructure of landfill alternatives that could open new opportunities for municipalities and other businesses to reduce the amount of solid waste they send to landfills. The Walmart zero waste program has three main components:
• Recycling cardboard, paper, aluminum, plastic bags, and roughly 30 other items through the super sandwich bale (SSB) program. Items not eligible for the SSB, including wood pallets, polystyrene plastic, and apparel, are sent to Walmart's return centers for reuse or recycling.

• Donating healthy, nutritious food to food banks around the country. In 2010, Walmart donated 256 million pounds of food to hunger relief organizations – the equivalent of 197 million meals.
• Creating animal feed, energy, or compost from expired food and other organic products following the EPA's food waste hierarchy.
"Walmart is to be commended for making real progress in minimizing the environmental impact of waste from its stores," says Karen Luken, director of the Clinton Climate Initiative's (CCI) Waste Program. "One of the key aims for CCI's Waste Program is to reduce methane emissions from landfills, and Walmart's initiative sends a clear message to other businesses that this is one source of emissions that can and should be addressed now."
Walmart began implementing and consistently tracking its new and existing waste reduction efforts in California in 2009. According to the retailer, a third-party review has shown Walmart uses an appropriate process to establish its waste reduction data. The nationwide program, based on the California model, will include an ongoing review to monitor the program's success.