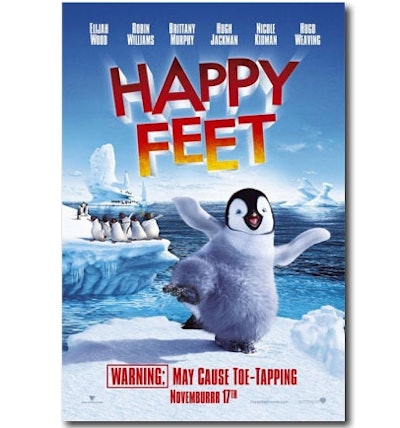 All publicity is good, right? Not for packaging supplier ITW Hi-Cone for the role that a beverage ring carrier plays in the animated family movie Happy Feet. The ring carrier ends up around a penguin's neck.
The penguin—named Lovelace and voiced by Robin Williams—initially views the ring carrier as a good luck charm…until it starts to choke him. The life-threatening carrier plays a key role as the penguin seeks help from humans.
We raised the subject last week with George McClory, ITW Hi-Cone's marketing manager. McClory says the company has contacted moviemaker Warner Brothers. ITW Hi-Cone also prepared a press release, which includes the information that follows.
Hi-Cone responds
The company is concerned the movie misleads the public about risks for wildlife endangerment from improperly discarded plastic ring beverage carriers.
"Since the late 1980s, we've been trying to correct misperceptions about ring carriers by working with scientific and environmental organizations to communicate how advances in plastics technology have made them completely photodegradable," says Hi-Cone vice president and general manager Steve Henn. "It's a shame the producers of Happy Feet didn't do their homework on this subject. They could have visited the Children's Museum in Chicago or other exhibits around the country to learn that plastic rings almost disintegrate from exposure to the sun's ultraviolet rays." [Ed note: The carriers are made of low-density polyethylene].
Misleading and irresponsible
Henn calls the character's plight "a misleading and irresponsible characterization," noting that the plastic rings exposed to sun, wind and rain will break apart. Henn maintains that the risk for wildlife endangerment today is almost nonexistent because the photodegradable rings eventually lose their strength and become brittle. The sun's ultraviolet rays break up the chemical bonds in the polymers and shorten the molecular chains. As a result, the brittle plastic breaks apart into small pieces.
According to Hi-Cone's Web site, a ring carrier loses approximately 75% of its strength within days of exposure to direct sunlight, and can become completely brittle in a matter of weeks. The carrier must be exposed to direct or indirect sunlight to photodegrade. The speed at which it becomes brittle will vary with the time of year, temperature, latitude, and other factors that limit the amount of ultraviolet (UV) light exposure to the carrier. Ring carriers float, exposing them to sunlight, which causes them to degrade.
Photodegradable ring carriers can be identified by a small, embossed diamond shape.
Hi-Cone has expressed its concerns to officials at Warner Brothers. Henn describes the communications as cordial and ongoing.
"We don't want anyone who sees Happy Feet to become concerned about purchasing beverages in plastic ring carriers," said Henn. "It is the most environment friendly package option for the beverage consumers."


Companies in this article