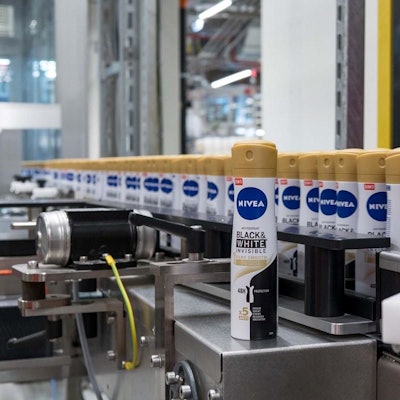 ThePackHub
Numerous instances of mono-material developments and other measures aimed at boosting recycling rates are arising. The advent of Packaging Taxes, influencing packaging recycling, is also on the horizon. The U.K. has already set this in motion in April 2022, implementing a tax on plastic packaging with less than 30% recycled content. These activities inevitably drive the demand for packaging reduction efforts.
Learn more about ThePackHub's Innovation Zone here.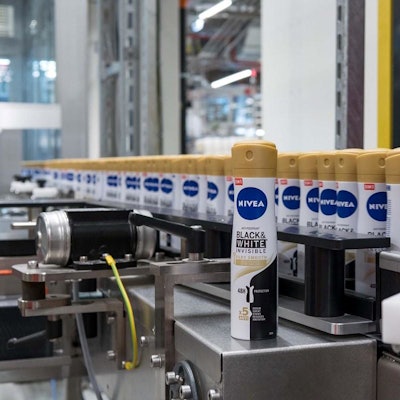 Beiersdorf Aluminum Deodorant Cans Get Sustainability Overhaul
German multinational personal care brand owner Beiersdorf has announced that starting this year and next, all deodorant cans in its European assortment of Nivea, 8X4, Hidrofugal, and Hansaplast will contain at least 50% recycled aluminum and will weigh 11.6% less due to material reduction. The switch will reduce CO2e emissions in the aerosol can value chain by around 58%. This corresponds to a reduction of approximately 30 metric tons of CO2e emissions annually. The recycled material used is sourced from the European market. It is remelted and processed into aerosol cans, which Beiersdorf then uses for its products, such as deodorants, at its new plant in Leipzig-Seehausen, Germany. The company says the new technical changes in the packaging do not change the product's functionality.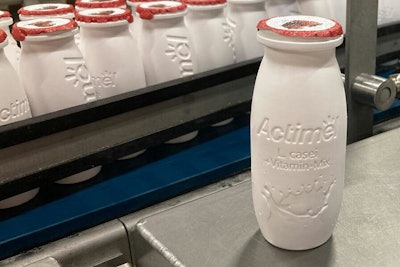 Danone Replaces PET Label with Embossing
French dairy giant Danone has announced that it is removing PET (polyethylene terephthalate) labels from its Actimel drinks to facilitate bottle recycling and reduce the use of plastic. The company started removing PET labels from its 100g bottles in August. The brand name, vitamins and allergens are now engraved directly by embossing on the small white bottle supplied by Graham Packaging. The bottles, made of HDPE (high density polyethylene), are therefore now fully recyclable. This elimination also makes it possible to reduce the quantity of plastic used by 107 metric tons per year, or the equivalent of more than 270 million bottles. The amount of plastic used in Actimel has already been reduced by 40% since its launch in 1994. Without its PET label, the small bottle becomes 95% recyclable, as the lid on which the flavor is now indicated is non-recyclable. The cardboard surrounding the bottles and bearing the regulatory information is also recyclable.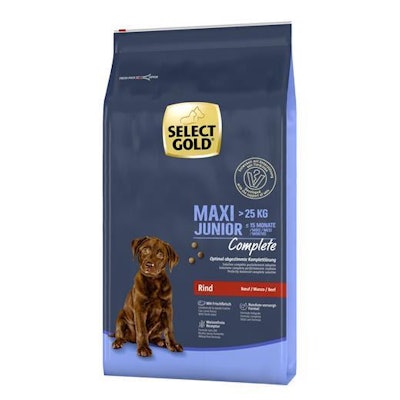 Leading European Pet Food Retailer Fressnapf Moves to Mono PE Packs
Based in Germany, Fressnapf is the largest European pet product retailer. The company has decided to move to a recyclable mono-material for its Maxi Zoo Select Gold dry pet food range. The range will be packed in PE (polyethylene) mono-material bags and pouches from multinational packaging supplier Mondi. They will now be packed in Mondi's FlexiBag Recyclable, BarrierPack Recyclable and Recyclable StandUp Pouches. These mono-material packaging solutions provide strong barrier properties providing protection from moisture, fat and odor and are strong and flexible to pack and store. As certified by Institute cyclos-HTP, the mono-material packaging is recyclable with other mono-polyethylene (PE) films using various existing recycling streams across Europe, helping to contribute to a circular economy. Pack sizes range in weight from 300 g to 12 kg, and total around 150 products. All packaging sizes offer long shelf life and ease of use for consumers.
Learn more about ThePackHub's Innovation Zone here.
Companies in this article