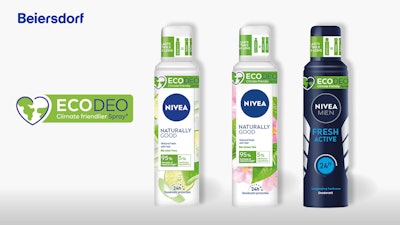 For a brand known for its iconic blue branding, Nivea is looking quite green these days. Over the last two years, a number of products belonging to the personal care brand have undergone significant transformations—some of them industry firsts—to reduce the carbon footprint of both their formulas and their packaging. It's all part of Hamburg, Germany-based parent company Beiersdorf's Care Beyond Skin sustainability agenda, which lays out ambitious goals under three areas, the Environment, Society, and the Consumer, to foster a circular economy and a climate-positive future.
"Humanity is facing a growing amount of environmental and societal challenges, and the urgency, especially for global companies, to act and to contribute to a positive change, has never been higher," says Beiersdorf. "We formulated our corporate purpose—Care Beyond Skin—and with this, put our existing self-understanding into words. It states very clearly that we see our responsibility as going far beyond our core business of skin care."
Overall, the company has committed to reducing its greenhouse gas emissions by 30% by 2025 (versus base year 2018), which it says is among the most ambitious targets in the industry. As concerns its product packaging, Beiersdorf has made a number of commitments around the focus area of "Fully Circular Resources." This includes reducing its use of fossil-based virgin plastic by 50% by 2025 (versus base year 2019); increasing the use of recycled material in its plastic packaging to 30% by 2025 (versus 2019); and making 100% of its packaging refillable, reusable, or recyclable by 2025.
Like a number of other Consumer Packaged Goods brands with similarly daunting goals, Beiersdorf is employing a number of packaging technologies and strategies, falling under the what the company calls the "4R approach"—Reduce, Recycle, Reuse, and Replace—to make its packaging more sustainable.
The result for its flagship brand Nivea has been a flurry of new packaging formats and products over just the past two years. Among them is the first 100% post-consumer recycled-content aluminum aerosol can and a new aerosol valve technology that reduces emissions and extends the product's use. Another is a reusable, refillable packaging system for hand soap. Two other new packages—a plastic jar made from bio-based material and a lightweighted bottle for shower gel that includes 96% recycled material—reduce Nivea's use of virgin plastic. And, lest we forget paper, in 2021, Nivea replaced a laminated carton with one embellished with transfer metallization that allows for recyclability.
First to market with a 100% PCR aluminum aerosol bottle
While much of the packaging used for Nivea's skin care products, which include body and face lotions and creams, lip care products, body wash, and sunscreen, among others, is made from plastic, packaging for its deodorant and shaving gel products also includes aluminum formats, in particular for the aerosol spray formulations. Beginning in May 2021, Beiersdorf began collaborating with Swiss aluminum can company Nussbaum Matzingen AG to develop the first aerosol can made from 100% post-consumer recycled aluminum in an effort to reduce the CO2 footprint of its aerosol cans.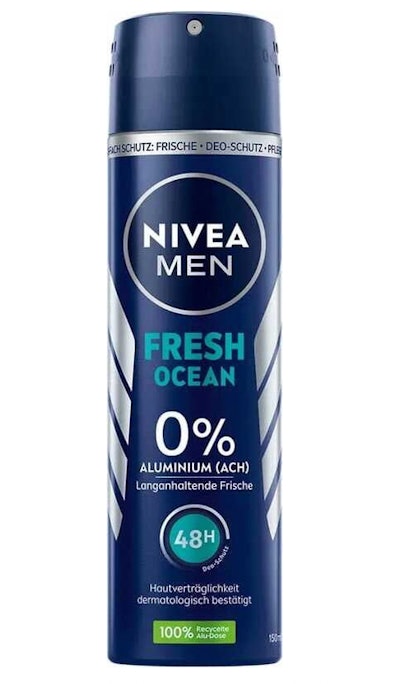 In an interview with Aerosol Europe, Nussbaum CTO Markus Tomasini explained that there were several challenges to overcome in producing the 100% PCR aluminum alloy. This included ensuring the safety of the pressurized aluminum can, as until recently, the required strength could only be reached by using aluminum slugs containing at least 99.5% virgin aluminum. Another hurdle was finding enough recycled aluminum material, as, he shared, "only 20% of the global aluminum demand may be covered by recycled material." And last, even if Nussbaum were able to secure the material, the concern was that the recycled aluminum would have a worse carbon footprint due to long transportation routes and complex and costly collection and sorting processes.
Nussbaum's solution, Tomasini shared with Aerosol Europe, is to use mono-material aluminum beverage can scrap from the German Yellow Bin waste disposal system, whereby post-consumer plastic, metal, and paper waste is returned to collection points for recycling. Nussbaum presses the aluminum scrap and converts it into slugs using the impact extrusion process it typically employs for its standard cans.
"The waste collection point, the aluminum processor, and our factory are located within a span of 150 kilometers," Tomasini told the publication. "We have short transport routes, something that optimally supports the sustainability goal. And what is extremely important: there are no compromises with regard to quality or appearance, nor are safety or processability compromised compared to standard aluminum aerosol cans."
"Tool and process innovation were the key to being able to process the high alloy content in the post-consumer-recycled material," he added.
---
---
Nivea became the first global company to use the 100% recycled-content aluminum alloy—called Nucan-PCR—on a large scale when it introduced the can in December 2021 for a number of its Nivea Men deodorant sprays and for most of its Nivea Men shaving gels in Germany. The brand is continuing to roll out the new packaging for these products throughout European markets this year.
Along with the use of 100% PCR aluminum, Nivea also lightweighted the new aerosol can for a further reduction in GHGs. According to Beiersdorf, compared to the former aluminum cans used for its Nivea spray deodorants, Nucan-PCR delivers a 28% decrease in CO2 emissions, without any loss in quality. "For the shaving gel aluminum cans, the CO2 emissions could be reduced by even 35%," it adds.
Furthermore, Alban Bourcier, Packaging Expert Deo & Aerosols, Beiersdorf, shares that with the recently launched Nivea Men deodorants and Nivea Men shaving gels in 100% PCR aluminum, the company will eliminate approximately 1,660 tons of virgin aluminum in 2022.
Aerosol can valve reduces GHGs, lengthens product use
In another first on the aerosol front, in December 2021 Beiersdorf also announced the introduction of a new valve technology for aluminum aerosol deodorant cans that reduces GHGs. The Eco-Valve, from Salford Valve Company Ltd. (Salvalco), uses "eco-friendlier," inert gases, such as nitrogen, carbon dioxide, or compressed air, as a propellant in aerosol sprays while still providing the performance and spray quality of traditional valves. "This brings about a higher yield per can, resulting in a significant reduction of greenhouse gas emissions, while delivering an excellent spray quality," explains Beiersdorf.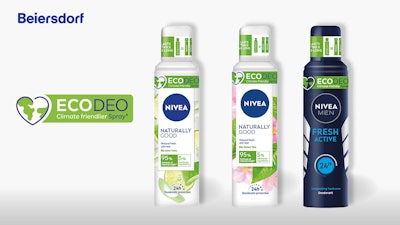 The partnership between supplier and CPG began in 2020 when Beiersdorf acquired an equity stake in U.K.-based Salvalco through OSCAR&PAUL Beiersdorf Venture Capital to strengthen the personal care company's footprint in sustainable packaging solutions and to support Salvalco's research and commercialization of the patented Eco-Valve technology. The late 2021 launch of Nivea's EcoDeo line of deodorants with the Eco-Valve applicator represented the first-ever use of the patented technology.
As Salvalco explains, the Eco-Valve utilizes patented Bubbly-Flow Technology developed by the Spray Research Group (SRG) at the University of Salford in the U.K. "It is this technology that enables aerosols to be propelled successfully by harmless compressed inert gases," it shares. "Significantly better for the environment, it is also far safer than conventional propellants, which typically use hydrocarbons."
Eco-Valve technology is described as a total system of valve and mechanical break-up (MBU) insert technology. Beiersdorf's Bourcier explains: "The unique Eco-Valve concept optimizes the mix between formula and propellant. In combination with the MBU technology, the Eco-Valve system improves the formula nebulization in the spray cone angle."
He adds that because the Eco-Valve follows industry standards, it looks like a standard aerosol valve from the outside. "This way, it can be adapted to standard aerosol containers," he says. "Nevertheless, the technical design of the non-standard parts is not like standard aerosol valves. The Eco-Valve's innovative technical design empowers the defined mix of formula and propellant in the valve."
Beiersdorf is using Salvalco's Super Single Gasket Valve option for its new range of EcoDeo products, which offer a "climate-friendlier spray application format." Among the products in this packaging are Nivea's Naturally Good deodorant, which contains 95% ingredients of natural origin, and Nivea Men deodorant.
---
---
According to Sandra Pasel, Global Brand Manager for Nivea Deo, EcoDeo targets aerosol spray deodorant users who are looking for a more sustainable alternative without losing the feeling of a spray application. "Although Nivea EcoDeo is a different application format than our standard deodorant sprays, consumer tests prove that it fulfills the expectations of our current deodorant spray users," she notes.
Not only does the Eco-Valve eliminate conventional hydrocarbon propellants, but it also results in a higher yield per can. According to Pasel, the EcoDeo spray lasts twice as long as Nivea's standard 150-mL deodorants. "Due to this, the consumer saves a whole aluminum can during usage," she relates.
Projects significantly reduce virgin plastic material use
At the same time as Beiersdorf has been making changes to its aluminum packaging to enhance its circularity, it has also been making equally impressive changes to its plastic packaging. At year-end 2020, the company reported that 90% of its PET bottles in Europe included recycled materials—with some containing up to 97%. In addition, in Germany, the vast majority of the bottles for its Nivea Shower & Shampoo range now come from PCR waste streams, saving 2,000 tons of fossil-based virgin plastic.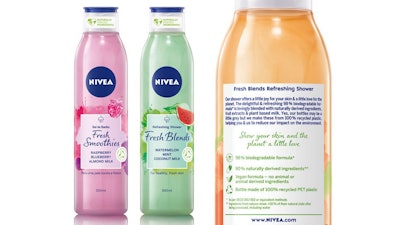 In 2020, Nivea launched a new line of shower gels, Shower Fresh Blends, which at the time, Tracy Feehan, Global Marketing Director Nivea Body Cleansing, said was the most sustainable Nivea product line to date. "The formula is 90% naturally derived and 98% biodegradable," she shared. "But not only the inside of this new product range is quite sustainable, the packaging also: the bottle is made out of recycled PET."
Ninety-seven percent rPET, in fact, which Beiersdorf says eliminates 150 tons of fossil-based virgin plastic per year. The challenge, and one that most CPGs continue to struggle with as they increase the amount of recycled content in their packaging, was finding enough of the material. "[Our] Supply Chain [team] worked with their suppliers in order to secure our rPET demands, because we needed quite an amount of material and all of it in the exact same quality definition," Feehan explained. "As well, recycled PET comes with a slightly greyish color, so we had to work on a color scheme that accepts these nuances well."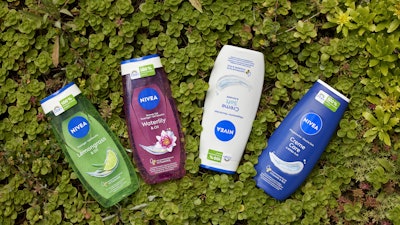 More recently, in mid-2022, Beiersdorf relaunched its Nivea female and universal shower gel line, which is now considered one of the front runners in terms of sustainability at Beiersdorf. That's according to Hannah Trigg, Junior International Sustainability Communication Manager for Beiersdorf, who interviewed the core project team responsible for the development of the new product and its packaging in July.

In the interview, Sabine Schulz, Formula Development, Body Cleansing, shared that not only is the new bottle made from at least 98% recycled plastic, but it is also 26% lighter than before, allowing for the reduction of packaging-related emissions by 32%. The formulas for the shower gel products are microplastic-free and up to 99% biodegradable, as well.
Explained Julia Rainer, Packaging Development, Body Cleansing, "The packaging for this range has been designed for circularity and has been improved in several ways. For both the cap and bottle, the target was to reduce the use of material as much as possible while keeping a similar look and feel—height and front shape. The new cap now makes it possible for the product to stand upside down allowing for optimized rest-emptying. As of now, the cap has a recycling material usage of 30% recycled PP, but we are already testing 100% rPP caps, a more sustainable pump system—weight-reduced, mono-material, recyclable—and refill pouches for the near future. This range is one of the lighthouse projects since a lot of learning could be generated by testing some of the first generations of recycled materials."
According to Orkun Kaymakci, Packaging Development, Plastics Technology, the development of the recycled PCR material for the bottle and the cap required huge internal and external collaboration. "Managing the availability and the procurement of the materials was a challenging task that we successfully overcame," he said. "Additionally, as quality is of the utmost importance to us, we went through many testing rounds and collaborated with our external partners for the development of the PCR materials, resulting in a very high quality we are proud of."
To account for emissions not reduced by the new packaging and product formula, Schulz shares that the product range is also 100% "climate-neutralized," which she said means that Beiersdorf will balance the remaining emissions through certified climate projects.
The launch of the new packaging in a 250-mL size began in Q2-22, first in Germany, with other countries and sizes to follow.
Making inroads into 'Reuse'
As part of its 4R approach, another strategy Beiersdorf has applied to its Nivea brand is "Reuse." The company was one among the first to join the Loop circular shopping platform, based around the use of waste-free, refillable packaging. The originally online-only platform launched in New York and Paris in mid-2019, with two products from Beiersdorf's Nivea Men After Shave range as part of its offerings.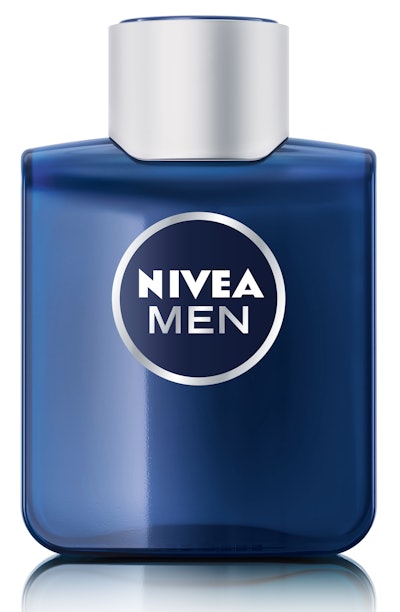 Said Dorle Bahr, Head of Environmental Sustainability for the company, at the time of the launch, "Sustainability has a long tradition at Beiersdorf. As our sustainability strategy 'We care.' shows, we always strive to integrate sustainability elements throughout the entire value chain into our processes. The Loop platform is an excellent way to save resources by completely reusing our product packaging."
Added Michael Becker, Vice President Global Packaging R&D for Beiersdorf, "We are really happy to be a part of this innovative idea from the very start. We think it has tremendous potential and will help to establish reusable product packaging alongside traditional packaging for our products."
Since then, Nivea has been part of the Loop platform as it expands to retail locations, offering two Nivea Men products—Protect & Care Hydrating After Shave Balm and Sensitive Skin After Shave Balm—in refillable 100-mL porcelain bottles.

Shortly after the launch of Loop, in August 2020, Beiersdorf collaborated with German drugstore chain DM to pilot what it says was the first in-store refill system for shower gel products. The company developed the refill station with speed-to-market—or speed-to-pilot—in mind, making it simple and intuitive for consumers to use, while keeping product safety top of mind. According to Sustainability Manager Nivea/Strategic Product Designer Marta Suslow, the machine was engineered to meet the strictest Beiersdorf safety standards, for example, through special pumps, contact-free filling, and clearly defined cleaning cycles.
Through the pilot, customers at the three DM stores that participated in the trial could take an empty plastic bottle from the station and fill it with the product of their choice, either Nivea Creme Soft or Nivea Creme Sensitive shower gel. Payment was made using the printed label. To refill the bottle, the consumer would bring the bottle back to the store. Through a special barcode on the bottle, consumers were able to refill the bottle up to three times, after which they were asked to turn it in at the store checkout for hygiene reasons. Used bottles were recycled, while consumers received a new bottle and a first filling for free.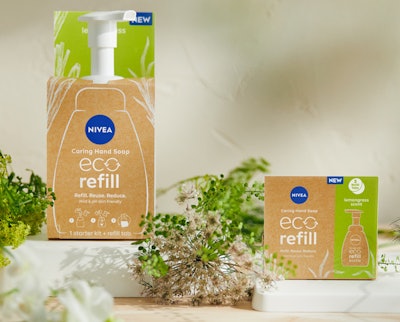 Beiersdorf's third and most recent foray into Reuse is its introduction in November 2021 of its new Nivea EcoRefill Hand Soap at selected Tesco stores in the U.K. The refill system, which the company claims is a category first, consists of a refillable, 100% rPET bottle that is also fully recyclable, an easy-to-dispense pump, and concentrated cleanser tablets.
Explains Lukas Hurrie, Senior Global Brand Manager, Nivea Body Cleansing, "With the launch of the new Nivea EcoRefill Hand Soap, we set ourselves the goal to produce a tab formulation for refillable hand soap that combines a sustainable product formula and packaging approach. This new technology is contrary to how we are used to producing products since it means in this case selling a liquid hand wash without liquid/water. At the same time, we want to offer our consumers the same texture and skin feel that they are used to. That has been challenging at times."
The 16-g soap tabs—in Lemongrass, Cotton Flower, and Hibiscus & Honeysuckle scents—are said to be mild and pH skin-friendly, 97% derived from natural ingredients, and 99% biodegradable. The clear, 250-mL reusable bottle is simply decorated, with the Nivea logo and bold type reading, "Refill, Reuse, Reduce." The white dispensing pump is engineered to perform more than 10,000 pumping strokes. "The bottle is very durable and can be reused many times," shares Hurrie. "However, we recommend cleaning it regularly."
The way the product is designed to work is that the consumer fills the clear PET bottle with lukewarm water up to a line marked on the container, drops a soap tab into the water, closes the bottle, and shakes the mixture for 30 seconds, after which it's ready to use. According to Beiersdorf, the EcoRefill is said to last around 25% longer than standard Nivea hand soap.
The EcoRefill Hand Soap product is sold in a kit that contains the bottle, dispensing pump, and one soap tab; refill tabs are sold in three-packs. Outer packaging for the starter kit and the refill tabs consists of Forest Stewardship Council-certified paperboard cartons.

Nivea launches forestry byproduct-based PP jars
In what could be viewed as both a "Reduce" and a "Replace" initiative, in June 2020, Beiersdorf, in cooperation with global chemical manufacturer SABIC, introduced its Nivea Naturally Good face care product range in packaging made from SABIC's TRUCIRCLE portfolio of certified renewable polypropylene. From idea to implementation, the development of the new packaging took just nine months, with Berry Global joining the project to manufacture the jars.
Says Beiersdorf, the project to replace petroleum-based plastics with alternative materials began with a comprehensive analysis of the market. Beiersdorf's requirements for the material were high, since the company aims to become more sustainable without any compromise on quality. "Our excellent skin care products obviously include a high-quality packaging, which has to fulfill many requirements," says Becker. "On the one hand, this concerns visual and tactile features that our Nivea consumers are acquainted to, but packaging recyclability is also an important aspect for us—in line with our vision of a circular economy that we aim to support."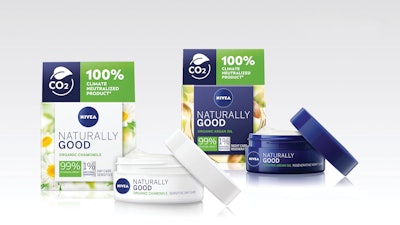 Because producing its cosmetic packaging from a source of food such as sugarcane or corn was out of the question for Beiersdorf, it chose SABIC's feedstock concept of second-generation raw material. The certified renewable PP is made from tall oil, which is a byproduct of the forestry industry. Explains Hannah Rasel, Senior Packaging Specialist at Beiersdorf, "The certified renewable plastic we source from SABIC has no visual effects or other adverse properties. Accordingly, the jar made of renewable PP is neither visually nor haptically distinguishable from the previous packaging. In addition, SABIC pursues a holistic sustainability approach with its feedstock concept. That convinced us."
The new packaging is based on the principle of mass balancing, in accordance with the International Sustainability & Carbon Certification (ISCC PLUS) scheme. The raw material base of tall oil replaces crude oil, and according to the mass balancing approach, it is integrated seamlessly in the manufacturing process—without the need to establish a separate production process.
---
---
Says Beiersdorf, converting the packaging to renewable plastic not only has the advantage of conserving fossil resources, but also reduces CO2 emissions. Approximately 76 g of CO2e are saved per jar produced, a reduction of around 60% compared to the fossil-based jar. The project therefore also contributes to the company's climate target of reducing its greenhouse gas emissions by 30% absolutely across the entire value chain by 2025. Any remaining emissions that cannot be avoided or further reduced during the manufacturing of the product are climate-neutralized via carbon offsetting, through afforestation projects.
"The reduction of fossil raw materials in our portfolio is of essential importance to us," says Becker. "The use of renewable raw materials in our product packaging represents a major lever for us to reduce our carbon emissions and improve our ecological footprint. We are pushing this forward with great energy. We are proud to be the first in our mass-market segment supporting the use of PP made from renewable, plant-based raw materials as a packaging material for our cosmetic products, and we are pleased to have a strong, experienced partner with SABIC. Together, we want to contribute to the raw material change and take an important next step towards achieving our ambitious sustainability targets."
Recyclable Paper Packaging is Important, Too
With a most of its product packaging made from plastic, Beiersdorf can't help but spend the bulk of its time focused on innovation in this area. But, when it comes to looking for sustainable wins, no stone—or material—is left unturned.
In 2021, the company worked with Eastman to find a more sustainable paper option to the laminated cartons it was using for its premium Nivea skin-care brand in China. The goal was to develop packaging that was recyclable and lighter weight with no compromises in attractiveness, quality, or performance.
---
---
According to Eastman, its technology team worked closely with Beiersdorf and its suppliers along the value chain to qualify the process. Eastman says its cellulose esters were key in ensuring the success of the technology, which involved switching from laminated paper to film-free paper in a process called transfer metallization. With transfer metallization, metal is deposited onto the paper when it is transferred from release-coated, metallized PET film. According to Eastman, transfer metallization offers very high-quality appearance and results in packaging that is still recyclable.
"In this application, our cellulose ester release coating offers better appearance, better ink adhesion, and better-balanced anti-folding and anti-blocking properties than alternative solutions," says Eric Zhang, Eastman Market Development Manager in Shanghai.
According to Eastman, the process has traditionally been used on very specialized packaging. "Commitments by companies like Beiersdorf to reach ambitious sustainability goals have led to its wider use," the company adds. "Already, the outer packaging of seven new Nivea product lines have been upgraded to this recyclable solution, which also can reduce the packaging's weight by up to 10%."
Companies in this article