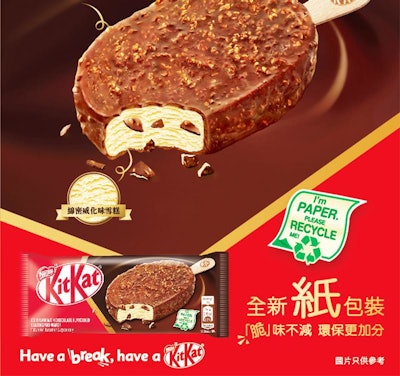 ThePackHub
Packaging continues to see a lot of change of materials driven largely by sustainability objectives. Plastic replacement is still top of the agenda for many brands and retailers as they look to switch out of the material to solutions that may offer a better environmental footprint, or at least be better received by anti-plastic focused consumers.
Learn more about ThePackHub's Innovation Zone here.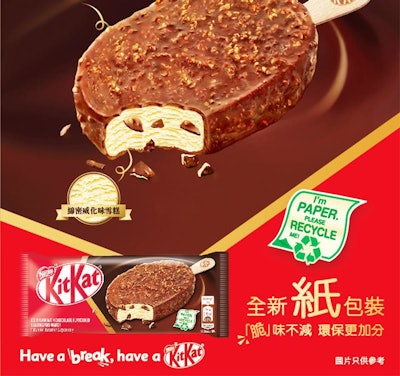 Paper Packaging Switch for Leading Ice Cream Brand
Nestlé Hong Kong has announced that the packaging for its Kit Kat stick ice cream is moving from plastic to paper, which is a first for the Innovation Zone. The packaging is made of 100% pure pulp, which has been certified by the Forest Stewardship Council (FSC). It is designed to reduce plastic consumption and boost recyclability. The new paper packs for KitKat Stick ice cream support Nestlé's ambition to achieve 100% recyclable or reusable product packaging by 2025 and reduce the use of virgin plastic by one-third. Nestlé says that it is focusing on three core areas: eliminating non-recyclable plastics, encouraging the use of plastics that allow better recycling rates, and eliminating or changing complex combinations of packaging materials. Research by Nestlé in neighboring China shows that consumers believe that paper packaging has good (44%) or excellent (30%) recyclability. However, a slightly larger majority believe plastic packaging has good (45%) or excellent (33%) recyclability.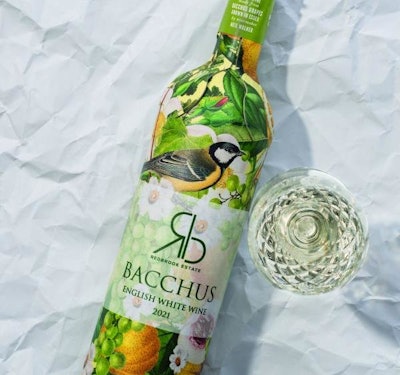 First Paper Bottle Added to Wine Merchants' Range
British online wine merchant Laithwaites has announced that it has launched its first wine offering in a paper-based bottle. The bottle is made of 94% recycled board with a recyclable plastic pouch inside. The bottle weighs in at 83g, compared to the average weight of 500g for a glass bottle. It is reported that the manufacturing and recycling of glass bottles is by far the largest contributor to wine's carbon footprint, and by using a board bottle, the carbon footprint comes in six times lower. The wine, called Bacchus, is an English white wine made by East Anglian winery Redbrook Estates. Laithwaites has launched the wine in a paper bottle in order to offer more sustainable packaging options to customers, and they expect to expand the paper bottle range in the future. Redbrook Estate Bacchus, English Regional Wine 2021 is priced at £18.99 a bottle.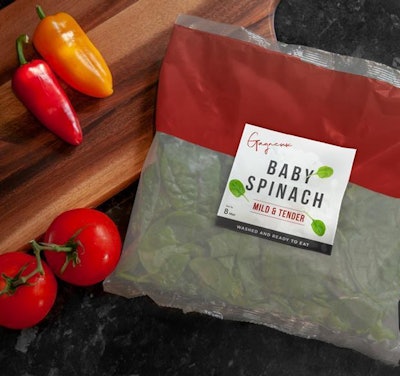 Paper Manufacturer Develops Translucent Barrier Paper
Paper manufacturer Arjowiggins has launched a recyclable, compostable, marine-degradable translucent barrier paper made from renewable raw materials. Called Sylvicta, the company says that the paper has a very high oxygen barrier meaning it can prolong shelf life throughout all stages of the supply chain. Arjowiggins says that their R&D team has developed Sylvicta translucent paper with a natural bonding, without the need for any harmful chemicals, through a process called precision fiber refining. Potential uses for Sylvicta includes pouches for dry fruits, bags for salads, sachets for solid soap, sacks for pet food and flow-packs for chocolate bars, to metallized versions of the product for butter or margarine packaging. Sylvicta is FSC (Forestry Stewardship Council), and PEFC (Programme for the Endorsement of Forest Certification) certified, produced on a site that's ISO 14001-compliant, and is carbon-offset through the World Land Trust's Carbon Balanced program.
Learn more about ThePackHub's Innovation Zone here.
Companies in this article