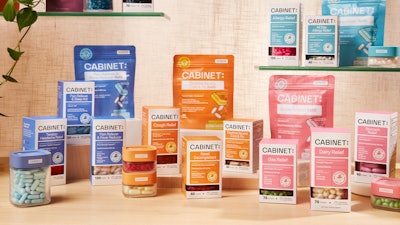 In every CPG category and market, efforts are underway to eliminate single-use plastic packaging when and where it makes sense. One area that has traditionally lagged behind, however, is the healthcare market, primarily OTC and pharmaceutical packaging. However, startup Cabinet Health has come up with a solution that it says has the potential to transform the industry, making it more sustainable—"from retail and pharmacy aisles to medicine cabinets and homes."
Founded in 2018 by Achal Patel and Russell Gong, Cabinet Health: The Sustainable Healthcare Co has developed a reusable and refillable packaging system whose components include a stackable, shatter-resistant and reusable glass bottle paired with refills in a compostable pouch. Its initial products, a line of OTC meds under the Cabinet brand name, first became available via D2C. In May, the portfolio, which includes allergy, pain, cold and flu, digestive, and sleep remedies, launched at retail in 700-plus CVS pharmacy stores nationwide.
---
---
Gong shares that he and Patel came up with the idea for Cabinet while they were working abroad running a social innovation program for a consulting group that focused on identifying mission-driven and sustainable startups and helping them scale as businesses. "We saw firsthand the impact of the plastic crisis and saw other industries coming up with innovative sustainable packaging solutions, but no large healthcare players were successfully tackling this issue yet," he says. "We combined our backgrounds in sustainable startups and medicine [Patel's grandfather built one of the first acetaminophen factories in a small town in India] to reimagine people's medicine cabinets."
Reflecting on the scale of the plastics crisis, Gong shares that more than $194 billion plastic medicine bottles enter landfills each year. Furthermore, studies show that humans consume nearly 5 g of microplastics each week, which is roughly the size of a credit card. "The plastic waste crisis is a public health crisis," he says.
Reusable packaging exhibits both form and function
In developing the plastic-free reusable packaging system, Gong relates that Cabinet started from scratch, doing most of the work in-house, but did bring in some "amazing specialists and partners along the way." The cube-shaped medicine containers, he shares, were developed with both form and function in mind. Available in a small and large size, they are made from glass, frosted to preserve the contents and shatter-tested for durability. They are also stackable for easy organization on consumers' medicine shelves.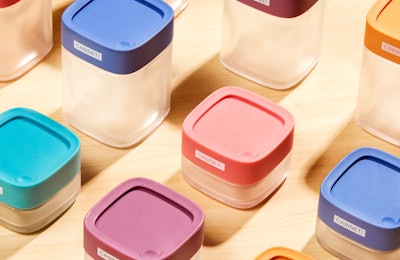 Says Gong, "With a low, square profile, the Cabinet system takes up a fraction of the space in your medicine cabinet than traditional bottles—a dream for minimalists, aesthetes, and anyone who could use the extra storage space."
Topping each bottle is a colorful child-resistant square plastic cap with a bayonet locking closure and integrated magnet. Nestled inside a concave area on the top of the closure is a separate, removable magnet upon which is printed directions for use of the medication, expiration date, lot number, and other required information, as well as a QR code consumers can use to order medication refills.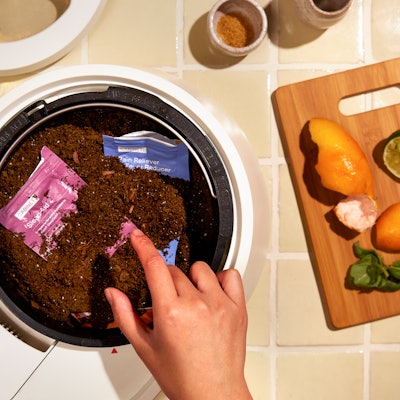 For the refill packaging, Cabinet chose a proprietary material that is compatible with both home compost devices and industrial composting facilities. According to Gong, the company is also currently waiting on backyard-compostable certification. Along with the capsules or tablets, each refill pouch also holds a new snap-in magnet specific to that batch.
"Cabinet's system uses glass, compostable flexible films, and aluminum," Gong says. "We indexed on hyper-recyclable materials with compostable films being our path forward for earth-digestible materials. We looked into a whole host of other materials, but ultimately we needed to balance regulatory quality, cost, design, and sustainability."
A pound per person of plastic saved annually
According to Cabinet, by switching to the brand's refillable system, a consumer can eliminate up to one pound of plastic annually and hundreds of pounds of plastic in a lifetime. To arrive at that estimate, the company calculated that, on average, a single empty bottle is made of 3.75 oz of plastic and that, also on average, consumers purchase about five refills of a given medicine per year.
---
---
"Oftentimes, pills expire before they're able to be used, or even worse, expired pills are consumed," says the company. "Cabinet medicines come in lower pill counts than some bulk medicine offerings to minimize pill waste. With that in mind, we factored in a 0.85 to 1 ratio to account for us offering fewer pills per purchase than competitors in some cases.
"Based on the above variables, we estimate that when you buy a Cabinet medicine starter set [reusable bottle with medication plus one refill], you are eliminating one single-use plastic medicine bottle immediately, plus four more via compostable medicine refills throughout the year. Multiply that by 0.85, and you are eliminating one pound of single-use medical plastic per year."
The company's products are manufactured in India, using FDA-approved active ingredients. Cabinet pays for carbon offsets to account for the transport of the product and make the supply chain less damaging for the environment.
The next step in Cabinet Health's journey to "de-plastic pharmacy aisles and medicine cabinets across the country" is the use of its packaging system for prescription pharmaceuticals. This summer it began beta testing of its full-service Cabinet prescription services. For this application, the company has designed a CR pouch for refills.
In the future, Gong says Cabinet plans to offer packaging formats to accommodate other form factors, such as liquids and creams. PW