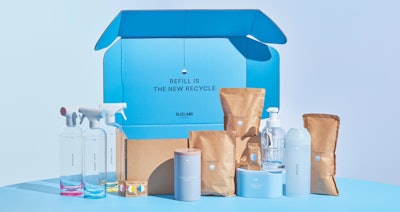 Reduce, Reuse, Recycle. This mantra has become the rallying cry for organizations throughout the packaging supply chain—including suppliers, retailers, brand owners, NGOs, and government organizations, among others—when developing strategies around more sustainable packaging. But few may realize that the phrase is more than a catchy slogan: It represents the non-hazardous materials and waste management hierarchy developed by the U.S. Environmental Protection Agency.
According to the EPA, the most preferred method for the prevention of waste for non-hazardous materials is Source Reduction and Reuse. This is followed by Recycling/Composting, after which is Energy Recovery. At the bottom of EPA's inverted pyramid is the least preferred method, Treatment & Disposal—essentially landfilling.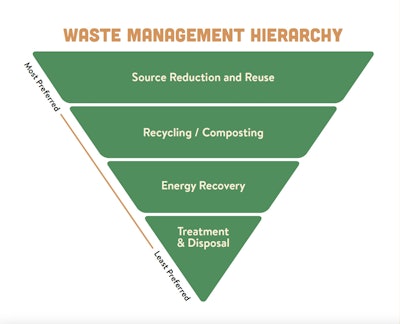 Back in the early 2000s, when Consumer Packaged Goods companies began looking at their packaging with an eye toward making it more environmentally friendly, reduction was the easiest change to implement. Innumerable tons of material were taken out of the waste stream through efforts such as eliminating the secondary packaging for products such as bottled OTC medications and shaving millimeters off cartons and bags, resulting in big wins for major brands selling millions of products annually. In one "out of the box" example, General Mills actually reengineered the physical properties of the noodles within its Betty Crocker Hamburger Helper meal to enable the design of a smaller carton size.
---
---
However, once that low-hanging fruit had been picked and CPGs became more adept at rightsizing their packaging, recycling became the next major area of focus, with reuse almost entirely disregarded. "And while recycling is still important, it's nowhere near enough," advises a new white paper, "The New Reuse Economy," from Upstream, a non-profit committed to finding solutions to move communities from single use to reuse. "Somewhere along the line, we forgot that the first two R's—reduce and reuse—are way more important for the environment than recycling.
"While 'lightweighting' packaging for source reduction has gained some attention, brands, NGOs, and government officials have spent most of their time, energy, and resources focused on recycling because frankly, it's the easiest," adds the white paper. "This 'recycling-first' approach has been the standard largely because it doesn't threaten the one-way, throwaway, disposable paradigm that governs current practices and supply chains."
Rethinking reusable packaging
When the Ellen MacArthur Foundation published, "Reuse – Rethinking Packaging," in mid-2019, as part of its vision for a circular economy for plastics, it brought the topic of reusable packaging to the fore. The report outlines the financial and environmental opportunities related to reusable packaging and the major benefits of reuse versus single use.
According to the report, globally, replacing just 20% of single-use plastic packaging with reusable alternatives offers an opportunity worth at least $10 billion. It also notes that reuse is a fundamental part of the solution to eliminating plastic pollution. "Through the New Plastics Economy Global Commitment, over 350 organizations [as of press time, that number is now 500 plus] have signed up to the vision of building a circular economy for plastics, explicitly acknowledging that we cannot simply recycle our way out of this issue, and that rethinking how we bring products to people without relying on disposable packaging is a crucial part of the solution," the report reads.
In fact, one of the key progress metrics of the Global Commitment is that the signatories will ensure that by 2025, 100% of their packaging will be reusable, recyclable, or compostable. Not surprisingly, given the ambitious scope of this metric, EMF's recent 2022 progress report shows that the signatories will most likely not reach these goals by 2025. When it comes to reusable packaging, the report actually indicates negative progress, with a slight decline in 2021 to an average of 1.2%, from 1.5% in 2019.
---
---
Yet, there is reason for optimism. Studies show there is a healthy appetite for reusable packaging among consumers. According to a survey of more than 1,100 consumers on sustainable packaging, conducted by consumer insights platform Suzy, the word respondents associate most with sustainable packaging is "reusable." "Recycle" is fifth on the list, after "environment," "friendly," and "package." It also reported that the number-one thing consumers want personal care brands to do to be more sustainable is to offer a refill program for products. Furthermore, 84% said they would be willing to swap their current personal care products for ones that are more sustainable, particularly for products like shampoo, conditioner, body wash, and body lotion.
And, noted the survey, consumers are putting their money where their mouth is: Forty-four percent of respondents said they try to use reusable products and packaging instead of single-use plastic to be more sustainable, and 49% of consumers said they prioritize refillable/reusable packaging when they shop.
Market data from consultancy Smithers also provides reason for optimism around the future of reusable packaging, even if growth is expected to be rather modest. In a recent report, "The Future of Refillable and Reusable Packaging to 2027," Smithers notes that global sales of refillable and reusable packaging in 2017 amounted to $35.1 billion and grew at an average annual rate of 3.4% to $40.1 billion in 2021. It also projected sales for 2022 of $42 billion, forecast to grow 5% annually during 2022 to 2027 to $53.5 billion.
Additionally, the report indicates that refillable and reusable packaging sales accounted for an estimated 4% of global packaging sales in 2021; in 2027, refillable and reusable packaging sales are forecast to reach 4.2% of global packaging sales.
The moderate pace of growth most likely reflects the many challenges involved with implementing a successful refill/reuse program, not least of which is the massive shift in consumer behavior that's required. To move consumers away from a single-use, disposable system to a reusable one, CPGs must ensure the switch is as easy as possible by making the reusable packaging as simple to use as disposable packaging. Another challenge, specific to those systems where the reusable packaging is returned to the brand owner, is the need to develop a reverse logistics infrastructure, as well as a process of cleaning and sanitizing the used packaging. Another challenge is the perceived higher price of products in reusable packaging, despite the fact that the cost of the product decreases every time the refillable package is used.
Four models of reuse
Challenges aside, according to EMF's seminal reuse report, refillable/reusable packaging offers a number of benefits for both brands and consumers. Reads the report, "Reuse presents an innovation opportunity to change the way we think about packaging from something that's simply as inexpensive and light as possible to viewing it as a high-value asset that can deliver significant benefits to users and businesses."
Among the advantages enumerated, the report notes that reuse can cut packaging and transportation costs, as refills can be supplied in a more compact form; it can adapt to individual needs, as users can customize their experience, as in the case of mix-and-match flavors or personalized packaging; and it can build brand loyalty through deposit and reward schemes. Reuse can also improve the user experience. Given that CPGs can invest more money in a package that will be reused multiple times versus a single-use disposable one, the functionality and aesthetics of the package can be significantly improved.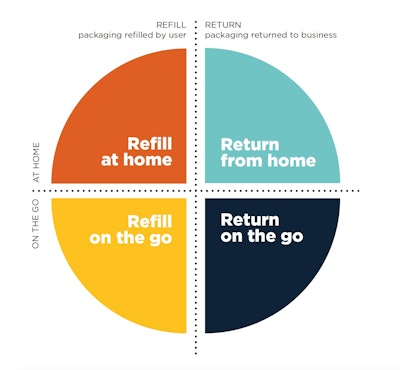 Another advantage of reuse, according to EMF, is that economies of scale for distribution and logistics can be achieved through sharing reusable packaging across brands, sectors, or wider networks. The last benefit cited by the report is the ability for reusable systems to gather intelligence. Says the report, "Information on user preferences and system performance can be gathered by incorporating digital technologies such as RFID tags, sensors, and GPS tracking into the reusable packaging system."
The benefits that apply, however, depend on the model of reuse employed. In its report, EMF establishes four reuse systems, each one of which differs in terms of packaging ownership and the requirement for the user to leave home to refill or return the packaging. One model is Refill on the go, whereby users refill their reusable container away from home, such as through an in-store dispensing system. In Return from home, the reusable packaging is picked up from the user's home by a pick-up/return logistics service. The third model is Return on the go. In this system, users return the packaging to a store or a drop-off point, such as a deposit return machine or mailbox.
The last model—and the one that will be explored in detail in the balance of this article—is Refill at home. In a Refill-at-home system, users refill their reusable container at home, for example with refills delivered through a subscription service or purchased at retail. Some of the earliest examples of Refill-at-home products came from the e-commerce sector, particularly for products such as household cleaning, laundry, and personal care.
D2C brands pioneer refillable/reusable packaging
One early example of a Refill-at-home system is from direct-to-consumer company Blueland, which launched a subscription service several years ago with three household cleaning products and a foaming hand soap. Blueland's system comprises a counter-worthy, reusable bottle made of either a shatter-resistant copolyester for the cleaning products or a glass bottle for hand soap, paired with concentrated product formulas in the form of a tablet. To create the product, users simply add the tablet to water in the reusable bottle. For the consumer's first order, they receive the bottle and a number of refills; thereafter, they receive only the refill tablets.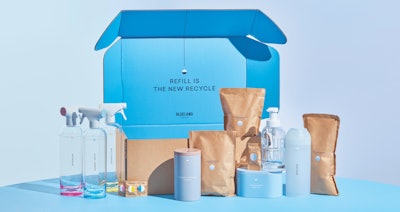 Another, similar system is one from D2C household cleaning products company Truman's. In 2019, the company introduced four concentrated cleaning products, for kitchen, bath, glass, and floors, packaged in refill cartridges that are loaded into a durable, reusable PET spray bottle filled with water.
Both Blueland and Truman's illustrate how Refill-at-home systems can both eliminate packaging waste, with the refills using just a fraction of the packaging materials required for a traditional ready-to-use bottle (RTU), as well as reduce the costs and emissions related to transport. According to Truman's, one full truckload of its refill cartridges is equivalent to 30 truckloads of RTU spray bottles.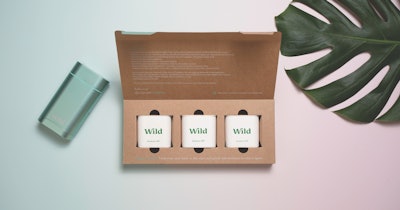 In the area of personal care products, in mid-2019 subscription-based D2C company Wild unveiled a reusable packaging platform for its natural deodorant product that includes an eye-catching, anodized aluminum refill case and deodorant refill sticks wrapped in a first-of-its kind bamboo-pulp package, making the system plastic-free, as well.
While small, startup subscription-based D2C companies may have dominated the Refill-at-home landscape initially, major CPG brands have quickly followed suit, introducing new refillable/reusable packaging for some of the world's most well-known products. Among the first was Unilever, with refillable/reusable packaging for its Dove deodorant, introduced in early 2021. The system comprises a sleek, stainless-steel case and compact refills.
In early 2021, Unilever followed that launch with a reusable system for its Dove body wash products that includes a reusable bottle, made from either 100% recycled high-density polyethylene or aluminum, and a petite, HDPE bottle holding a liquid concentrate.
Currently, the most common product types using Refill-at-home systems are those that require water, which can easily be added by the consumer and make small refills possible. These include household cleaning, personal care, and beverage products. But other product categories are also joining that list. Among them are cosmetics, spirits, and lawn and garden products, among others, each with their own specific requirements and challenges, as well as their own, customized solutions. Learn more about these new applications in the following articles:
SC Johnson, Reckitt Benckiser Get in the Reusable Packaging Game
Major CPG brands launch reusable packaging systems for their household cleaning products that consumers can refill at home using clever concentrate systems.
Thrive's Refill-at-Home Cleaner Uses Pouched Concentrates
E-retailer Thrive's new Rosey line of household cleaners includes three products offered as a liquid concentrate in a pouch, accompanied by a counter-worthy, reusable glass bottle.
Above & Beyond Pursues 'Refillable Universe,' Starting with Lip Balm
U.K. brand above & beyond begins its journey to eliminate single-use packaging by introducing a lip balm in a reusable aluminum case, with refills in a bio-based, compostable pack.
D2C Brand Myro Develops 'Waste Reducing' Deodorant System
Plastic-neutral body care brand Myro launches a refillable/reusable deodorant packaging system, with a refill pod that uses 50% less plastic than traditional deodorant sticks.
Myro's Body Wash Concentrate Creates a 'Magic Moment'
D2C body care brand Myro selects a squeezable aluminum tube for its body wash gel concentrate and pairs it with a durable, reusable PETG bottle, 'Made for keeps, not the landfill.'
Personal Care Startup Selects Plastic for Reusable Deodorant Case
U.K.'s Proverb delves deep into research on more sustainable material options when selecting packaging for its refillable deodorant case and refill sticks, settling on plastic and paper, respectively.
ScottsMiracle-Gro Debuts New Refill Format for Lawn-Care Concentrates
Inspired by macro-level trends in refillable/reusable packaging in the CPG industry, ScottsMiracle-Gro innovates a new form factor for lawn and garden product concentrate: a flexible pouch.
Listerine Advances More Sustainable Oral Care Packaging
New Listerine Cool Mint Zero Alcohol Concentrate Refills in a 100-mL PET bottle use 60% less plastic when compared to a standard 500-mL bottle of Listerine while providing the same benefits.
PepsiCo Doubles Down on Scaling Up Reusable Packaging
PepsiCo commits to growing its percentage of refillable/reusable packaging options, including expanding its SodaStream in-home and in-office sparkling water systems.
Perfume, Spirits Brands Lighten the Load of Heavy Packaging with Refills
Luxury Brazilian brands O.U.i. eaux de parfum and Beg Distilaria artisanal gin offer product refills in aluminum bottles to minimize the weight of their packaging and preserve the consumers' original investment in their premium packaging.
New Reusable/Refillable Packaging Materials/Containers
A rundown of some of the newest packaging materials and containers developed for use in refillable/reusable applications.