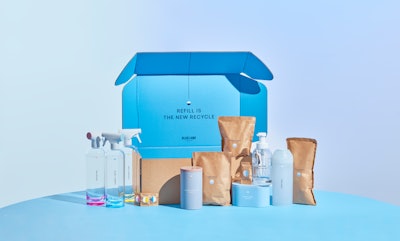 For consumers looking for more-natural, less-toxic household cleaning products that take into account reduced packaging as well, they're in luck. In the last couple of years, several companies have launched direct-to-consumer products that offer reusable containers paired with concentrated detergent refills shipped in eco-friendly packaging. New York City-based Blueland is among them.
But co-founder and CEO Sarah Paiji Yoo says she doesn't mind the competition. "We love that other brands are also encouraging consumers to consider refillable packaging, instead of single-use packaging, to push all of us towards a fundamental change in how we shop and consume," she shares.
Blueland's mission, the company says, is to reimagine all categories of household packaged goods with innovative form factors and environmentally responsible packaging—starting with cleaning products. With The Clean Essentials kit, which contains three reusable Forever Bottles for cleaners, one Forever bottle for foaming hand soap, and four tablets of powdered, concentrated detergents for Multi-Surface, Glass + Mirror, Bathroom, and Foaming Hand Soap, Blueland hopes to eliminate 100 billion single-use plastic bottles in the U.S. alone.
---
Video: Tom Szaky of Loop and Kelly Murosky from Seventh Generation discuss returnable and reusable packaging options during PACK EXPO Connects last fall. Watch here.
---
Says Paiji Yoo, "We've worked tirelessly to ensure we're removing common barriers consumers cite about why they haven't made the switch. It's easy for people to refill and reuse our products. The dry tablets are compact, can be purchased in bulk without taking up a ton of space, and all someone has to do is drop the tablet into our reusable bottle to create a new full bottle of cleaner. With that one innovation, we've eliminated barriers around ease of use and space among others."
The custom, 20-oz bullet-shaped clear bottles for the three cleaning products are made from Tritan™ BPA-free, shatter-resistant #7 copolyester from Eastman. A splash of color—cyan, magenta, or yellow—inside the base of the bottle differentiates the cleaner type. For its hand soap, Blueland designed a smaller, 9-oz glass bottle, with the same shape and a clear base.
"For all our design and product concepts, we looked to ensure functionality and appeal," explains Paiji Yoo. "This balance can be seen throughout all of our offerings, and customers will also note the usage of a curvature design aesthetic in both the packaging and bottles to mirror our widely-recognized tablet iconography."
Sachets for individual cleaning tablets and for 40-ct pouches are made from a proprietary, compostable, paper-based material, the development of which was "a true labor of love," Paiji Yoo says. "Not only did we need it to be compostable and look well-designed, but it also had to be strong enough to hold up in high heat and humidity, and survive machinery that is really made only for plastic packaging during creation."
---
See: Laundry Pod Pioneer Advances Sustainability with Move to E-Commerce
---
The shipping box for The Clean Essentials kit, as well as for other kits offering combinations of the base products along with items such as steel tins for tablets and silicone shakers for powder dish soaps, is made from recycled-content, recyclable corrugated material, as is an instruction insert.
Commenting on the cost of Blueland's offerings versus cleaners in single-use packaging, Paiji Yoo says Blueland's goal was to create products that were affordable and accessible to as many people as possible. Sold on Blueland's website, refills and kits are priced anywhere from $6 to $83, and are available as a one-time purchase or on a subscription basis.
"Typically, eco-friendly options have been priced and viewed as more expensive, so we wanted to ensure our products could allow customers to save money over time," says Paiji Yoo. "With Blueland, customers don't have to pay for water and packaging again and again with each bottle of cleaner and can even save more money when they purchase our tablets in bulk or on a subscription to make it even easier for them to switch to an eco-friendly product."
Looking to the future, Blueland hopes to grow into a global company with products across a range of categories, such as personal care, beauty, and possibly even packaged food and beverages. "We imagine there one day being a 'Blueland home' that is filled with beautiful reusable containers that are convenient and affordable to refill," shares Paiji Yoo. "Our goal continues to be to help people reduce the amount of single-use plastic in their everyday lives and help them make changes that will benefit our world."
Companies in this article