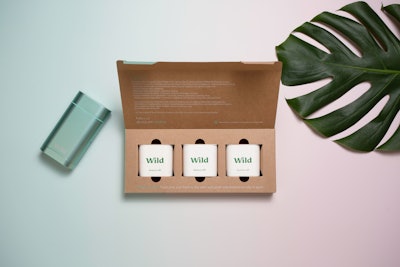 Reusable/refillable packaging is now all the rage, especially with the costs associated with more products being shipped via e-commerce. The format also help brands with environmentally friendly-focused products extend that philosophy through to their packaging. Wild, a U.K.-based company offering natural and organic deodorant on a one-off or subscription basis, has hit the sustainability trifecta with its new reusable deodorant pack: less cost and weight during shipping, fewer packaging materials, and, as an added bonus, a refill pack made from recyclable bamboo pulp.
Says Wild, "Our mission is to shake up the throwaway culture of everyday bathroom products. Through our wildly sustainable products, we hope to redefine the future of personal care."
Upon launch in mid-2019 of its vegan-friendly, cruelty-free, dermatologically-tested deodorant, which is also free from artificial fragrance, parabens, aluminum, and sulfates, Wild used standard, off-the-shelf plastic deodorant packaging with custom adhesive labels. Its goal from the start, though, was to develop a plastic-free, refillable alternative.
Calling on the expertise of industrial design and innovation studio Morrama, Wild turned over a design brief that Morrama's Creative Director, Jo Barnard, says "was primarily focused on the refills: plastic-free and small enough to ship in a large, letterbox-sized package."
---
Read these related stories on reusable packaging from Packaging World:
Global CPGs Embrace Transformative Loop Circular Shopping Platform
Functional Pack Design Makes Concentrated Cleaners Make Sense
How Safe is Reusable Packaging During COVID-19?
Ellen MacArthur: Reuse as an Area of Business Opportunity
---
She shares that the initial intention was to work with wrapped paperboard tubes—"similar to how a toilet roll tube is made." To this end, Morrama was in discussions with a U.S. company that could make oval and rectangular shapes, but early trials showed that the required tolerances weren't achievable with the material.
Instead, bamboo pulp was chosen. Says Barnard, "Working with the tolerances of the bamboo molding process has also been a challenge—force the draft too small, and the surface will get damaged." A challenge perhaps, but one that Morrama's supplier—a proprietary company in the East—was able to overcome.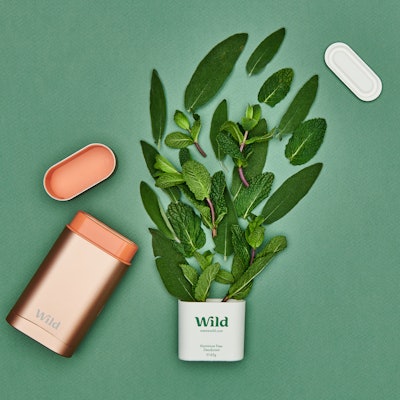 Introduced in March 2020, the 43-g refill pack is made from two layers of bamboo pulp, with a "waxy inner layer," explains Barnard, who adds that "experiments with single layer are looking hopeful, which will reduce material and cost." The squat refill pack has the same flat profile as a traditional deodorant pack with rounded edges. The lid for the refill pack is also made from bamboo pulp.
In the FAQ section of its website, Wild notes that the refill pack may sometimes be stained with oil from the deodorant that has soaked through. "This is hard to avoid and is a challenge of working with biodegradable and natural materials," it says, adding that the staining does not affect the product's performance.
The deodorant's outer, reusable case—also flat with rounded edges—measures 62 x 32 x 112 mm and is made from anodized aluminum. It sports a stylish, minimalist design and is available in four unisex colors: aqua, coral, silver, and purple. Says Barnard, aluminum was chosen for its aesthetics. "We know people will more likely keep and reuse a product that feels premium," she explains.
The case is fitted with internal plastic components, including recycled polypropylene for aesthetic details, as well as a more durable plastic for the twist mechanism that pushes up the deodorant as it's used. The case comes apart for insertion of the refill pack, which is 100% recyclable after use.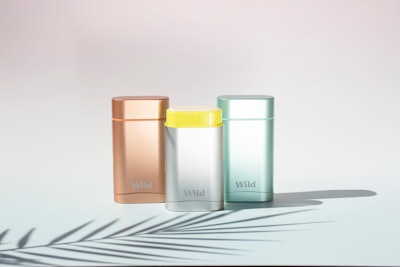 Consumers can choose from among five deodorant scents, with three refill packs delivered every two, three, or four months, depending on consumer preference. The refills are shipped in a slim, corrugated ear-lock mailer that fits handily through a U.K. letterbox.
"We designed the Wild deodorant [pack] with every minor detail taken into consideration, from the size, shape, color, and ease of user experience through to its recyclability and sustainability credentials," says Barnard. "It has been designed as a truly premium product experience, but at an affordable price."
Freddy Ward, co-founder of Wild, adds, "Morrama's team is very dynamic and really helped us push the boundaries of what we thought was possible on this project, with very tight deadlines and limited budgets. To create the first refill solution globally without plastic is an achievement we are incredibly proud of, and working with Morrama was the key to our success.
Wild is currently the number one-rated natural deodorant in the U.K., with 4.8 stars on consumer review site Trustpilot. While the product is currently only available online, Wild is in discussions to enter retail by year-end 2020.
Companies in this article