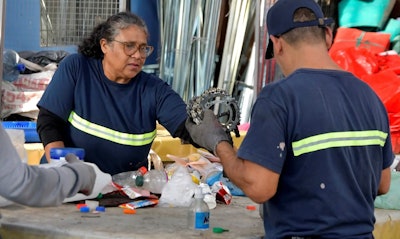 In a concerted effort to stem the tide of plastic pollution in the Global South, global consumer packaged goods companies Mars and Procter & Gamble, along with packaging producer Amcor and environmental non-profit Delterra have launched a strategic partnership in which they will work together to scale upstream and downstream solutions for a circular plastics economy, jointly committing US$6 million over five years.
The announcement comes in the lead-up to the second negotiating committee meeting for a Global Plastics Treaty (INC-2), working to develop a globally binding instrument on plastic pollution.
According to the partners, they are coming together with a shared commitment to urgent environmental action and a shared understanding that the challenge of plastic pollution cannot be solved without a systemic and holistic approach to roll out scalable and sustainable programs to boost the transition to a circular economy. The group is calling on like-minded organizations to join this first group of strategic partners to add their support to drive real change, at scale.
---
---
Recognizing that plastic pollution is a symptom of the broader issue of underperforming or non-existent waste management and circularity solutions, the partnership is committed to investing in innovative programs along the full value chain:

Upstream, stemming plastic pollution at its source by designing waste out of the system with Delterra's global roll out of

Plastic IQ

, a digital tool designed to help change the way companies understand their plastic footprint, make better packaging decisions, and transition towards a circular economy

Downstream, working on the supply and demand side to capture recyclable and compostable materials and return them to productive use with Delterra's

Rethinking Recycling

program,

which involves the creation of rapidly scalable, self-sustaining waste management and recycling ecosystems that redirect waste into productive use while improving people's lives.

Meanwhile, innovating material traceability solutions to provide transparency on matters such as source, quality, and ethical concerns along the recycling value chain
"We are excited about this partnership with Delterra and like-minded peers in the industry," says Allison Lin, global vice president Packaging Sustainability at Mars. "We want to demonstrate that we can create successful programs for waste management and recycling systems particularly in the Global South, that currently lacks the infrastructure we need to stop plastic pollution. Scale will enable these systems to be self-sustained and ultimately, protect people and planet while at the same time creating value for local communities. We call on all parties gathering in Paris for the Global Plastics Treaty negotiations to agree on a regulatory framework that enables the creation of effective waste management infrastructure systems everywhere in the world."
The partnership will focus on countries of the Global South, starting in Indonesia, Argentina, and Brazil, and aim to provide easy access to waste management and recycling systems to 10 million people. The partners will explore new ways to drive true systems change and to innovate beyond each organization's individual realm to positively impact the entire ecosystem.

---
---
Says Dr. Shannon Bouton, president and chief executive officer at Delterra, "We are thrilled to be partnering with Amcor, Mars, and P&G on our joint mission of eliminating waste in the environment. Solving plastic pollution—and indeed the broader waste crisis, requires a rethinking of the way we produce and manage waste. This includes a rapid expansion of waste collection and sortation and reliable recycling markets, alongside a deeper redesign of how we consume. We are inspired that these organizations are stepping up to this challenge alongside Delterra, and we invite more companies to join this growing partnership."
Companies in this article