Packaging World:
What does the current landscape of on-pack recyclability claims look like, and what did The Recycling Partnership think needed to be addressed?
Kendall Glauber:
The fragmented recycling system in the U.S. creates high variability in what is collected and recycled locally. And when there's so much nuance at a local level, that really makes recyclability communication difficult, especially at a national scale. It's affecting people's ability to make decisions. We conducted consumer research on people's beliefs and perceptions about recyclability information on labels, and 71% of consumers say that they wish there was an easier way to get information on what can and can't be recycled in their community.
We know that consumers want to recycle and that they're looking for those recycling instructions, primarily on product labels. But at the same time, the regulatory environment around recyclability claims, and what can actually be on-label, is evolving. There's new policy in California, and extended produce responsibility (EPR) laws at the state level, as well as upcoming potential updates to the national Green Guide guidelines, all while you have infrastructure changes happening in recycling systems across the country. But large [CPG, food, and beverage] companies don't sell or produce products on a local or a state-by-state basis. They're creating packages for a regional or national market. There's a need for a national solution.
What is Recycle Check and how does it solve the problem you describe?
Recycle Check is a platform from The Recycling Partnership that offers an interactive, package-specific solution by immediately providing local, up-to-date recycling information to people across the U.S. Imagine that deciding moment where you're standing with an empty package in front of your bin. You're thinking, "what do I do with this? Where does it go? In the trash or in the recycling?"
[Underpinning this platform is] the National Recycling Database, built by The Recycling Partnership. It's an incredibly powerful tool and state-of-the-art resource that's centralizing recycling access information from communities across the U.S.; about 9,000 communities covering 97% of the population. That community-level information is being updated on a regular basis.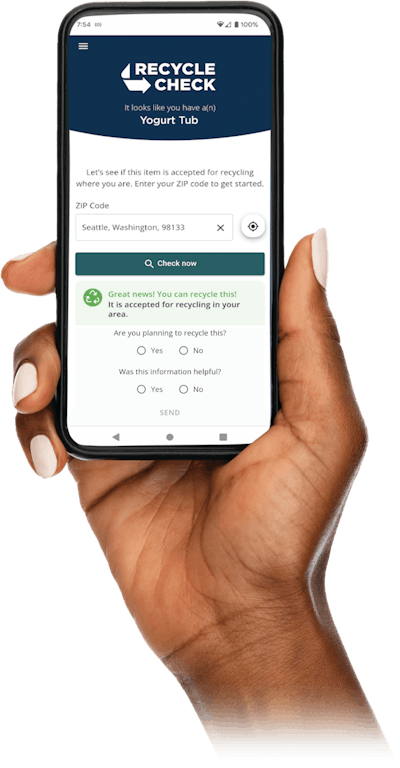 The concept is that anyone can scan a QR code on a package in their hands, or click a link if they're shopping online, and enter their zip code or location into our webpage to get an immediate yes/no answer about whether that item is accepted for recycling, wherever they are.
Why is consumer confusion so important to address?
The vast majority of Americans believe in recycling's positive impact, but about two thirds of household recyclables are wasted each year. And about half of those—which equates to roughly 15 million tons of material, not a small amount—are lost to landfill because of confusion about what and how to recycle. There's a risk that consumers who become confused either won't participate at all, or that they don't recycle everything that they can.
On the contamination side of things, it definitely has an impact on the quality or the ability of recycling systems to properly process a bale, and then sell quality material that then can be turned into recycled content for future use. So that's also a concern here.
This confusion is understandable because what's accepted for recycling changes over time, and it's different from place to place. There's an opportunity for us to build trust and provide relevant and easily accessible information to consumers to empower them to make effective recycling decisions, so those recyclable products that are in our homes are actually getting to where they need to go.
Through our research we've seen that 78% of people think that a QR code with local information would help make recycling less confusing. And 73% said that it would help them trust that that package would actually get recycled into something else. So, we've really seen the positive opportunity for this to address the confusion issue.
As we speak in mid-April, the FTC is concluding acceptance of public comments on updating its Green Guides, which aim to prevent misleading label claims. How does Recycle Check fit into that dynamic?
The FTC Green Guides really play a critical role in empowering marketers to communicate accurate recycling information, which we're obviously aligned with. But they're currently working in an environment that has changed a lot in the 10 years since their last iteration. Over that time, the recycling landscape has changed, materials and packaging continue to innovate, and new technologies and data sources are emerging.
There's an opportunity with this open call for public commentary for the Green Guides to begin to reflect the current environment and adapt to those future changes. As a mission-driven NGO dedicated to improving recycling nationwide, we call for a rigorous, data-driven approach to determine recyclability, combining that with transparent recyclability claims on product labels.
Where Recycle Check comes in is that we want to support brands in communicating that level of information in a way that's adapting to changing rules and regulations now, because a dynamic environment really calls for a dynamic solution. We want to be able to offer companies this tool to communicate to consumers reliably across the U.S., even as these guidelines are changing. That's possible with a dynamic label.
An on-pack/on-label recycling info system already exists with good penetration, and that's How2Recycle® by GreenBlue, the parent organization of the Sustainable Packaging Coalition (SPC). Does Recycle Check replace this, or do the two work in parallel?
The short answer is yes, we're proactively working closely with GreenBlue.
More broadly, The Recycling Partnership, is committed to bringing intuitive, relevant recycling information to people where they live, and we've created the Recycle Check platform to purposefully complement existing communication methods and labeling systems. And How2Recycle is one of those. We're very supportive of How2Recycle, and the fact that it's providing easily digestible information to consumers in a way that is also easy for companies to be a part of. We are working closely with GreenBlue to pilot how the How2Recycle label and the Recycle Check QR code will work together on product packaging. The goal there is to establish a standard approach for how our organizations can collaboratively provide that data-driven, industry-aligned transparency to recyclability claims and labeling by leveraging the strengths of the How2Recycle label that has this incredible network and is recognizable, and The Recycling Partnership's ability to provide dynamic data through the National Recycling Database.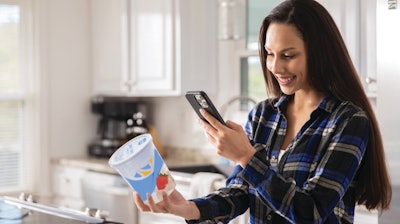 What other organizations in this landscape are you working with?
We're also working closely with the Consumer Brands Association's SmartLabel offering to deliver Recycle Check's dynamic local recycling information via SmartLabel pages. We're looking at the wider world of labeling systems and seeing how this can be complementary, rather than trying to reinvent the wheel.
How can brands benefit from getting involved with this program?
On-pack recyclability claims already have to comply with federal and state regulations and guidelines. But since the regulatory environment is changing, and in many cases becoming more specific, where and what claims companies can make is evolving. For example, starting in 2024, California has new requirements going into effect under SB 343, which will tighten the ability to use the chasing arrows recycling symbol and other on-pack recycling info. In many cases, the current recycling symbols or labels that are in use may be insufficient for packages that are not on California's statewide list, which could trigger the need for packaging changes, the development of state-specific labels, or even the removal of recyclability messaging, unfortunately.
Once this goes into effect, the rules might be different in California than they are elsewhere. But again, brands and CPGs don't produce on a state-by-state or local basis. They really need this national solution. The idea is that Recycle Check can be a powerful tool to allow brands to communicate local and up-to-date recycling information using the same label or link across the U.S. And even as the information, rules, and regulations are changing, they can potentially avoid having to change their packaging because those packages are connected to the National Recycling Database, which is a dynamic resource that'll update as time passes and rules change.
I suspect you know more than you'll be able to let on today, but are any brands or CPGs on board yet?
I can share that General Mills and Horizon Organic are planning to pilot Recycle Check. We're working with brands that are leading the industry into the future of dynamic and localized recycling communications, and we have a couple brands leading the way. In general, Recycle Check is perfect for any company who's selling products in packaging that can be recycled in residential curbside recycling systems. That means CPG brands in food and beverage, fresh produce, household goods and cleaning, beauty, and personal care. The list goes on, but we're looking for all materials, paper, plastics, metals, or glass.
We're looking to expand what is available and what we can cover. Right now, the sweet spot is those packages that we know are recyclable, and there's infrastructure to recycle them, but there might be limited or variable access in the U.S. I'm thinking about your thermoformed clamshells, beverage cups, or even some things that are widely recyclable currently, but whose access rates are still growing, whether that's polypropylene or cartons. That's the sweet spot, but there's a wide array of packages we can address with this tool. PW